 Reviews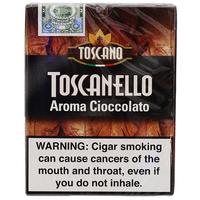 Toscano - Toscanello Aroma Cioccolato (5 Pack)
a little gem
What a great little smoke. I normally steer clear of flavoured cigars but the whole Toscanello range is great, the flavours aren't over the top and sickly sweet like some of the other brands, just enough flavour and aroma to make it interesting. Probably a good way for a pipe smoker to experiment with cigars.
Arturo Fuente - Exquisitos
Smooth
This was my first time smoking a small Arturo Fuente (I have been smoking the 8-5-8s for years) and this was surprisingly nice. Obviously not as full bodied as the larger ring guage but definitely enjoyable.
Romeo y Julieta - 1875 Romeos (6 Pack)
poor construction
Would have rated this cigar much higher unfortunately really poor construction and the cap is really sloppy. No matter how careful I was with cutting (I use a quality cutter) all but two started unravelling while being smoked. very frustrating as they aren't a bad little smoke when they don't fall apart..
Favorite Products
Currently there are no favorite products