 Reviews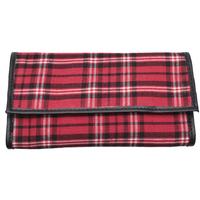 Stands & Pouches - Castleford Roll Up Pouch Plaid
A great little tabac pouch
I was surprised by the quality of this pouch for less than $10. The rubber lining is nice too, I'm sure it will keep tobacco fresh. It looks like something grandpa would take to the park with him while he feeds squirrels and smokes Edgeworth in his Medico. I should note it's made in India, for those interested. I recommend it.
Edward G. Robinson - Edward G. Robinson's Pipe Blend 1.5oz
Wonderful Light Aromatic
Edward G. Robinson makes for a very enjoyable smoke. It is lightly aromatic, not mucky or sticky, and it's an easy smoke without being boring. You could smoke it all day, but I like it enough to savor just one bowl. Makes you feel like an old time pipe smoker, too, great to have while watching old detective movies or reading a good book. It sort of tastes like a mix between a decent OTC blend and a nice English from Sutliff or Dunhill. Smokes extremely well out of a nice tall billiard. Recommend for everyone (see?).
Favorite Products