 Josh M.
Badges

Reviews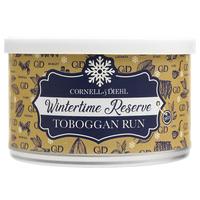 Cornell & Diehl Tins - Toboggan Run 2oz
Could be a daily!
Barring the scarcity of this blend, which time will hopefully fix, it's a terrific smoke. The tin I received was ready to smoke with almost no drying time required. The flavors are reminiscent of my daily smoke, also by C&D, Bayou Night. Strong Periques that lean toward peppery vs. fruit. A touch of Latakia that punches up the fullness of the flavor and umami + salt. All backed by a finishing sweetness from the Virginias. The crumble cake is easy to pack and doesn't over dry out if kept in a pouch. I could see myself switch to this as a daily if it was available in bulk. The smoke is tame and really makes me view it as a subtle alternative to Bayou Night or Chenet's Cake. MAKE MORE!
Cornell & Diehl - Smokingpipes 20th Anniversary Blend: XX Flake Dark 2oz
Delicious
I ordered 5 tins, which arrived today. After literally 2 puffs, I jumped on to order more. A self described Perique freak, this blend hits all the buttons. Sweet Virginias, perfect dryness out of the tin, and a mesh of flavors that wake up the palette. Spicy BBQ for your pipe.
Favorite Products