 Reviews
Erinmore - Erinmore Flake 50g
No Longer "Erimore"
I have tried both Erinmore and Erinmore Flake, a bowlful of the latter just this afternoon. This tobacco, once the only tobacco I'd smoke, is no longer the delightful fruity mixture I smoked in 1959 through the early 1960s. Then it was compounded by the Irish and was my delight as well as that of friends, full of fruity flavor with a room note that was truly a bouquet. Now it tastes and smells like twigs, tree bark, and burning leaves. Perhaps, the Irish sandbagged the original recipe. The Danish version is sorely lacking both in the original's fruity flavor and bouquet. I will, of course, smoke the two cans I purchased [I don't like to throw money away.] But I will never purchase another of either Erinmore or Erinmore Flake. I am truly saddened by what I consider the demise of a once truly delectable tobacco.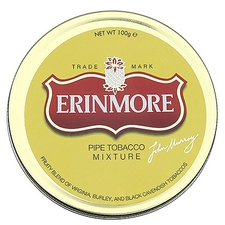 Erinmore - Erinmore Mixture 100g
Erinmore No More
I first smoked Erinmore Mixture in the late 50s and early 60s. I recently tried a bowlful from a can purportedly packed in 2016. The smoke that I once loved no longer exists. Something precious, the Erinmore sweet flavor, has been lost. Erinmore Mixture is not even a shadow of its former self. Today's Erinmore Flake is no better than the Mixture. I long for Belfast's Erinmore, period.
Favorite Products