 Reviews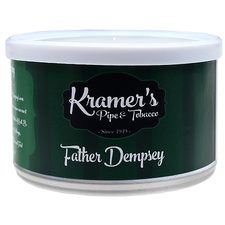 Kramer's - Father Dempsey 50g
Delicious!
I enjoy English blends but they're usually either lacking on the smooth creamy flavor and heavy on the latakia. This blend is just right. Smoked fast or slow the flavor is consistent (a rarity). I highly recommend this blend to anyone that's even remotely curious what it's like. Totally delicious, you can't lose with Father Dempsey.
Seattle Pipe Club - Plum Pudding Special Reserve 4oz
Excellent Sipping Tobacco
This tobacco is just wonderful. Cool burning with sweet smoke. It's meant to be savored slowly. If you sip little draws from it and avoid long heating draws it is absolutely perfect. No nicotine burn but the nicotine is there. This is a great all day smoke, or a relaxing evening smoke. Also a good after dinner dessert treat. Delightful flavor in a league of its own. Give it a try.
Cornell & Diehl - Bow-Legged Bear 8oz
Unique Good Flavor
This is my go-to tobacco. It has a mild almost creamy flavor and burns well. It provides a good bit of nicotine without going overboard, but will certainly wake you up. I enjoy the flavor so much that I plan to buy more and make it my regular smoke. Give it a try, you won't be disappointed. *months later* Still my favorite all day tobacco. If you enjoy latakia, mix in some GL Pease Odyssey 50/50 for extra yummy flavor. I always have a spare can of The Bear around in case I get low.
Favorite Products
Currently there are no favorite products