 Reviews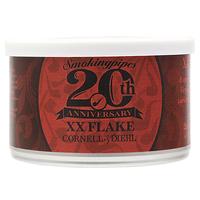 Cornell & Diehl - Smokingpipes 20th Anniversary Blend: XX Flake 2oz
Outstanding VaPer
The 18 year old perique is, unsurprisingly, the star of the show. The tin aroma upon opening is extremely tart, the plum notes from the perique and the abundance of bright VA make for a very citrusy, acidic, lively aroma. This carries over to the flavor. The tart plum is front and center the whole way through. The Orientals add a nice creamy spice, and the VA is more tart and citrusy than sweet, although the occasional sweetness comes to the front every few minutes, but quickly fades back. Overall this blend is pretty acidic and astringent, but completely delicious. I happen to love tart/tangy flavors and this has them in spades. Easily the best VaPer I've ever had, and probably one of the best ones produced in recent years I would think (that's pure speculation on my part). I'm not obsessed with VaPer's, but if I were, this is surely one I'd never want to run out of. It's a bit too tart to be an all day smoke for my palette, but as an occasional treat, it's damn good.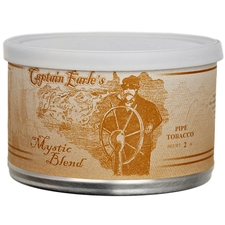 Captain Earle's - Mystic Blend 2oz
Fascinatingly Complex and Smooth
This is the finest English I've ever smoked. It's not a Lat bomb, for which I'm most grateful. It comes presented in a plug, but is easily broken apart by hand. It requires very little dry time once rubbed out to your desired consistency. I'd say 15-20 minutes. It tastes like everything you'd want out of a mild/medium English. It's smoky, sweet, smooth, and complex, with delightful notes of clove or incense like flavors from the orientals, and a solid backbone of smoky sweet goodness between the lat and Virginia's. I smoked this out of a pipe that previously smoked wet and hot, and this blend smoked absolutely flawlessly. It packs like a dream, and once lit it just goes. I always thought that people who said "one relight per bowl" were full of it, but with this blend it's true. I smoked 2 bowls immediately back to back, out of a "problem child" pipe, and there was zero gurgle, no excess heat, and I had literally 1 relight each time to get it down to an empty bowl of ash. This is truly a sublime English. I can't recommend it enough. What a joy to smoke, I just spent 2.5 hours out in the cosmos. 10 out of a possible 5 stars.
Favorite Products