 Reviews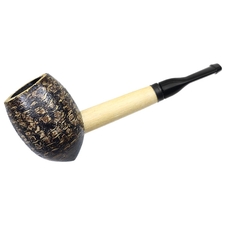 Missouri Meerschaum - Little Devil Acorn
Not just for old codgers
This was my first cob after smoking briars for years, so I didn't know what to expect. Got it for its size, as I was curious about nosewarmer-type "clenchin'" pipes and wanted to try a budget version. It's small enough to throw in a pocket, and casual enough to just load 'n go. What blew me away is how well aromatic tobacco smokes from this cob: the goopiest blends burn nicely down to white ash, leaving no dottle and no wet residue (!). The only detriment is the cheap plastic stem that easily takes bite marks, but since the pipe hangs from my mouth instead of sitting in hand, it's no eyesore and doesn't interfere with purely practical function. For a mere ten bucks, the bowl's dark stain makes up for it, dressy enough not to look cheap.
Missouri Meerschaum - The Elf Cobbit
Smokes like a dream
This is a very comfortable mid-length churchwarden, with a deep bowl that looks surprisingly elegant when held, even by cob standards. The stem is acrylic, so it can stand up to clenching and doesn't look cheap (the pipe is light enough to clench even with its length, though my jaw needs a break after a few). The bowl is more of an elongated acorn/pear shape (rather than "bent billiard" in item description), which makes it ideal for flakes. Reliable, consistent, comfortable long smokes every time. It's a cob, so it feels very informal and approachable, no need to baby it like the top shelf briars. It's the kind of pipe that "disappears" when I smoke it: it's just me, tobacco, and my thoughts, and nothing gets in the way. Which is about all a pipe should be.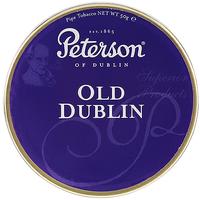 Peterson - Old Dublin 50g
Vivid, with lots of character
What makes Old Dublin stand out from other Englishes? Perhaps above all else, its fragrant melding of the flavors. Latakia here is more leathery than musty-earthy, the Orientals here are more verdant than dry kitchen-spice-y, the Virginia adds a refreshingly grassy base, and everything is tinged with delicious winking sweet sparks of Cavendish. Instead of blending into a homogeneous aroma, all of these flavors combine into a refreshingly fragrant bouquet of intricate textures and stimulating notes. Emphasis on verdant and refreshing: this is not a "dusty smoke" for turning crumbling pages in subterranean archives, this tobacco tastes and feels like it grows organically in your tin overnight like some magic spice. Aptly named, too: bringing back the aura of mystery to the worn cobblestone Dublin streets. Best enjoyed on a walk outside in the biting cold -- it is when the flavors truly shine and unfold.
Favorite Products