 Reviews
John Aylesbury - English Mixture 100g
Not For Me
I purchased a tin of this tobacco with high hopes, but I was deeply disappointed, not because of the tobacco but because of the taste. The tobacco had a good moisture level to it and smoked very evenly and I had white ash all the way to the bottom of the bowl. After smoking several bowls of it I have come to the conclusion that the Burly and the Black Cavendish were just too overpowering for me. If you are a fan of these two types of tobacco I would give it a try. Like all things, it's trial and error until you find what you like.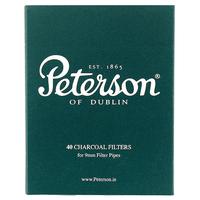 Filters & Adaptors - Peterson 9mm Pipe Filters (40 Pack)
Great Pipe Filter
This filter has a great absorption rate, I am always amazed at how much moisture it absorbs. I usually change my pipe filters every other smoke. It does not interfere with the taste of the tobacco and I find that I have less tar residue in my mouth after a smoke with a filter than without a pipe filter. I would highly recommend this brand of pipe filters.
Favorite Products