 Reviews
Seattle Pipe Club - Plum Pudding Special Reserve 4oz
If I could recommend one tobacco, this would be it!
I've got lots of English blends I've loved. I'm a fan of GL Pease stuff -- especially Quiet Nights, Spark Plug and Odyssey. Particularly during cold weather. I also have to say, I think people who shun all aromatics are snobby grinches. This was one of the first blends that blew my mind, and I would say it's the staple of what I keep around. It's a really nice experience out of the pipe. Dark, beautiful, smells great in the tin. Strong at first, but I find some of the plum and tart sourness that are there when you crack it mellow out in the weeks that follow (if it lasts that long). The smoke is rich, sweet, smoky, well-balanced, complex. There are times when I smell the smoldering briar and think it's my favorite tobacco I've ever smoked. Not always -- but I find it has enough going on that I'm always finding little new details, and then other times old details that made me love it to begin with. If I could recommend a single tobacco for anyone, regardless of what they usually smoke, it would be this one. In terms of preparation, I get the best results when I give it an hour to dry after cutting. Also, it's nice when it has a little age on it. But I like it both ways -- a little more mellowed from age, and fresh and fuller.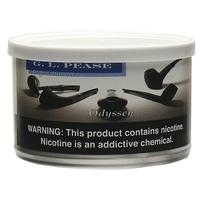 G. L. Pease - Odyssey 2oz
Fan Freakin Tastic
Nice Latakia presence to me. Very significant, but not overwhelming everything else. As described, it's big. Deep, rich, but I also find it very well-balanced... sweetness, smokiness, nice dimensions from the Orientals. Complicated enough to be interesting -- but refreshingly straightforward. I'll smoke this for winter walks while listening to a book or a record -- this stuff is like a rabbit fur hat for brain! Love it.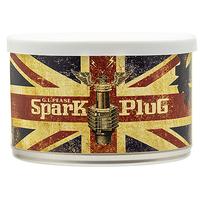 G. L. Pease - Spark Plug 2oz
Utterly Great: So Complex, So Interesting, So Well Balanced
I love this stuff. It's not at all like Plum Pudding -- at all -- but it reminds me of it in that everything works really nicely in concert. There's a forward but not overwhelming Latakia foundation to everything going on... so you get the smokiness, and some nice leather. But the latakia doesn't take up too much room. And the rest of the action during a bowl of this is so fun and relaxing. I get sweetness and nuttiness -- tones that can dip between hazelnut and, at sweeter points, more like praline. There's wisps of peat, maybe those come out of the latakia? Sometimes the sweetness will take a gentle fruit turn. I've gotten small stone fruit like cherry/apricot off in a corner -- not artificial at all or intrusive. Just an elemental flavor popping in. A little semi-sweet chocolate does the same thing at moments. It's just really fun to smoke. So balanced and dynamic, and put together. If anyone's a musician, it's like when a great band is playing together and totally in the pocket. Preparation isn't the prettiest -- the plug is slightly on the lose side, I find, so it can cut a bit ragged. It can be kind of stemmy and chunky even when I slice it thin with a razor. But also -- who cares! I like a little drying time, and find it's a little more cooperative after that. But it's not uncooperative if I load it pretty quick. I'd recommend trying to this anyone. I like trying lots of stuff. This is one I go back to a lot.
Favorite Products