 Reviews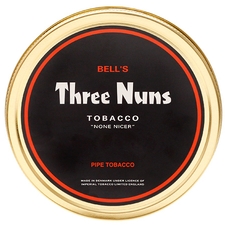 Three Nuns - Three Nuns 1.75oz
Surprisingly good
I'm not much into review writing, but seeing how polarized the opinions are, figured I'd say a few words... I just received, popped open and tried my 1st tin of 3 nuns. While I'm a Virginia guy, never had this one before, never tried the original stuff either. This is a very interesting and surprisingly good tobacco. It's Virginia-forward but it's difficult to tell where Virginia ends and other components begin. I'd attribute this to a well-concocted but somewhat prominent casing which is a bit too sweet for my liking (hence the docked 1/2 star), but not too intrusive to make it an aromatic. It doesn't burn hot for me at all, it burns well (1 relight per bowl) and is very forgiving when it comes to packing techniques. I also think this is a perfect 1st tobacco for new pipe smokers: it tastes great and is full-flavored and since it's not too complex, doesn't require a developed palate to enjoy. Great tobacco, will buy more and will add it to my rotation.
Solani - Aged Burley Flake - 656 50g
An unusual burley
Every year I venture into a new territory tobacco-wise and this year was burley. On my journey, I came across Solani blend 656. I was unimpressed by it out-of-the-tin, so I jarred it for a couple of months and tried again and was rewarded by an unusual palette, not typical for your usual burley. While very complex, the taste that sums it up is cocoa and it tastes best towards the end of a smoke. Smoking it and getting the best of what ithe blen has to offer did take a while as only by the end of the tin I finally figured out how to pack the pipe right (I smoke it rubbed-out): it has to be packed as loosely as possible - 2/3 of your regular filling as it expands more than any other blend I've encountered. When packed right, it produces a long, cool and flavorful smoke. As for the nicotine, didn't notice it being as high as some have mentioned.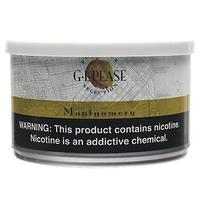 G. L. Pease - Montgomery 2oz
Let it sit a bit
I had my first bowl of Montgomery a year ago and felt it was just OK and after several pipes, moved on to other blends. Going through my tobaccos earlier this year, I stumbled upon that unfinished jar of Montgomery and gave it yet another taste and it blew me away! It's an absolutely perfect blend of Virginias and has just the right amount of fried Kentucky. Long story short - it is my daily blend now.
Favorite Products
Currently there are no favorite products