GESJR
About Me:
Former Tobacconist @ the Briar Patch in Sacramento, CA - lover of all fine pipes, tobacco blends, cigars, and accessories #tobacciana
Badges











Reviews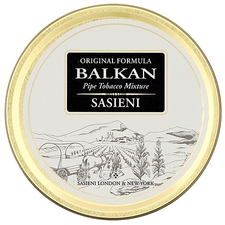 Balkan Sasieni - Balkan Sasieni 50g
Don't compare to other blends, it's amazing all on its own!
Many will compare this blend to the 'Original' Balkan Sobranie, and many will smoke this blend in an attempt to replicate the 'Sobranie Experience'. To be fair to these smokers, Sasieni doesn't help differentiate themselves by describing this as the "'original formula Balkan smoking mixture ... created in London at the beginning of the century" on the back of the tin; it's as if they want the comparison, and why not? If it's driving sales, I guess #capitalismFTW Despite all this, my personal opinion is these comparisons are folly and detract from Balkan Sasieni's many merits on its own as a flavorful yet smooth Balkan blend. I write this review as it has been many years since I smoked the Sobranie, and thus I expect my palette & review to be untainted by reminiscence of this other, uniquely different Balkan blend. I aim to focus more on Sasieni as its own, unique Balkan mixture. Now, onto the subject of 'Balkan' blends. It's widely agreed they all include Latakia + Oriental varietals (most notably Turkish, or Macedonia in the case of Sasieni). The argument comes to proportions as some will pose a blend is only truly Balkan if the Oriental varietals outweigh the Latakia - otherwise it's just an English with some Oriental in it. It's a just distinction, even if a bit specific for me, but one can clearly smell & taste the difference between a blend made predominately of Latakia compared to one with more balanced flavors; for me, that's where the true distinction lies - in tastes & smells; in flavor. Balkan Sasieni falls neatly into the second category of balanced flavors, and is therefore a prime example of a Balkan blend in my opinion. I question whether the Oriental/Macedonia leaves are truly the majority of the blend, but likely the plurality & possibly 1:1 with the Latakia. In any case, the end results are quite remarkable in smoking cool & tasting phenomenal; a fantastic specimen of Balkan blends. More specifically on quality & taste, let me start with the tin note - so flavorful! Rich, spicy & spiced notes + citrusy & light dry Syrah aromas common in Oriental varietals hit first, and then the oak/pine woody notes of the Latakia paint the nose with a wonderful bouquet. I find the cut in the middle of ribbon and shag, maybe a thinner ribbon than most. Packs easy, stays packed well, and can often be smoked from the first/false light - a rare characteristic indeed. The smoke is immensely cool, and the flavors are almost powdery and dry on the palette, much like a French Brut or Extra Dry Riesling like those commonly found from Northern Michigan (Traverse Peninsula) vineyards. The ash is craggy white and tamps down smooth. The citrusy and slightly carbonated notes give way at times to light undertones of wood & earth. Some rich soda ash & peat moss flavors linger, with light honey-wheat notes on the finish left on my palette. An alluring flavor, there are many fleeting tertiary notes difficult to catch with one smoke, leaving me coming back to smoke bow after bowl of this mixture in all honesty. I've tasted specific fruits like grapefruit & pluot or plum + hints of chocolate at times, many Middle Eastern or Oriental spices like Anise/Nutmeg/Allspice, and various types of lighter, drier and/or bubbly wine grape varietals. Aging helps bring some of these specific flavors out further, if you can get your hands on more than a few tins of course. I'd use Sasieni to break-in new pipes if it were less expensive/easier to find in larger tin quantities, and this highlights just how smooth and flavorful the smoke is - an easy, all-day blend satisfying as the first bowl (or two) of the day and equally satiating into the mid-afternoon & early evening or even as a calming late night smoke to wind-down with. Immense flavor, with almost medium body - a big bowl will definitely get you going if that's what you're looking for. A great Balkan for lovers of Latakia & Orientals as well as those trying Balkans for the first time.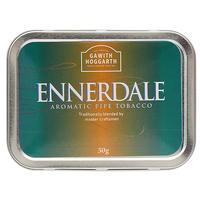 Gawith Hoggarth & Co. - Ennerdale Flake 50g
A rare Lakeland gem among so many grains of Virginia sand
Let me start by saying I enjoy Ennerdale Flake so greatly, I dedicated an entire pipe in my collection to it. Of course, that is also to say I basically had to buy a new pipe to smoke this long-term because it WILL ghost on you something fierce, but it's so worth it, at least to me. I will add Ennerdale is not for everyone, but it is a great way to open the doors to the admittedly niche but oh so tasty world of Lakeland flakes which are actually scented, similar to a perfume or potpourri, instead of topped with a casing - named for the Lakes District of England. My understanding is this 'scenting' is achieved by spraying the leaves with flavored oils prior to pressing them into flakes, and then adding similarly-flavored oils to the steam press prior to aging for the bouquet of flavors to marry. Amazing, unique stuff, and Ennerdale is the best of them all, in my opinion. Ennerdale Flake is not an 'Aromatic' in the traditional sense, and I actually classify it much closer to a Virginia blend than an Aromatic. The strong emphasis on the specific varietals in the description from GHC is not without merit for this exact reason: the scented oils imbue the leaves with light flavoring, but it's not overpowering - the natural essence of the exotic Virginia's used in this blend shine through as the prime notes on your palette, and the imbued scents accentuate and add depth to the overall bouquet. The Ennerdale experience is much akin to drinking a high-quality flavored Gin, like Hendricks Gin: the Juniper berries are the clear center, but the added cucumber & rose which makes Hendricks unique are strong supporters making for a fantastic experience, especially for lovers of classic Gin. In the same way, the sun cured Virginia from Malawi is the prime spice note; while not a similar flavor as Perique, it gives a similar effect on the blend a primary flavor. The sun-cured Malawi is smoky, woody, and slightly vanilla sweet. It's supported by the wealth of strong, aged Virginia in the blend providing a warm, almost grassy or hay-like flavor with notes of sugar, sea salt, and vinegar. THEN comes the clear almond & rose notes with a bit of orchid & citrus on the finish. What a mountain of flavor; it can be a lot to take in at first, but keep a cool smoke going, and you are sure to experience many of these notes in different combinations with each puff with a good amount of body to back it up. Unlike many pipe tobaccos which have consistent flavor profiles throughout a bowl, I notice Ennerdale is more like a cigar in how the taste ebbs & flows; it builds. Most importantly, the almond & rose flavoring, which stand out nice & pronounced at the beginning of the bowl, become muted the longer you smoke, giving way to those high-quality Virginia leaves. This is another characteristic of Lakeland flakes; the added scents are not intended to mask mediocre tobacco, but enhance good leaves. In this way, Ennerdale is a meal where the potatoes compliment the steak, and the after taste of all this is almost intoxicating - especially if you are pairing a bowl of this blend with a glass of Hendricks Gin on the rocks (and I recommend you do!). I must also highlight the smoking characteristics as this blend requires a little patience in the beginning. Whether in the tin or bulk, some rubbing out will likely be required, and it can be difficult to get lit or smoke a bit hot right off the light. Patience is key as only a bit of extra work right at the first/false light and for a few minutes after will yield the smoker a sublimely cool smoke with minimal relights (I find rubbing the flake out first will also minimize relights, but this is my general experience with all flake-cut blends). As mentioned, the Lakeland scenting process does lend this blend to ghost, and a Meerschaum or Morta (Bog Oak) is recommended if you do not want the next few bowl to taste of almond & rose. Eventually, you may end-up going my route & dedicating a pipe to the blend - you will not be disappointed if you do. A former co-worker of mine at the Briar Patch in Sacramento, CA often remarked of Ennerdale Flake as the "Monkey Roses" blend - even writing it on my bulk bags from time to time. "Monkey Roses" highlights the mix of earthy & floral notes in this blend's bouquet, and I always saw it as a testament to how evocative & illustrative this particular mixture can be. A rare Lakeland gem among so many grains of Virginia sand. Enjoy! Pipe Used: Vuillard Barrister Diplomat
Favorite Products