 Christopher R.
Badges





Reviews
Dunbarton Tobacco & Trust - StillWell Star Navy No. 1056
One word - flavor
Great taste. This may sound stupid, but it tastes like what I thought cigars should taste like when i was a kid. Great flavor, even smoke, wonderful room note. I mainly smoke a pipe, but find these a great alternative when I am in the mood for a cigar.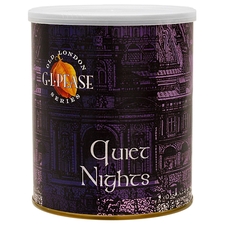 G. L. Pease - Quiet Nights 8oz
Who needs Penzance when....
This is an amazing blend. Having only been introduced to it recently, it has quickly become one of my favorite blends. It's campfire. It's the smoke from a toasted marshmallow. It has spicy moments. It has mellow moments. This brilliant blend ticks all my boxes. It will, in fact, be the first blend I will have ever cellared.
Favorite Products