 David T.
Badges




Reviews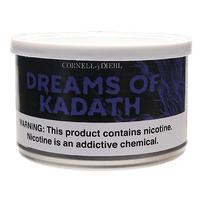 Cornell & Diehl - Dreams of Kadath 2oz
Sublime, Complex and Meditative
This one has a very pleasant aroma of raisins and plums straight out of the tin. The complexity of flavors is amazing. I get mostly a flavor of raisin/plum and perhaps something like rum (though there's no added flavoring that I know of). It's a plug, so be ready for some extra preparation time. DoK is a bit hard to get going at first, but stays lit pretty well with some gentle tamping. Has a medium strength Nic-hit, but doesn't bite. Pleasant aftertaste. Benefits from some drying out time. Try a "rough" rub out, keeping larger pieces of the leaves for added flavor complexity. One of my new favorites!
Favorite Products