 Reviews
Perdomo - Reserve Champagne 10th Anniversary Robusto
Best burning cigar
Perdomo cigars burn better than any other cigar I've smoked. They consistently burn even and slow. They are tightly wrapped and the draw is smoothe. This is a very pleasant cigar and has more body and flavor than I expected. A little stronger than othe Connecticut cigars I've smoked. Great for sitting in the patio and listening to your favorite podcast.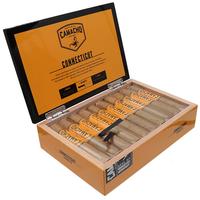 Camacho - Connecticut Robusto
Great taste and aroma
I get compliments from non-smokers. They like the smell. I like the taste and quality of the smoke. It's pleasant. I like to smoke these when I walk my dog.
Favorite Products