 Reviews
Missouri Meerschaum - Great Dane 1.5oz
The best cherry aromatic
This is the best cherry aromatic I have tried among a dozen in genre. Sweet, slight taste of chocolate with excellent burn characteristics. Wish this would sell in tins as pouch has limited shelf life.
Captain Black - Original 12oz
No bite in a bowl
It seems to me like a lot of pipe smokers are taught to think this blend is a "goopy, chemical laden, low quality tobacco". I suspect some are reviewing this without even smoking it. Truth is, this is a high quality, great tasting aromatic. Moisture level is perfect right out of the pouch or tin. Aroma is heavenly, probably the best among hundreds of tobaccos I have sampled. This is basically Lane RLP-6 but a bit better. There is a reason why this is the lone survivor on retail shelves across the nation. It is excellent in every regard, I could happily smoke exclusively for the rest of my life.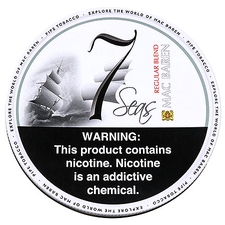 Mac Baren - 7 Seas Regular 3.5oz
The infamous Mac Baren bite
Not nearly as smooth as Captain Black. There is is a reason why CBW is ranked a top seller even on specialty sites like SPC while 7 Seas can't crack the top 200. This blend has an artificial taste and will bite anyone with a faster than average smoking cadence.
Favorite Products
Currently there are no favorite products