 Eric C.
Badges




Reviews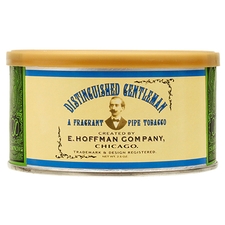 E. Hoffman Company - Distinguished Gentleman 2.5oz
Just what you'd expect
This is just what you might expect from am English Aromatic. The "English" comes through predominantly, with a flavor profile similar to a light version of Peter Stokkebye's Proper English albeit with a slight sweetness. The sweetness, of course, can be attributed to the cavendish and the flavoring (Rum, we're told but it tastes more like a honey-bourbon. The "Lightness" comes, I suspect, from the Burley. If this were my blend. I'd cut the burley in half, allowing the other components shine a little brighter. This is one of those blends where the tin note is not a great reflection of the flavor profile when smoked: Much sweeter in tin then in the pipe! Smokes well right out of the tin, especially with a little drying time. Falls a little flat on the retrohale but the room note, so I'm told, is pleasant.
Favorite Products