RLW
About Me:
I am neither less nor more than I am at this moment.
Badges

Reviews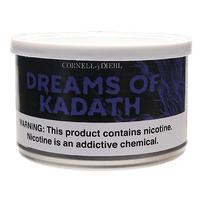 Cornell & Diehl - Dreams of Kadath 2oz
Apple Spice!
A boozy smoky Apple is what comes through in tin note. About a quarter to half way through the bowl you get the same flavor profile as what you smelled in the tin. For me the smell is the same as you exhale through the mouth and inhale through the nostrils. Lovely. May I recommend Jim Beam Apple with this blend as the flavor profiles are almost identical. This would make a great fall time blend during harvest time but also works well during summer months. I bought a tin to sample now and a tin to sample in the fall with a few months of age on it. A real winner in my book! Room note is more of a woodsy smoke but not bad.
Favorite Products