 Reviews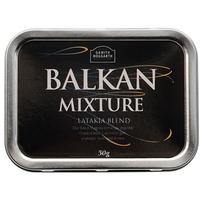 Gawith Hoggarth & Co. - Balkan Mixture 50g
A Nice Blend
I tied a tin of this a week or two ago. I enjoyed it quite a bit and smoked up the tin within a few days. Very typical of a Latakia/Oriental type English blend, subtle yet full bodied. Plus it has a slight hint of he "Lakeland Essense" which I really like a lot,
Captain Black - Original 1.5oz
My All Round Favorite Mixture
I began smoking a pipe when I was 18 years old in the 1970's. I tried many different mixtures and one day a co-worker was smoking this delightfully aromatic mixture and I asked him what it was. I have been a fan of Captain Black ever since. After a hiatus of about 25 years I decided to start smoking my pipes again. Just bought a package of Captain Black regular mixture and it's as I remember it. I am also a fan of English mixtures amnd particularly mixtures rich in Latakia and Perique and I smoke them when the mood strikes me. But CB regular mixture is my all around favorite mixture that I enjoy anytime. I am always in the moood for a bowl of Caprain Black. P.S. Just smoked a bowl. Burned nice and cool right down to the bottom. Plenty of flavour and no tongue bite. A nd that very pleasant aroma that CB is known for. Brought back many memories.
Favorite Products
Currently there are no favorite products