 Reviews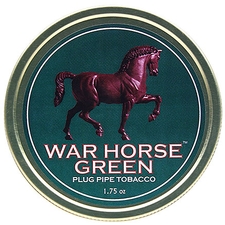 War Horse - Green 1.75oz
What is that smell?!
I bought this tin on spec just to give it a try. On opening, the tin note hit every corner of the room. Its smell is stronger than any G&H tobac in my stash thats for sure. I cant place the aroma. Its like licorice combined with ultra concentrated apricot. It burns and smokes well with (for me) generous nic and voluminous smoke. The aroma will be in your beard all day and in your pipe for longer. Its one of those blends I'm not sure about, but in a mason jar it'll happily sit there and come out when I feel like something totally different to anything else.
Peterson - 3 P's Peterson's Perfect Plug 50g
Had to try it.
I'm mostly an aro' smoker, but I like to have some non aro's in my rotation to keep me interested. When looking for a "non-aro" to add to my stash I saw this beauty. I admit I bought it mostly because it looked good. I thoroughly enjoy the preparation ritual of pipe smoking and the plug adds to that. I dont get people who dont like the "prep". Its a wonderful part of the meditative journey that I believe should be embraced. It's one of the many things that sets our pastime aside from cigarette smoking. Presentaion: Clean, tidy compressed plug with no crumbs. It came in an unnecessarily large 100g tin. Tin note: Very dark slightly sweet (80%cocoa) chocolate. General Smokability: Prepares nicely with a very sharp blade of your choosing. Moisture content seemed agreeable, and it burns nicely with few relights and generous plumage. Taste is very enjoyable, although not an aro there's a nice deep sweetness lurking there with a weighty mouthfeel. Room note, according to those around me is quite strong. I wouldnt smoke this inside. Nic' is quite present for me and I enjoy this on a full stomach rather than an empty one. Conclusion: Buy one of these fine plugs, put it in a mason jar and enjoy it as often or not as you like. I'm a convert and will always want a plug or two on the shelf. If you enjoy the contemplative ritual (there are those out there that dont) of our hobby then this will only add to it.
Favorite Products
Currently there are no favorite products