PIPECAT
About Me:
I'm... The PipeCat!
Reviews
G. L. Pease - Quiet Nights 2oz
Oh, sweet mystery of leaf at last I've found yooouuu...
This is absolutely the best tasting tobacco I have ever experienced. It has locked my #1 spot. It has the right strength, the right burn, the right tin note, the right room note... I have smoked nothing but this since I bought the first tin. Greg Pease is to be lauded copiously for this mixture. For me, this is what pipe smoking is all about. Perfection.
Grand Croupier - Boneyard
A sweet, complex smoke. An amazing value.
This first big batch I ordered is... Hmm... Complex? It's really very good leaf - VERY good leaf - but as one might expect it doesn't have any particular flavor direction. On a first smoke right out of the top of the bag it seemed a tad dry and disappointingly flavorless -- until I mixed the big bag with my hand to bring the more humidified leaf in the middle out to the surface, which changed its character dramatically. Now I'd say it's perfectly hydrated, and I have sealed it in a container. On a much more representative second smoke... It's quite peppery, I'm guessing from a measure of Perique. It's not overly smoky, but there is a little leather in it. And it's delightfully sweet, probably more like quality black Cavendish than like bright Virginia. It offers a pleasant salty aftertaste. It lights well and stays lit. I am not quite sure what known mixture to closely compare it to, as it is highly complex. I'll say it's like a hybrid of Dunhill's My Mixture 965, GL Pease Quiet Nights, and Lane 1-Q. An amazing value. If it's consistently this good I'll buy another pound or two for the cellar.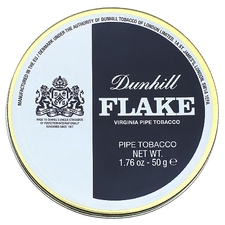 Dunhill - Flake 50g
So fresh, so pleasant
Dunhill Flake is probably the classiest smoke out there. It has no downside. It makes rich white smoke and the residual is simply "clean" ash. The flavor reminds one of a new-mowed lawn or the breezy scent of summer. It's as enjoyable as a cup of tea with lemon on a cool evening. It's a gent's smoke for sure. One of my all-time favorites. A+++
Favorite Products
Currently there are no favorite products