 Marc D.
About Me:
European Pipe Clubs Association
Badges



Reviews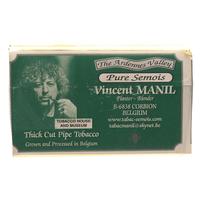 Tabac De La Semois - La Brumeuse 3.5oz
For the ones who master pipesmoking
Vincent Manil La Brumeuse is a blend which is composed of 85 till 90 % burley, which has become a burley hybrid due to more than a century cultivation in the misty humid region of the Belgian Semois River Valley. Air cured, and after around 3 years toasted in a coffee roaster like drum heated by a wood fire. The other 10 to 15 % is a foreign sweet non-burley tobacco added to improve the smoking qualities. Since the production is totally manual with machines of the 1930's every batch has a little different composition making every batch unique. It is very dry and is not meant to be rehydrated, so keep it dry and smoke it dry. When you master pipe smoking you will get a wonderful smoke, but you will have to tamp it very strongly otherwise is burns to quick and to hot. When smoked slowly and well tamped you will discover a pleasant flavorful natural smoke with a rich variety of different perfumes. A challenge for confirmed pipe smokers, compensated by a very special smoking reward.
Favorite Products
Currently there are no favorite products