 Antonio P.
Badges
Reviews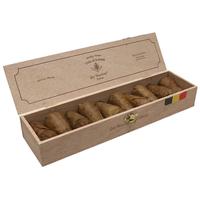 Tabac De La Semois - Les Bouchons (Box of 10)
Pensive Puffs
I'll admit I had no clue what I was doing but after search or the www I came across this vid https://youtu.be/ZuazCKMkNF8 didn't take long and learned the ropes. This bulb is not for those just puffing to pass time...no sir soon as I reached the rim of the bowl...all those earthy flower notes faded and there i was Pensive Puff after Pensive Puff. COVID afterthoughts..world peace etc... Just what the doctor ordered! My weapon of choice was the Chesapeake Clay pipe (as I heard le ghost was a faithful friend) and be it the long stem or the dry clay...any and all smokes of this Champion of Smokes were 100% consistent. Not for those allergic to Vitamin N & Not for those wishing to talk with the Rabbit Time...but mosdef for those Pensive of Heart. Did the job, does the job, nothing left but to enjoy the job! My only "complaint" is buying one order per day...please we are all adults here...its.not the concept of sharing I cringe at...it's the EXTRA shipping unless the minimal is met (new tax doesn't help either) that I frown on. That aside fully recommend (especially if you enjoy a good strong cigar!)
Cornell & Diehl - Haunted Bookshop 2oz
Hunyed Bookshop by Christopher Morley
THIS SHOP IS HAUNTED by the ghosts Of all great literature, in hosts; We sell no fakes or trashes. Lovers of books are welcome here, No clerks will babble in your ear, Please smoke--but don't drop ashes! ---- Browse as long as you like. Prices of all books plainly marked. If you want to ask questions, you'll find the proprietor where the tobacco smoke is thickest. We pay cash for books. We have what you want, though you may not know you want it. Malnutrition of the reading faculty is a serious thing. Let us prescribe for you. By R. & H. MIFFLIN, Proprs. For those most curious as I. Enjoy!
Favorite Products
Currently there are no favorite products