 Cheimi L.
Badges








Reviews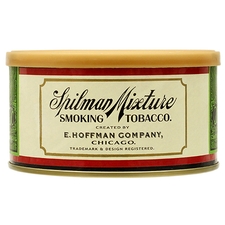 E. Hoffman Company - Spilman Mixture 2.5oz
If you like Distinguished Gentleman
I think you will like this, certainly one more than the other, but they are brother/sister. This has a wonderful smoothness, the Lat being in what I consider a nice balance. I would almost compare the smoothness to Germain King Charles, but I am afraid I would be stoned to death. It seems a tad stronger than GKC, but again, this is totally smooth and should be a higher rank in tinned sales than it is... but that's my opinion
E. Hoffman Company - Distinguished Gentleman 7oz
Like Crushed Velvet
This tobacco has a deep, rich, but mild flavor that hits all the notes for me. I bought it because I like retro everything and spilled most of the tin on opening it. I smoked what was left and ordered 3 large tins of it immediately. It's like sitting in a Crushed Velvet Easy Chair, while savoring the taste that I don't have to look for or figure out how to tone it down.
Favorite Products