 Reviews
Wessex - Gold Slice 1.5oz
Yummy
I took this straight out of the tin after I popped it open. The Flakes are somewhat broken. I filled the bowl with a Fold n Stuff ...et voila! The smoke went so well. I was totally amazed. A little bite at the top then smoked like a dream all the way to the bottom. Perfect for a sweltering Summer day. Good as any Virginia I've smoked, A little more body than Dunhill Flake. This will stay in the Summer rotation !
Samuel Gawith - Best Brown Flake 50g
Moisture Issues
The times I've gotten past the moisture issues it taste delicious. The satisfying smoke average seems to be 2 out of 6 times. I've played around with it as far as drying out with hit and miss success. I've found with most Samuel Gawith offerings it's best to open them and let them breathe for 3-4 hrs, close them back up, then let them sit for 1-2 months. When I come back to them they're usually good to go. We'll see. I like it a lot when it smokes well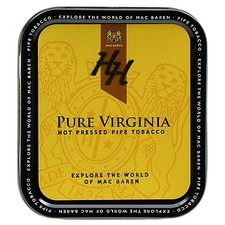 Mac Baren - HH Pure Virginia 1.75oz
Straightforward and Full
I like HH Virginia. Great quality tobacco. For me it is very different than most of the Virginias I smoke. Somewhat robust and full. Not sweet or particularly nuanced. It could be used in cooler weather in place of mild/medium English blends. I would also sip Whisky or something similar with it. In the sweltering heat of Summer I will opt for the lighter Virginias like Dunhill Light and Dark Flakes or Orlik Golden Slice. Though that being said, there is nothing inferior here. No disappointment in quality
Favorite Products
Currently there are no favorite products
Blog's Commented on
Tasting Notes: Wessex Gold Slice
► Shane, great review and recommendation. Thanks. I Luv this stuff ! Perfect smoke for the sweltering Summer heat. Are the other Wessex offerings this good? Wow.......