 Erik L.
Badges




Reviews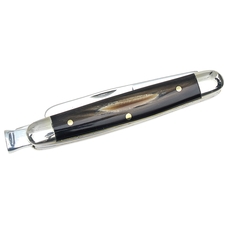 Tampers & Tools - Joseph Rodgers Gentleman's Smokers Knife with Buffalo Horn Inlay
Piss Poor Finish
So attention to detail is not part of these guys vocabulary apparently. Rough spots, alignment suck. Im a self proclaimed knife nerd, and this thing was executed horribly. The finish work is super poor. Save your money and buy a dunhill or something, at least you'll get what you paid for.
G. L. Pease - Fillmore 2oz
Buyer beware: Somebody put latakia in this
So apparently "Scottish Tradition" translates to the Haggis of the pipe tobacco world. Im incredibly irratated that latakia is not listed as a blend component. This is a Virginia/Latakia blend with perique. This is not a vaper with a "pinch" of latakia. 2 Thumbs Down to smoking pipes for missing this. FYI if you do a search to EXCLUDE latakia, Fillmore still pops up. 2 Stars because GL is a quality blender. I just cant stand latakia.
Favorite Products