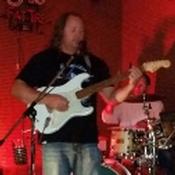 SONIC_OX
About Me:
Guitar player, gun fighter, welder, biker.
Reviews
Peterson - 3 P's - Peterson's Perfect Plug 50g
Great taste. Be careful.
This is my first foray into plug tobacco. Tastes great even though I don't particularly care for burley forward blends. I had a bit of trouble keeping it lit. Could be my pack. I cut off a thin flake and folded it and stuffed it into a rather deep Falcon. This pipe is a GREAT smoker with a mirshaum lined briar bowl. Might have been packed a bit tight. Anyway it tasted great and burned nice and slow. Big nicotine hit which I enjoyed but made me a bit dizzy. Be careful, go slow. I love the ritual of plug preparation. I'll keep this one in the rotation. I'm on the lookout for an aromatic plug. This is quite good but would be better with less burley in my opinion.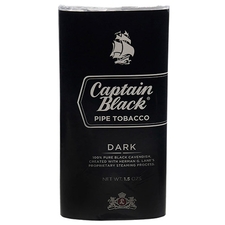 Captain Black - Dark 1.5oz
Bought as a mix-in but...
I had purchased some Squadron Leader because I wanted to branch out into English blends plus I really like the tin. Well I found the tin note as well as the porch note (I'm only allowed to smoke outside) to be something akin to the South end of a northbound mule. The taste was not any better . So I decided to buy the Captain Black Dark and add it to the Squadron Leader and see if the straight Cavendish could mask the assness. I smoke a pipefull of the Captain before mixing and WOW! Great plumes of billowy, white, cool, tasty, fragrant, smooth smoke. One relight took it all the way down to light powdery ash. I tugged away at it daring it to bite my tongue but it wouldn't. It was simply brilliant tobacco. No way was I adding this stuff to the barnyard. I cellared the Squadron Leader hoping it would get better or my palate would improve making me appreciate a fine English blend that SL truly is. I ended up blending the Dark with some Cult Blood Red Moon. Holy Cow what a blend. I'll but then together going forward. And yes, I'm an unashamed lover of aromatics.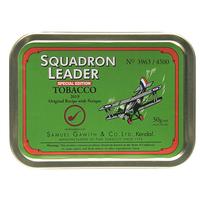 Samuel Gawith - Squadron Leader Special Edition with Perique 50g
Quality tobacco but...
I'm an unapologetic lover of aromatic pipe tobacco but wanted to broaden my horizons. I decided to try to get into English blends and the reviews for Squadron Leader made it seem like a good candidate for my first foray. Plus, I think the tin art is cool. Well, Squadron Leader is REALLY difficult to find. When this limited edition blend came available, I jumped and was lucky enough to get tin # 563 of 4500. I think it sold out in like 24 hours! I popped the top and the tin note was like a barn yard. Not unpleasant but very grassy and hay like. I really like the cut and moisture content of the tobacco. It was packed tight but came away in nice shaggy ribbons. It was a bit moist so I filled my pipe and let it sit for a few hours as is my habit. The tobacco lit with one match and burned very nicely with light tamping and no re-lights needed. I thought the smoke seemed a bit thin and the taste was sort of underwhelming. A bit too cigarette-ish for me. I did get a subtle peppery sweetness toward the middle of the bowl probably from the added Perique. I do think this is quality tobacco but the taste is not for me. I will cellar this tin and revisit as my tastes change and mature. Back to the Cult Blood Red Moon lol.
Favorite Products
Currently there are no favorite products