 Reviews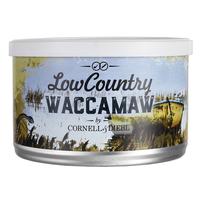 Low Country - Waccamaw 2oz
Delightful VaPer
The mildness of the virginias showcase delightfully peppery perique tobacco, but aren't overshadowed. There's a nice brown sugar and sweet hay flavor that builds as you get midway through the bowl. The oriental notes are more subtle. Burns quite cool and dry, without bite or fussiness besides needing a few relights, and tastes good smoked all the way down to a fine ash. Delightful to smoke, a very flavorful but without leaving a heavy taste behind on your palette or pipe.
Hearth & Home - Black House 1.75oz
Really surprised and impressed me!
I came into BlackHouse with a little trepidation, hearing it was a big English/Balkan blend, and wondering if the Lat bombers would be coming to "liberate" my tastebuds back to the stone age... but was really surprised by the amazing balance of the blend. Smooth, creamy, spicy, touches of gentle sweetness, it had it all and nothing overshadowed in the process. If anything, the orientals and cavendish (I had utterly forgotten how nice good, unflavored cavendish can be!) take center stage, with other ingredients forming satisfying base notes. I think I might have a new favorite. This is a cool and tasty smoke I would love to enjoy all day... but I don't know if I could withstand the nicotine. Bit of a kick, though less so than the Fusilier's Ration.
Mac Baren - HH Old Dark Fired 1.75oz
Really outstanding
I keep coming back to this tin... really excellent blend. Hearty but not overwhelming, mellow but never bland, really full bodied smoke, smokes dry without a threat of bite, few relights... the flavor is also excellent, sort of a rich stodgy sweetness without the acrid carmalization that can come off a sweetened topping, the well cured tobaccos themselves providing a rich flavor without need of embellishment.
Favorite Products