 James H.
Badges



Reviews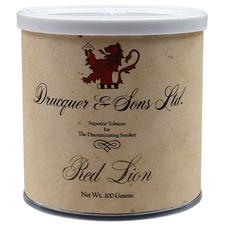 Drucquer & Sons - Red Lion 100g
Excellent smoke!
This is a wonderful blend, beautifully balanced yet nuanced. I started cycling through the Drucquer & Sons blends with Blairgowrie, which now having had more experience with the line, I'm going to re-visit. Second try was with Inns of Court, which I found to be an excellent all day smoke. First pipe of the the day is now Inns of Court followed by Red Lion, with it's wonderful aroma and smooth flavor profile. I just jarred a tin of Trafalgar, and am looking forward to where that takes me. Each of the blends thus far has done exactly what Mr. Pease referred to in an article I found elsewhere - once the tin is cracked, allowing the air and microbes to do their work, subtle changes continue to occur right up to the last pipeful. The mixtures tried have all smoked better for me after a little airing - I'll put an ample amount out to dry, and once the pipe is loaded, the rest goes back in the jar to "get happy" with the remaining mixture. So far, this line is outstanding!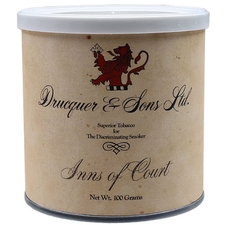 Drucquer & Sons - Inns of Court 100g
Wonderful blend!
An absolutely wonderful all-day English blend. I opened this tin because I needed something that would stand up to multiple bowls as I worked on an extended writing project. This blend more than met that requirement. With a new tin, this smokes best for me after having "breathed" for 15 or 20 minutes, allowing the mixture to reach a level of sustainable combustibility that released the wonderful subtleties of this blend while remaining bite free. Highly recommended if you are new to English mixtures or looking for a good "all-day smoke".
Favorite Products
Currently there are no favorite products