 Kenneth D.
Badges


Reviews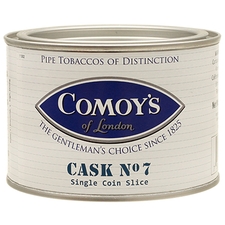 Comoy's - Cask No.7 3.5oz
Great smoke
I really like this tobacco. The coins are nice, moisture is perfect. There is a tiny bit of sweetness that creeps in on occasion. The Virginia is sweet grass and hay, the perique is subtle. Just a great smoke. I reach for it almost nightly. 2 coins. Fold and stuff. Try it. You won't be sorry. Also priced right. Taste is best of all other similar coins.
John Aylesbury - Dragon Flake 50g
There is no comparison
This tobacco is the best tasting surprise in the world of the Virginia tobacco. I bought some months ago on the review of Bremen pipe smoker. I was so surprised at how nice this tobacco smelled and tasted. Fold and stuff. 2 matches and your off. Burns very nice. I like to keep a bit of orange Gatorade next to me, for sweet sip now and then. You must try this tobacco. It's truly indescribable. Obviously there are countless great tobacco's out there. I personally love it. Its a nightly smoke for me.
Favorite Products