The History of Pipe Design: France and England
Unlike other artistic mediums and styles, such as Impressionist paintings or ancient, Grecian sculptures, discussing pipes as pieces of art is a relatively new endeavor and lacks formal exposure. (I've known many students who have taken Art History classes; never before have I heard of a class related to pipe history.) This absence of precedent both poses challenges and grants a measure of freedom: On one hand, there are no "experts" within the discipline of pipe design, no academic journals to turn to for information, but on the other hand, such a landscape has invited those interested to trailblaze methods of examining pipes as art, exploring design styles and developing an artistic language related to pipes — a "dialect," if you will, a vernacular of pipe design.
This resulting language incorporates artistic analysis and follows the chronological history of pipe making, but like any other language, it is a web of many converging strands — some overlapping, others completely disparate. The historical timeline of pipe design is far from neat and tidy. Like people, languages are alive and evolving, complicated and complex, and the language and history of pipe design is no different.
By the early 1900s, hundreds of brands had emerged, changed names, and/or been absorbed by other companies.
The vocabulary of pipe design relies on patterns observed throughout pipe-making history and centers on the aesthetic similarities of pipes from the same era and/or geographic region. Since Smokingpipes was established two decades ago, describing pipes in this way has remained an integral aspect of our vision and approach to pipes, and many of our pipe descriptions and Daily Reader articles reference pipes as artistic compositions and discuss their historical and aesthetic contexts.
To map and untangle that metaphorical web of pipe design, this article begins The History of Pipe Design series. Throughout this piece and future Daily Reader posts, we will analyze the relationship between history and aesthetics as they relate to pipes and the language used to talk about them, hopefully bringing clarity and perspective to this world of pipes that we love and showcasing the beautiful diversity and inherent unity within it. In this article, we focus on France and England and what we consider "classic" and "traditional" pipe design.
We start in St. Claude, France, c. 1850. The Comoy's pipe factory, established by Francois Comoy roughly 30 years prior, had made a name for itself fashioning pipes from clay and boxwood for Napoleon's armies. Around 1850, however, the factory began producing pipes out of briar, having recognized the wood's superior smoking qualities and unknowingly establishing a precedent for pipe making that would endure turns of centuries. From that point, St. Claude would become the source of briar pipe making through the rest of the 19th century, with tributaries eventually expanding to other cities and into other countries.
Comoy's later merged with the Chapuis family, relatives of the Comoys, beginning the Chacom brand and establishing the Chapuis-Comoy factory in St. Claude, with a number of other iconic makers, like Ropp, Butz-Choquin, and Jeantet all originating in that same region of France. Eventually, influence expanded to Britain, with Alfred Dunhill, the Barling family, Charles Peterson, and other notable makers forming their own pipe-making factories while Comoy's and others established locations in England as well.
Like river rapids rushing over rocks and gaining momentum, the beginning of briar pipes expanded exponentially and with fervor. By the early 1900s, hundreds of brands had emerged, changed names, and/or been absorbed by other companies. The waters were teeming with innovation and competition, and a pipe-smoking society was quick to enjoy the frenzy.
Despite the overwhelming number of brands and their sometimes sudden and chaotic beginnings, one aspect united these early pipe factories: a focus on mass production. The industrial era was new and exciting, and pipe smoking was as much a staple of society as smart phones are today. The mass production of briar pipes not only made financial sense but it was necessary in order to meet the demands of pipe smokers, so pipe factories designed machines for producing pipes in large quantities. Obviously, these machines couldn't account for all aspects of pipe making — stems still needed fitting and specific shaping elements still required a personal, hands-on approach — but when it came to drilling the mortise and airway and roughly shaping the bowl and shank, lathes and fraising machines dramatically increased the efficiency of pipe-making factories. These machines also helped determine what we today consider the classic pipe chart: Billiard variants, Dublins, Apples, Bulldogs, etc.
Pipes were considered practical instruments for enjoying tobacco, and their aesthetic appeal wasn't as central to a factory's pipe-making approach as it would later become.
Because of mechanical limitations and the templates used for shapes, pipe-making machines required radial symmetry within pipe designs, meaning that shapes needed to be symmetrical across a central, horizontal axis running the length of the pipe. Look at any classic shape from an aerial perspective, imagining a line cutting the middle of the bowl and shank, and you'll notice a perfect, mirrored image between both sides. Other limitations also contributed to elements we consider integral to some classic shapes.
Shane Ireland points to the traditional Billiard's slight forward cant as an example of this phenomenon: "A Billiard's forward cant was rendered to leave room for the tools to fully turn the bowl without running into the shank." Were the bowl completely upright, a pipe's transition couldn't be fashioned properly. As Shane explains further, "As pipe production grew and developed, those shaping cues became archetypal, forming what we consider inherent aspects of 'classic' and 'traditional' pipe shapes."
This classic or traditional style of pipe design, as we now refer to it, denotes the proportional balance, radial symmetry, and general shaping standards initiated by these early French and English pipe makers, as dictated by their focus on mass production and the limitations of certain pipe-making machines. Classic or English- and French-style pipes are those that represent the archetypal form for a certain shape: The lines are often simple yet firm, almost stoic, and the proportions are balanced — meaning there isn't a strong proportional disparity between the size of the shank and that of the bowl. Both complement and balance each other instead of competing for visual attention.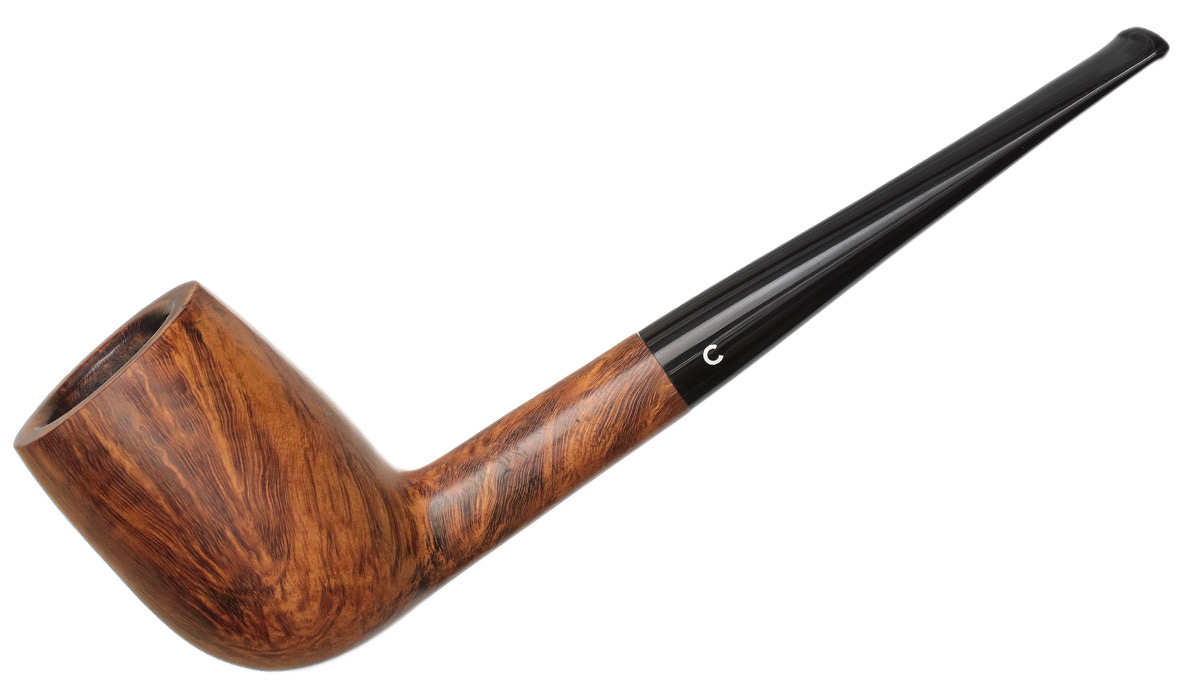 These archetypes developed during a time when a briar block's grain wasn't highly prioritized in pipe making. As previously mentioned, in the 1800s and early 1900s, the focus was on mass production. Pipes were considered practical instruments for enjoying tobacco, and their aesthetic appeal wasn't as central to a factory's pipe-making approach as it would later become. Consider, for example, early pipe finishes: Dunhill's Bruyere, while offering a lovely, elegant palette, was never intended to highlight the briar's natural grain patterns, and early examples of the Shell Briar sandblast rendered dense and uneven texture rather than intentionally accentuating growth rings. This doesn't mean that those early pipes lack inherent beauty; rather, aesthetic appeal and grain simply weren't prioritized at the beginning of briar pipe making.
In fact, the classic shapes developed during this era are still some of the most popular and aesthetically pleasing pipe shapes today. Even though early pipe factories focused on practicality and mass production, function and aesthetic appeal are not dichotomous. Quite the opposite is often true: When done well, functionality increases an object's aesthetic draw.
"I think we have a tendency to see things that are useful as beautiful," says Sykes Wilford. "Are Gothic arches beautiful?" The obvious answer is yes, Gothic arches are beautiful. We laud and visit Gothic cathedrals for their architectural beauty, enhanced and defined in no small part by the prolific use of arches. "Yet these arches also serve a specific structural function. In fact, the needs of the structure define the arch's shape — a shape that we, as humans, find quite beautiful. So, it's possible for something to be beautiful and to also serve a practical function, and often that beauty is defined by or born out of the object's function."
Because of mechanical limitations and the templates used for shapes, pipe-making machines required radial symmetry within pipe designs, meaning that shapes needed to be symmetrical across a central, horizontal axis running the length of the pipe.
The same is true for these English and French pipes, shapes that we now call "classic." Practically speaking, pipes require a chamber and airway, and in the context of these early factories, certain machines resulted in more specific shaping standards; however, the necessities and limitations also resulted in beautiful forms marked by compositional balance and aesthetic intrigue.
Even though mass production was the modus operandi and though machines helped define the underlying structure of classic shapes, "people don't purposefully make ugly things," says Sykes. "Certain proportions are more aesthetically pleasing than others, so factories landed on certain bowl-to-shank sizes and stem-to-shank ratios based simply on what looked best. It wasn't a conscious artistic process; however, it nevertheless influenced how we perceive and define classic pipe shapes." The more these traditional designs were fashioned, the more established the archetypes became, in the same way a river carving a course through the landscape becomes more bound to that course over time.
Pipe stummels representing White Spot shapes from previous generations
With the standardization of these shaping conventions, pipe makers began paying closer attention to a pipe's aesthetic presentation beyond its shape. Dunhill, for example, introduced the smooth Root Briar finish in 1931, displaying a lighter stain than the Bruyere specifically for better grain definition. The English marque also created the Shilling and Ring Grain designations which denoted particularly grain-defining sandblasts.
Even with the increased focus on finish and presentation, though, the overall design of French and English pipes remained consistent throughout this period of mass production. The standard shapes on the classic pipe chart maintained radial symmetry and featured relatively balanced proportions, with the bowl and shank remaining balanced between one another: If the bowl was hearty and muscular, so tended to be the shank, and if the shank catered to a more sleek, streamlined sense, so did the bowl.
These shaping cues, standards, and conventions of classic pipe design formed the template from which other styles developed, and though many early French and English pipe factories are no longer in business, their style of pipe making is alive and well. A number of these old manufacturers are thriving and fashioning pipes as they always have, and the standards of pipe design they helped establish over a century ago still influence modern pipe makers today. The classic style of pipe design is the foundation of all pipe making. Whether a specific maker adheres to or drifts away from those classic motifs, they remain the foundational aesthetic elements upon which all other styles are built, the spring from which all other styles are fed.
You may also enjoy: