If you're primarily a pipe smoker like me, the world of premium cigars can be a bit intimidating. With so many different leaf varietals and configurations, not to mention vitolas, one could understandably be hard pressed to know where to start. Luckily, the cigar experts here at Smokingpipes have plenty of knowledge to share with us pipe smokers looking to expand our palates. What follows is a selection of suggested sticks tailored to pipe smokers based on their preferred types of blends, such as Virginia/Periques, Burleys, and more.
An obvious place to begin is the StillWell Star series. Made by the esteemed Dunbarton Tobacco and Trust, these cigars utilize unique filler blends that incorporate pipe tobacco, creating a smoking experience that can please both pipe and cigar aficionados. The series is composed of four distinct blends, Aromatic No. 1, Bayou No.32, English No. 27, and Navy No. 1056. Each cigar caters to a different blend profile, with the Bayou including Red and Golden Virginia with Perique, while the Navy adds Virginias, Orientals, Latakia, and a touch of rum. My advice to any pipe smoker interested in cigars is to smoke through the StillWell Star series right away. Having done that, one can peruse the following list of cigar recommendations from the team here at Smokingpipes.
Another Dunbarton creation, this rich, medium-bodied cigar is a good choice for fans of pure Virginia mixtures. The shade-grown Ecuadorian Connecticut wrapper is extra aged, adding sweetness and bright, zesty notes reminiscent of aged Bright Viginias. Combined with a Mexican San Andres binder and Nicaraguan filler, the Sobremesa Brulee offers a smooth, complex smoke.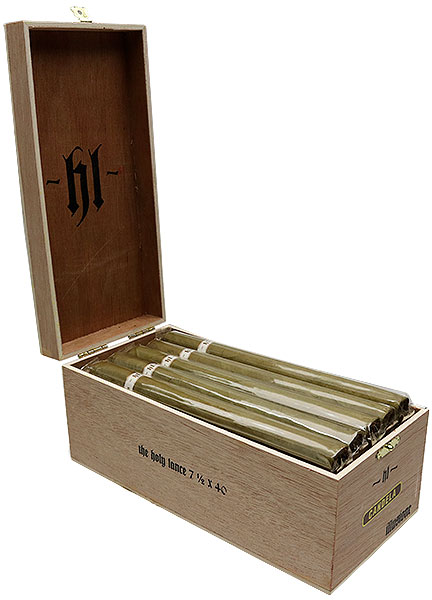 A leaf type most pipe smokers are likely unaware of, Candela is specially processed tobacco, heat-treated to trap chlorophyll in the leaf and forgoing longer curing processes to create an eye-catching green cigar wrapper with a one-of-a-kind flavor profile. Illusione's "hl" Lancero is a perfect cigar for experiencing Candela's full flavor, with the bright green leaf, serving as a wrapper, paired with Nicaraguan binder and filler tobaccos. Similar to some flue-cured Virginias, Candela has a rich, grassy flavor profile, with sweet, earthy, zesty notes.
Translated as "The Godmother," La Madrina is one of Dapper's strongest, most full-bodied cigars. The cigar is named after Yolanda Garfias Woo, who was an important figure in spreading awareness of the Mexican Dia de los Muertos holiday. This cigar is composed of a complex blend, with a Connecticut shade-grown wrapper, Mexican San Andres binder, and a combination of filler tobaccos from the Dominican Republic, Nicaragua, and the U.S. The Belicoso is a fine choice for pipe smokers thanks to its citrusy, nutty, and creamy flavor profile. This stick should appeal to fans of stouter Virginia blends such as Cornell and Diehl's Carolina Red Flake.
Ideal for those Va/Per enthusiasts who enjoy grassy Virginias with an extra dose of Perique, Warped's Nicotina Belicoso is a Nicaraguan Puro with a bold Corojo wrapper and Criollo binder, with leaf sourced exclusively from the well-regarded Aganorsa Leaf farms. The Nicotina derives its name from an old Cuban brand dating to 1880 and is aptly named, as this cigar is made of all Cuban-seed leaf. The flavor profile contains notes of hay, citrus, and pepper well-suited to a pipe smoker's palate.
Named after the process of blending multiple variations of cigars, the Number 6 was the sixth iteration of its blend and the one that made the cut. Made with a Honduran Corojo wrapper, Honduran binder, and Nicaraguan filler tobaccos, this cigar boasts a lighter flavor profile with plenty of natural sweetness and engaging coffee and pepper notes.
Another offering from Dunbarton's Sobremesa line, the Cervantes is composed of Habano Rosado wrapper, Mexican San Andres binder, and filler tobaccos from the U.S. and Nicaragua. The flavor profile of this cigar will appeal to Va/Per smokers with its rich, earthy notes of cocoa, pepper, and cedar.
For Latakia and Dark-Fired Smokers
While there's no analog to Latakia in the world of cigars, there are plenty of smoky, spicy flavors to be found. Dark-Fired leaf is a unique component that's traditionally used in Cheroot cigars and offers pipe smokers a new way to experience an old favorite.
Toscano cigars are a unique regional style of Cheroot, made using fermented Dark-Fired Kentucky wrappers with a variety of fillers. These long thin sticks are deceptively potent and traditionally smoked ammezzato: cut in half rather than smoked all at once, essentially providing two smokes for each cigar. Like most great inventions, Toscanos were created accidentally, in the early 1800's when a cartload of Dark-Fired leaf was caught in the rain. In an attempt to salvage the potentially ruined tobacco, the leaves were left to dry in the sun, undergoing a unique fermentation process that enriched their flavor and smoking qualities, making them perfect wrappers for small cigars. The Grand Duke of Florence liked them so much that he founded a company to mass produce them, and the Toscano brand was born. The Master Aged series is composed of Cheroots that are aged for a year to increase their deep, complex flavor. The Serie 3 is my personal favorite, made entirely from American Dark-Fired tobacco. The flavor profile is at once familiar but distinct from pipe blends that feature this leaf type, full of earthy, spicy notes, with a hint of dark fruit.
Black Label Trading Company's Memento Mori is a powerful smoke, ideal for pipe smokers who enjoy bold, full flavored, high-nicotine blends such as Cornell and Diehl's Pirate Kake. Composed of a Maduro wrapper of Pennsylvania Broadleaf and an Ecuadorian binder, the blend is finished with Nicaraguan filler tobaccos, for a strong and flavorful cigar.The flavor profile is full of earthy, peppery notes sure to resonate with fans of stouter pipe blends.
Another stick that features a Pennsylvania Broadleaf Maduro wrapper, the Quickdraw, from Southern Draw, is a deep and full-bodied cigar that should appeal to those who appreciate Kentucky-forward pipe blends. Paired with a Nicaraguan binder and fillers from Honduras and Nicaragua, the Corona Gorda provides a rich smoke with hints of Barbecue sauce and deep, earthy notes. Fans of Mac Baren's Old Dark Fired will find this cigar difficult to resist.
For Burley Smokers
Another offering from Dapper, the Desvalido was a dream blend for company founder Ian Reith. He had long sought to make the connections necessary to realize this cigar, but was unable until the time came to produce this exquisite smoke. The cigar's name translates roughly to "underdog" from the Cuban dialect, referring to Reith's deep personal connection to the cigar. The Desvalido is composed of a Habano Rosado wrapper and filler Nicaraguan tobaccos from Oliva's farms and Connecticut Broadleaf from the Lancaster Leaf Tobacco Co. The last filler component, as well as the binder, remain undisclosed, though Reith has confirmed that the binder is U.S. Grown. The earthy and peppery flavor profile, with hints of creaminess, makes this cigar a good choice for lovers of Burleys and Orientals alike.
The Blind Man's Bluff features a unique combination of tobaccos, with an Ecuadorian Habano wrapper, Honudran binder, and a special filler blend of Honduran Criollo Ligero and San Vicente leaf. Grown in the Dominican Republic, San Vicente is a hybrid varietal grown in the Dominican Republic. The sweet and nutty flavor profile and bold, earthy kick are sure to please lovers of Dark Burley.
While this list is by no means comprehensive of all cigars that would suit the tastes of pipe smokers, it can serve as a starting point for one's forays into the cigar world. I believe, much as I do about pipe tobacco, that there's a perfect cigar for everyone. The search for just the right combination of tobaccos and configurations is, for me, just as appealing as the discovery of those sublime smokes. Getting out of one's comfort zone is the surest path to new experiences, and in that spirit, I wish the reader happy hunting in the humidor.
You may also enjoy: