Classic OTC Blends: Edward G. Robinson First Impressions
Sharing its name with the legendary actor and avid pipe smoker, Edward G. Robinson's Pipe Blend (EGR) is a mixture that has endured since its debut in the mid-20th century. The blend was created in the late 1940s by the San Francisco-based company Greenfield and Winther under Robinson's supervision; he agreed to endorse the blend once he was absolutely satisfied with the final product and felt that it would suit the tastes of his fellow pipe smokers. Robinson was a prolific pipe smoker and owned a collection of over 150 pieces at one point. Creating his own pipe tobacco blend further emphasized his love of pipe smoking and provided others with a nostalgic, comforting mixture.
Robinson's fondness for cigars is well known, with his favorite brands being Romeo y Julieta, Montecristo, and Punch. The iconic actor was a frequent visitor to several historic American tobacco shops such as Ehrlich's and L.J. Peretti's in Boston as well as Bertram's in Washington D.C. When it came to pipe tobacco, Robinson often smoked various Dunhill mixtures and house blends created by tobacconists, with Peretti's No. 102 Burley being one of his favorites.
Though Robinson passed away in 1973, his legacy continues through the classic films he starred in as well as his namesake tobacco blend that has been delighting pipe smokers for decades. It's a mixture I've never tried before and since I'm a fan of the late actor's work, I decided to purchase a tin of EGR and take notes of my first impressions.
Sutliff Tobacco Company purchased the rights to the blend in 1969 and continues to produce its modern incarnation. EGR was a favorite of writer and historian Shelby Foote, who's best remembered for his three-volume history of the American Civil War The Civil War: A Narrative. Foote was also known to mix EGR with a portion of classic, over-the-counter (OTC) blends such as Sir Walter Raleigh and Half and Half as he felt the cut of EGR was too fine and packed tightly in his pipes.
A few years ago EGR was nearly discontinued for good, but thanks to the efforts of pipe smoker and comic book artist Jim Amash, also known as JimInks online, the blend continues to remain in production. Amash is heavily involved in the online pipe community and has reviewed hundreds of blends on tobaccoreviews.com, with his Edward G. Robinson profile picture being closely intertwined with the JimInks username. Amash helped launch a successful internet campaign in 2013 to save EGR and not only did Sutliff keep the mixture in production, they even let Amash write the tin description. Such an endeavor secured the blend's future and continues to give pipe smokers the opportunity to experience a historic and cherished blend.
Packaging, Components & Cut
Edward G. Robinson's Pipe Blend is offered in two sizes: a 1.5-ounce round, metal tin and a 12-ounce tub. On Sutliff's website, the company notes that EGR is an "American English style mixture of Burley, Cavendish and Latakia, with a light, complimentary top note. It's very much like the blends everyone seemed to enjoy in days past."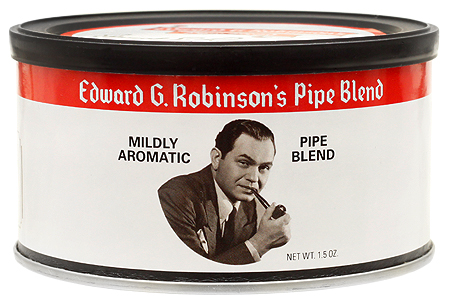 Edward G. Robinson's Pipe Blend 1.5oz Tin
The tin description reads, "A subtle aromatic with a natural smooth Burley nuttiness & flavored Black Cavendish taste. Fruity plum notes are given a flavor push from a hint of Latakia." It continues, saying, "A touch of liquor makes for a very pleasing top note. A harmonious blend that burns cool and slowly for full enjoyment."
EGR is predominantly comprised of Burley but also features flavored Black Cavendish, Cavendished Gold Virginia, and a tiny touch of Cyprian Latakia. The blend is presented in an extremely loose and thin ribbon cut, composed of a mix of long and short tobacco strands. The tobacco itself is light-to medium brown in color, with small, blackened bits of Latakia also visible when sifting through the tin.
Tin Note and Moisture Content
After opening the tin, I was greeted by several intriguing yet pleasing scents that were reminiscent of other OTC blends I've previously smoked but also quite unique in their own right. The tin note offers a sweet aroma, the fruity plum and liquor toppings working surprisingly well together, with neither one being too overpowering. I also picked up hints of cinnamon, red wine, vanilla, and chocolate with some subtle citrusy undertones present in the background.
The moisture content was perfect straight from the tin, did not need any drying time, and packed effortlessly into my Missouri Meerschaum corn cob. After an initial charring light, the tobacco lit easily and required little maintenance while smoking other than a few occasional tamps as I worked my way down the bowl. While smoking, I found this blend to be incredibly forgiving and user-friendly no matter my cadence as it never became too harsh or bitter and I experienced no tongue bite. It was especially enjoyable when smoked slowly, allowing for full appreciation of its rich and sometimes subtly complex flavors.
Flavor Profile & Strength
In terms of flavor, the nuttiness of the Burley was prominent and the toppings played nicely off the base tobaccos, with the fruity plum and liquor flavors adding interesting nuances to the blend's profile. The presence of the Latakia is extremely subtle and I would not have known any was present if not for the tin description. I occasionally noticed the sweet, smoky spiciness of the Latakia when retrohaling and thought that it enhanced the mixture's chocolatey notes. The Cavendished tobaccos did an excellent job of adding body to the blend, creating a sense of weight on the palate while remaining smooth and allowing the flavors to truly express themselves.
Though EGR is an Aromatic, it's rather mild and Burley-forward, with the toppings working harmoniously with the base tobaccos. It's not overly moist and will not leave a goopy puddle of unburnt tobacco in the bottom of the pipe's chamber. As an Aromatic, EGR delivers in terms of both room note and flavor without the undesirable qualities such as tongue bite and excessive moisture that are sometimes associated with Aromatic blends.
Edward G. Robinson's Pipe Blend provides a pleasant, easy-going smoking experience and can be enjoyed multiple times a day without becoming boring or tiring. It offers a remarkably pleasant room note that should be relatively inoffensive to non-pipe smokers and a distinctive profile that sets it apart from other classic OTC mixtures. For those who are not fans of Latakia as a blending component, don't let that deter you from trying EGR as the amount present is minuscule, with some online reviews claiming that Latakia constitutes only one percent of the blend. If you primarily smoke Burley-based blends or appreciate rich, flavorful Aromatic tobaccos, EGR is certainly worth trying. It's quickly become one of my favorite everyday blends and I plan to always have a tin nearby.
Have you ever tried Edward G. Robinson's Pipe Blend? If so, what are your thoughts on it? I would love to hear your opinion!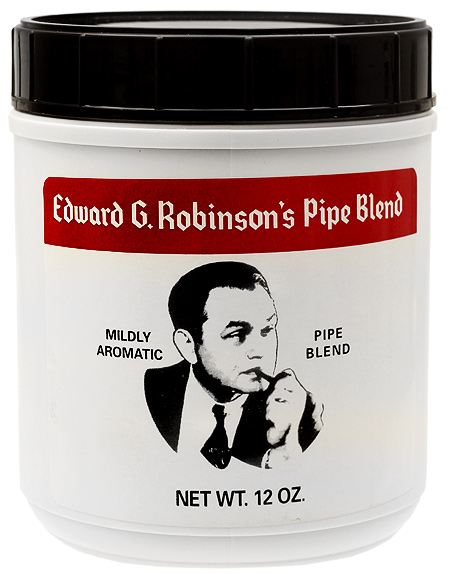 Edward G. Robinson's Pipe Blend 12oz Tub
You may also enjoy: