Top 11 Best-Selling Aromatic Tobaccos
Updated for Winter 2021. This article was originally published February 20, 2015. It has been updated to incorporate current data and edited to reflect product availability.
Aromatics are among the most popular pipe tobaccos in the world, smoked and cellared by newcomer and veteran pipe smokers alike. But if you're just starting out your pipe-smoking journey, or simply looking to explore the wide world of aromatics for the first time, the sheer breadth of options can be overwhelming. That's why we've done our part as your friendly neighborhood online tobacconist and compiled a list of our best-selling aromatic blends for your consideration. So no more ado; let's get to the tobacco!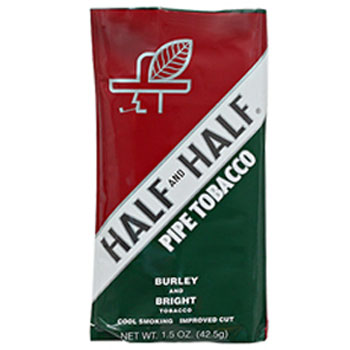 Originally concocted back in the 19th century by American Tobacco, Half and Half remains one of the most widely popular blends in the US, with considerable export to more than a dozen other nations. It's a simple and readily enjoyable Burley mixture, topped with classic anisette and chocolate flavorings. While often recommended for beginners, this old-school OTC blend is a celebrated staple in the cellars of more experienced smokers as well.
This is real tobacco, it's for a man's taste, not a nance. - John B, 5-star review at Smokingpipes.com
Components: Burley, Virginia
Cut: Ribbon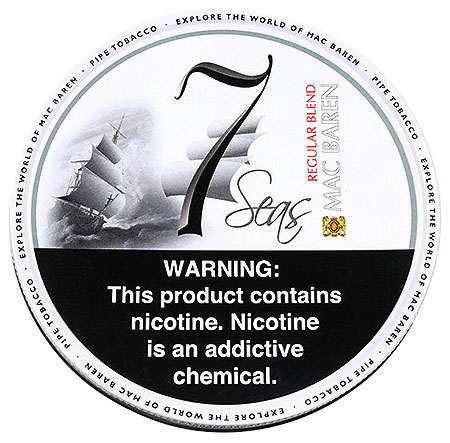 Given its accessible price point (especially in bulk), mellow strength, and recognizable flavor, Mac Baren's 7 Seas Regular surprised no one when it popped up at number 10 on our list of best-selling aromatic blends. A blend of Black Cavendish, Golden Virginias, and Brown Burleys, topped with hints of dark chocolate and vanilla, 7 Seas Regular is great for beginners, yet still complex enough to satisfy veteran pipe smokers. It's just a great mixture to keep in your cellar. Period.
After smoking this blend, I find it hard to enjoy anything else. They say that a person always comes across that one blend that is for them, and this one is mine. I smoke about 4-5 bowls a day of it and it never gets old. For me it has a wonderful chocolate kind of flavor. I love the way it smells and tastes. I order about a 1lb a month of this and still have almost none cellared. I enjoy it that much... - Scott S., 5-star review at Smokingpipes.com
Components: Black Cavendish, Burley, & Virginia
Cut: Ribbon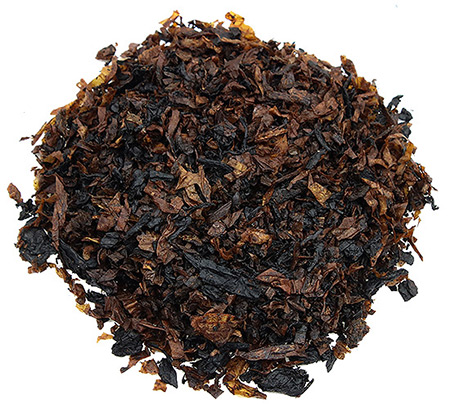 Got a sweet tooth? Sutliff's Creme Brulee is a rich blend created specifically for those with a particular taste for the famous custard. It's a balanced mixture of Black Cavendish, Burley, and Virginia, layered with notes of creamy vanilla, honey, and caramel — resulting a lovely room note that'll transport you back to the finest Parisian pâtisserie, even if you've never been.
Absolutely the best aromatic that I've had. It even beats out Molto Dolce. Just bought a pound. May buy five more pounds. No tongue bite. Flavor whole way through the bowl. - David H, 4.5 star review at Smokingpipes.com
Components: Black Cavendish, Burley, & Virginia
Cut: Ribbon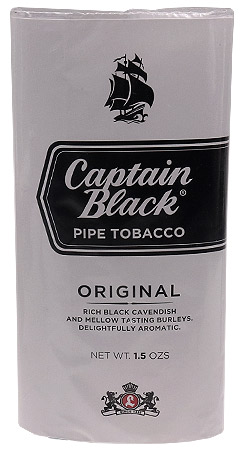 For nearly 50 years, Captain Black has remained one of the best-selling pipe tobacco brands in the world. While it's not quite as distinctive as the Grape version, the brand's Original is by far the most iconic, especially among new pipe smokers. As an aside, the first pipe tobacco I ever smoked was Captain Black Gold. All in all, it's available just about everywhere, is relatively inexpensive, and offers that classic "pipe tobacco" room note we all crave from time to time.
This is my everyday, all-day smoke. Love the flavor and the room note is second to none! - Old Sea Dog, 5-star review at Smokingpipes.com
Components: Black Cavendish & Virginia
Cut: Ribbon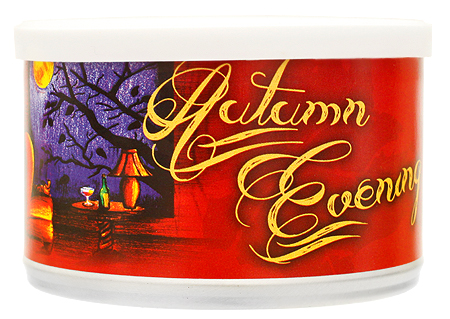 My personal favorite among our top 11 Aromatic blends, Autumn Evening is built around C&D's proprietary Red Virginia Cavendish, which offers the same sweetness and roux-like characteristics of Black Cavendish while maintaining Virginia's brighter signature notes and offering a bit more strength. Though cased with a rich maple flavor, the natural tobacco still shines through, especially later on in the bowl, making it my go-to recommendation for Aromatic smokers looking to ease their way into more natural Virginia blends. The room note also smells like pancakes. And who doesn't like pancakes?
There's not a lot going on at once; it's not a complicated blend. However, I would go as far as to say it's one of the best aromatics I have tried. I enjoyed it so much, I bought a new pipe and dedicated it solely to this tobacco. - Jonathan, 4-star review at Smokingpipes.com
Components: Red Virginia Cavendish
Cut: Ribbon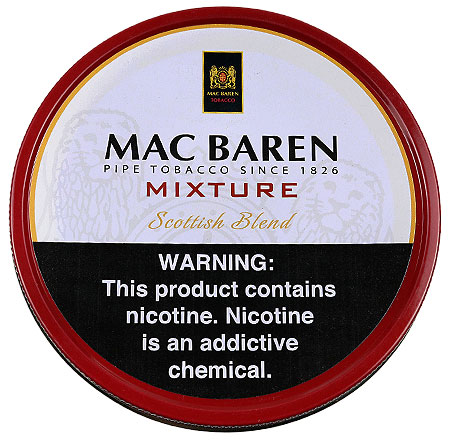 First introduced in 1958, Mac Baren's Mixture: Scottish Blend is a true Danish style Aromatic, medium-mild in strength with a good bit of sweetness and a light, pleasant room note. It's blended from over 35 different tobaccos from around the world — including various ready rubbed, matured, and ripe Virginias, golden brown Burley, and Cavendishes — making it one of the most complex mixtures on this list. While many say that it can be "bitey", if sipped slowly, Scottish Mixture will not disappoint. An excellent introduction into traditional Danish blends.
I tried this tobacco on recommendation of Country Squire Radio and it has become a staple in my jars. Fantastic tobacco for most any occasion. I particularly enjoy it on fall afternoons. Great aroma, great smoke! - JSlip1, 5-star review at Smokingpipes.com
Components: Cavendish, Burley, & Virginia
Cut: Ribbon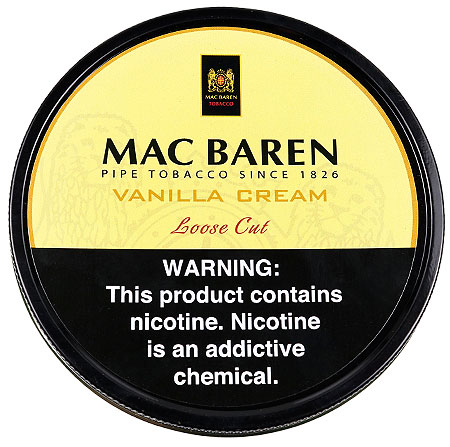 As you can tell, vanilla flavoring is one of the most popular toppings on Aromatic pipe tobaccos. No surprise there, vanilla's soft, creamy notes are a natural pairing to a variety of tobacco components, adding a nice rounded finish to many blends. Mac Baren's Vanilla Cream is an excellent example of just what a little vanilla can do to Bright Virginias when mixed with a little Black Cavendish, offering notes of freshly baked goods and sweet cream with a full, silky mouth feel.
This is a really beautiful tobacco...Upon opening the tin, you're welcomed with a sunshine of light Virginias, and a seeded earth black of Cavendish. The tin aroma is reminiscent of freshly baked goods at a local patisserie. It has excellent moisture content out of the tin, and I recommend you smoke it as is, without drying, as it will take away a bit of the flavour and aroma. - Ahmad Othman, 4.5 star review at Smokingpipes.com
Components: Virginia & Black Cavendish
Cut: Ribbon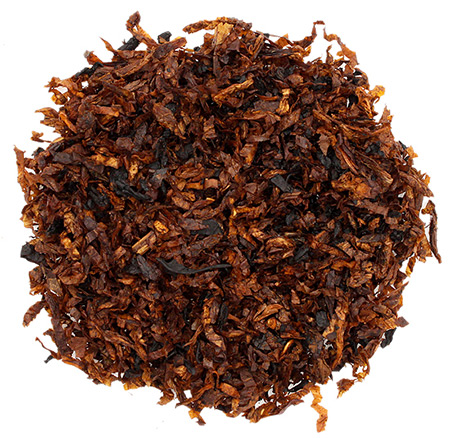 For those who enjoy Creme Brulee but wish the blend had just a touch more vanilla, Sutliff's Vanilla Custard is certainly one to explore. Coming in at number four on our list, it features the same base components as number nine — Black Cavendish, Burley, and Virginias — but is a touch lighter in shade than Creme Brulee and offers a more distinctive vanilla aroma. It yields a soft, billowy smoke that's sure to satiate your vanilla fix.
This is a wonderful sweet tobacco with creamy vanilla taste. The whole family loved the aroma and I enjoyed the silky smooth smoke. - Kam D, 5-star review at Smokingpipes.com
Components: Black Cavendish, Burley, & Virginia
Cut: Ribbon
A timeless mixture from Lane Limited, RLP-6 should surprise no one as it rounds out our number three spot. Golden Virginias, nutty Burleys, and rich, toasted Cavendish create a solid foundation for its deep undertones of vanilla and chocolate, resulting in a sweet, decadent flavor and a delightful room note.
Really great stuff! My 7th Lane purchase; every one is a winner in my book. This is a truly outstanding blend....This is one of the very few blends I've tried where I can enjoy the aroma as well as the taste as I'm smoking it. Strength just right for my palate, very smooth, no big nic hit, no bite, burns well. Truly superb, will be a "go to" blend for me. - Joe L, 5-star review at Smokingpipes.com
Components: Black Cavendish, Burley, & Virginia
Cut: Ribbon
Another staple from Lane Limited, BCA is a mild, slow-burning blend of fire-cured Black Cavendish, discretely flavored for the most enjoyable smoking experience possible. The Black Cavendish absorbs the topping quite nicely, keeping those creamy notes of chocolate, vanilla, and anisette alive all the way to the bottom of the bowl. BCA is a great recommendation for new pipe smokers, but really, it's just one of those tobaccos every pipe smoker should try at least once.
This is the smoothest tobacco I have ever smoked in my life. In my opinion if you're a new pipesmoker and you're not able to smoke this blend, you might as well lay the pipe down. - Jimmie R., 4-star review at Smokingpipes.com
Components: Black Cavendish
Cut: Ribbon
When you talk to any nonsmoker about pipe tobacco, they probably have a certain aroma wafting through their mind's nose, and more than likely that aroma came from Lane Limited's 1-Q. A classic mixture of golden and fire-cured Cavendishes, it's our number one, best-selling Aromatic here at Smokingpipes, and has been for years. Like many of Lane's other products, it's quite forgiving, making it the perfect choice for new pipe smokers looking to develop their technique. Of course, that doesn't mean that experienced smokers don't have a couple jars of this in the cellar (because we totally do).
The room note is so pleasant that anyone who complains about it is just being a freakish, high-minded wood tick. Good for beginners, because 1-Q doesn't take a lot of fuss to enjoy...It's a smooth, lightly sweet-flavored tobacco without being overpowering on the tongue...An excellent choice with which to begin your pipe smoking odyssey, and you'll likely return to it again and again as well, as one does with an old and trusted friend. - Northman, 5-star review at Smokingpipes.com
Components: Black Cavendish & Virginia
Cut: Ribbon
So there you have it: our top 11 best-selling aromatic pipe tobaccos here at Smokingpipes. Keep in mind, these blends were ranked based on popularity, not by our own tastes or judgements. So if you don't see your favorite on the list, leave us a comment and share your thoughts. We likely shed a tear at its omission as well.
Latest Updates (2021):
Captain Black: Original moved from #5 to #8.
Cornell & Diehl: Autumn Evening moved from #6 to #7.
Mac Baren: Mixture Scottish Blend moved from #4 to #6.
Mac Baren: Vanilla Cream moved from #7 to #5.
Sutliff: Z92 Vanilla Custard moved from #8 to #4.
A note on the tobacco information.
Strength: a measure of the tobacco's body and nicotine. One is the lowest. Five s is the highest.
Room Note: a measure of the pleasantness or intensity of the smoke's odor to everyone else in the room. One is the least intense room note, while five s would be the most noticeable to others.
Taste: A measure of the the power and fullness of the smoke's flavor, with one being the most mellow and five s being the fullest.
You may also enjoy: