Top 11 Best-Selling Aromatic Tobaccos
Updated for Winter 2022. This article was originally published February 20, 2015. It has been updated to incorporate current data and edited to reflect product availability.
For many pipe smokers and non-pipe smokers alike, Aromatic blends represent the archetypal pipe tobacco. Their enticing room notes of vanilla, or chocolate, or cherry, or whiskey often conjure fond memories of pipe-smoking grandparents or rekindle a nostalgia for one's early pipe-smoking days. Because of their pleasant aromas, Aromatic pipe tobaccos are often reached for when first venturing into the pipe-smoking hobby — before one discovers Latakia-, Burley-, or Virginia-forward blends. That progression was certainly true for me: Growing up, I would often sneak into my father's study to smell his pipes. I never remember him smoking, but I remember those pipes and how the chambers reminded me of vanilla candles. I later learned I had Captain Black Original to thank for that sweet aroma, and admittedly, I assumed for the longest time that Aromatic pipe tobaccos were pipe tobacco. I'm glad I was wrong — the world of pipe tobacco is so much more enjoyable with diversity — but Aromatics still carry a certain nostalgia for me. I'm sure many of you have similar stories.
Unlike English, Burley, or Virginia blends, Aromatic pipe tobaccos — as a family of pipe tobacco — aren't defined by their components. Instead, the grouping is characterized more by the tobaccos' flavoring and room note. Most tobaccos are flavored to some degree so the term "aromatic" can be misleading, but Aromatic blends are those that are flavored in such a way that it affects the room note to a considerable degree. Chuck Stanion dove deeper into the blending and categorization of Aromatics in a previous article in which he discussed the topic with Jeremy Reeves, Head Blender of Cornell & Diehl. For this article, though, we're overviewing Smokingpipes' top 11 best-selling Aromatic tobaccos. It's an ideal list for paring down the myriad options should you be interested in exploring the expansive world of Aromatics. Hopefully it simplifies your selection process and maybe even introduces you to some future favorites.
Top 11 Best-Selling Aromatic Tobaccos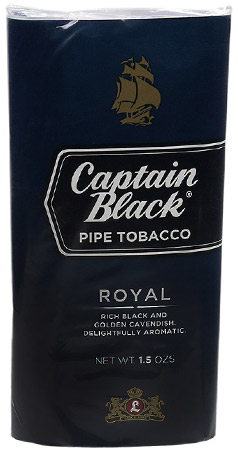 Made under the Lane Limited name — a tobacco manufacturer with roots dating to Dresden, Germany, in 1890 — Captain Black is among the world's most iconic lines of pipe tobacco, having made its debut in 1956 and eventually becoming America's best-selling pipe tobacco brand. For many pipe smokers, Captain Black's blends represent the archetype of Aromatic mixtures, redolent of nostalgia and conjuring memories of times when pipe-smoking was more commonplace in society. Marked by a royal-blue color palette, Captain Black's aptly named Royal mixture combines Black and Gold Cavendishes with flavors of vanilla, molasses, caramel, and subtle liqueur for a delightfully complex flavor profile and enticing room note.

Available in: 1.5oz | 7oz


This classic Captain Black blend never disappoints. It has a very mild flavor, and I always get comments on the aroma, even sitting outside — someone said they smelled it from a block away and loved it. I've tried hundreds of different blends but this one is in my top three favorites.
-Derek H., 5-star review at Smokingpips.com
Components: Black Cavendish, Virginia
Cut: Ribbon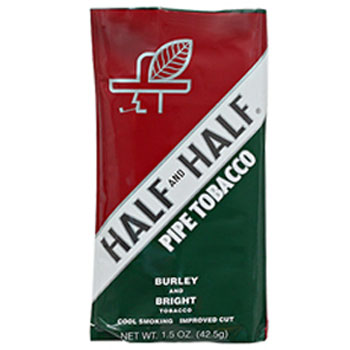 First blended in the 19th century by American Tobacco, Half and Half remains one of the most widely popular blends in the United States, with considerable export to more than a dozen other nations. It's a simple and readily enjoyable Burley mixture, topped with classic anisette and chocolate flavorings. While often recommended for beginners, this old-school blend is a celebrated staple in the cellars of more experienced smokers as well.

Available in: 1.5oz | 7oz


A flavor profile often imitated, Half and Half is the original in its category. Like many old recipes, it's good because there's nothing wrong. It doesn't need to change or improve, it will always be successful. Although it's production has changed hands a few times, I've heard it said it remains remarkably unchanged. ... Half and Half continues to have widespread adoration because it was right from the start. Enjoy.
-Smokebacca, 4.5-star review at Smokingpipes.com
Components: Burley, Virginia
Cut: Ribbon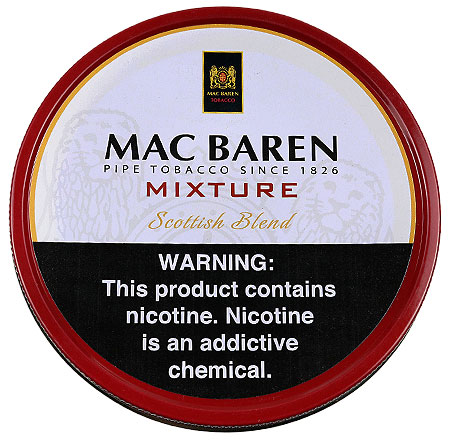 First introduced in 1958, Mac Baren's Mixture Scottish Blend is a true Danish-style Aromatic, medium-mild in strength and with a good bit of sweetness and a light, pleasant room note. It's blended from over 35 different tobaccos from around the world — including various ready-rubbed, matured, and ripe Virginias, golden brown Burley, and Cavendishes — making it one of the most complex mixtures on this list. When sipped slowly, Scottish Mixture will not disappoint: an excellent introduction into traditional Danish blends.

Available in: 3.5oz | 16oz | Bulk


I love this mixture! Smoke it slowly and it wont bite. It has that honey-toast aroma and taste that I love. An original classic.
-Thomas S., 5-star review at Smokignpipes.com
Components: Black Cavendish, Burley, Virginias
Cut: Broken Flake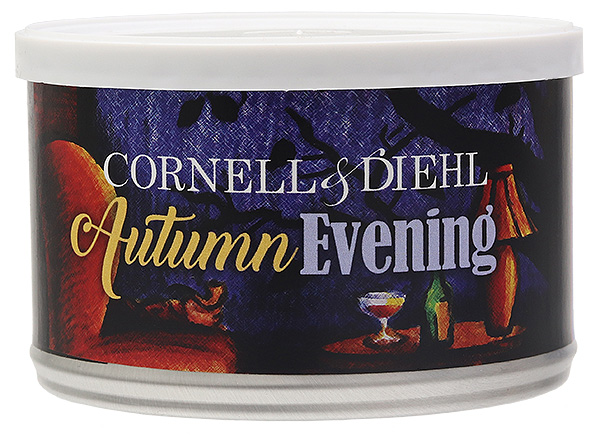 Among Cornell & Diehl's most popular mixtures, period, Autumn Evening is blended around C&D's proprietary Red Virginia Cavendish, which offers the same sweetness and roux-like characteristics of Black Cavendish while maintaining Virginia's brighter signature notes and offering a bit more strength. Though cased with a rich maple flavor, the natural tobacco still shines through, especially later in the bowl, making it a go-to recommendation for Aromatic smokers easing their way into more natural Virginia blends. The room note also smells like pancakes. And who doesn't like pancakes?

Available in: 2oz | 8oz | 16oz | Bulk


Light maple aroma and flavoring. I'm working my way through all the different winter and seasonal Aromatics, and Autumn Evening is still, by far, the best of the lot.
-Norrher, 5-star review at Smokingpipes.com
Components: Virginia Cavendish
Cut: Ribbon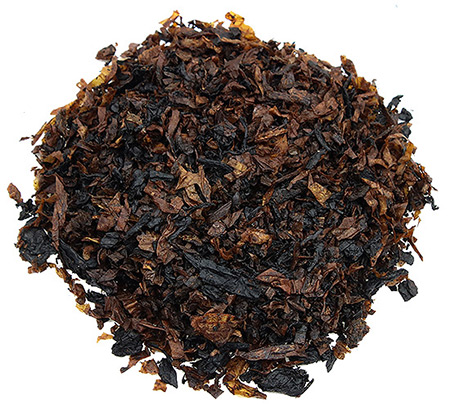 Sutliff's Crème Brûlée is a rich Aromatic blended specifically for those with a particular taste for the famous custard. It's a balanced mixture of Black Cavendish, Burley, and Virginias layered with notes of creamy vanilla, honey, and caramel, resulting in a lovely room note that'll transport you back to the finest Parisian pâtisserie, even if you've never been.

Available in: Bulk


I am truly a fan of Sutliff and have tried almost all they offer. I must say that if I had to smoke one tobacco for the rest of my life, it would be their Creme Brûlée. It is a pleasingly sweet smoke with minimal bite and one you will always come back to. Sutliff's Creme Brûlée is by far the best smoke I have ever experienced.
-D Eric L., 5-star review at Smokingpipes.com
Components: Black Cavendish, Burley, Virginia
Cut: Ribbon
A timeless mixture from Lane Limited, RLP-6 is no surprise on this list. Golden Virginias, nutty Burleys, and rich, toasted Black Cavendish combine to create a solid foundation for its deep undertones of vanilla and chocolate, resulting in a sweet, decadent flavor and a delightful room note.

Available in: Bulk


Any time I smoke an Aromatic and it fills the room with great aroma while still allowing me to taste the tobacco, I feel like I've hit a home run. So it is with RLP-6. Smells great but I can still get the flavor of the tobacco. ... It's a winner.
-El Chupacabra, 5-star review at Smokingpipes.com
Components: Black Cavendish, Burley, Virginia
Cut: Ribbon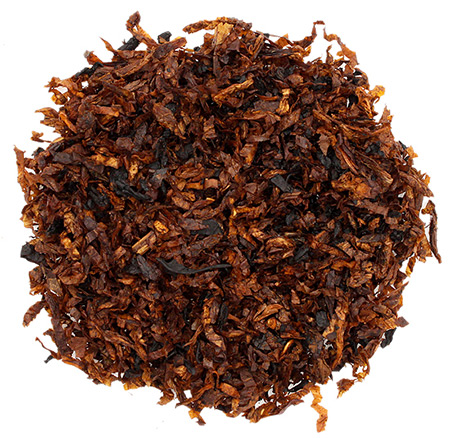 For those who enjoy Sutliff's Crème Brûlée but wish the blend had just a touch more vanilla, Vanilla Custard is certainly one to explore. Coming in at number five on our list, it features the same base components as Crème Brûlée — Black Cavendish, Burley, and Virginias — but is a touch lighter in shade and offers a more distinctive vanilla aroma. It yields a soft, billowy smoke that's sure to satiate your vanilla cravings.

Available in: Bulk


This is a wonderful, sweet tobacco with a creamy, vanilla taste. The whole family loved the aroma and I enjoyed the silky smooth smoke.
-Kam D, 5-star review at Smokingpipes.com
Components: Black Cavendish, Burley, Virginia
Cut: Ribbon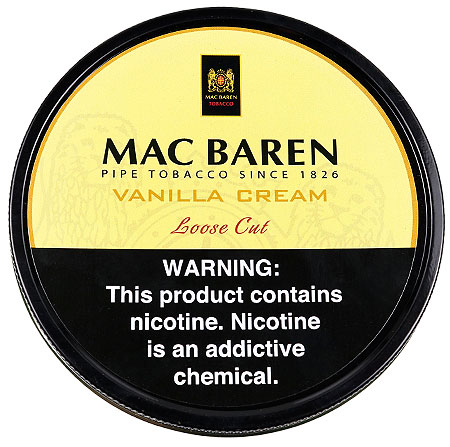 As you can tell, vanilla flavoring is one of the most popular toppings on Aromatic pipe tobaccos, and it's not a surprise: Vanilla's soft, creamy notes are a natural pairing to a variety of tobacco components, adding a nice rounded finish to many blends. Mac Baren's Vanilla Cream is an excellent example of just what a little vanilla can do to Bright Virginias when mixed with a little Black Cavendish, offering notes of freshly baked goods and sweet cream, all in a full, silky smoke.

Available in: 3.5oz | 16oz | Bulk


This isn't an over-cased tobacco. In fact, it is done superbly. It smokes cool if you don't rush it; the aroma is to die for; and the taste is smooth, creamy, and sweet without being overbearing or cloying. You get tastes of vanilla, cream, cinnamon and nutmeg. I usually smoke Mixture Scottish Blend, but I like this as a switch off in between.
-Thomas S., 5-star review at Smokingpipes.com
Components: Black Cavendish, Virginia
Cut: Ribbon
Another staple from Lane Limited, BCA is a mild, slow-burning blend of fire-cured Black Cavendish, discreetly flavored for the most enjoyable smoking experience possible. The Black Cavendish absorbs the topping quite nicely, keeping those creamy notes of chocolate, vanilla, and anisette alive all the way to the bottom of the bowl. BCA is a great recommendation for veteran and novice pipe smokers alike interested in a definitive Aromatic mixture.

Available in: Bulk


This is one of the best Black Cavendishes that I've had. Has a nice, smooth, sweet taste.
-ChelseaHeller, 4.5-star review at Smokingpipes.com
Components: Black Cavendish
Cut: Ribbon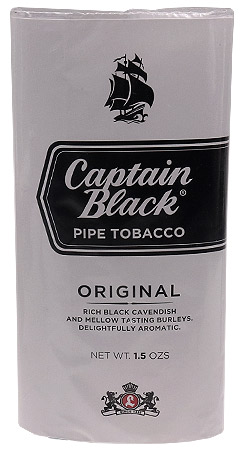 For nearly 50 years, Captain Black has remained one of the best-selling pipe tobacco brands in the world, and the brand's Original mixture is by far the most iconic, especially among new pipe smokers. (It was the first pipe tobacco I ever smoked.) All in all, it's available just about everywhere, is relatively inexpensive, and offers that classic, archetypal room note we all crave from time to time.

Available in: 1.5oz | 7oz


This is my everyday, all-day smoke. Love the flavor and the room note is second to none!
-Old Sea dog, 5-star review at Smokingpipes.com
Components: Black Cavendish, Burley, Virginia
Cut: Ribbon
When you talk to any non-smoker about pipe tobacco, they probably have a certain aroma wafting through their mind's nose, and more than likely that aroma came from Lane Limited's 1-Q. A classic mixture of golden and fire-cured Cavendishes, it's our number one, best-selling Aromatic here at Smokingpipes, and has been for years. Like many of Lane's other products, it's quite forgiving, making it the perfect choice for new pipe smokers looking to develop their technique. Of course, that doesn't mean that it isn't a staple for veteran smokers, with many relying on 1-Q as an all-day, everyday smoke.

Available in: Bulk


The room note is so pleasant that anyone who complains about it is just being a freakish, high-minded wood tick. Good for beginners, because 1-Q doesn't take a lot of fuss to enjoy...It's a smooth, lightly sweet-flavored tobacco without being overpowering on the tongue...An excellent choice with which to begin your pipe smoking odyssey, and you'll likely return to it again and again as well, as one does with an old and trusted friend.
-Northman, 5-star review at Smokingpipes.com
Components: Black Cavendish, Virginia
Cut: Ribbon
So there you have it: our top 13 best-selling flake tobaccos here at Smokingpipes. Keep in mind, these blends were ranked based on popularity, not by our own tastes or judgements. If you don't see your favorite on the list, leave us a comment and share your thoughts — perhaps it will make it in a future list!
Latest Updates (2022):
Lane Limited BCA moved from #2 to #3.
Lane Limited RLP-6 moved from #3 to #6.
Sutliff Vanilla Custard moved from #4 to #5.
Mac Baren Vanilla Cream moved from #5 to #4.
Mac Baren Mixture Scottish Blend moved from #6 to #9.
Cornell & Diehl Autumn Evening moved from #7 to #8.
Captain Black Original moved from #8 to #2.
Sutliff Crème Brûlée moved from #9 to #7.
Half and Half moved from #11 to #10.
Captain Black Royal entered at #11.
A note on the tobacco information.
Strength: a measure of the tobacco's body and nicotine. One is the lowest. Five s is the highest.
Room Note: a measure of the pleasantness or intensity of the smoke's odor to everyone else in the room. One is the least intense room note, while five s would be the most noticeable to others.
Taste: A measure of the the power and fullness of the smoke's flavor, with one being the most mellow and five s being the fullest.
You may also enjoy: