Top 10 Best-Selling Virginia Blends
Virginia tobacco is beloved by multitudes of pipesmokers the world over, and with such a broad range of flavors, strengths, and characteristics, that's no surprise. Whether looking for something slightly fruity and bright, dark and malty, or something in between, the naturally sweet, flue-cured leaf features tasty characteristics for everyone. Below are the most popular Virginia blends we offer, along with a few suggestions here and there, should you be looking to try something new or find blends similar to your favorites.
Solani Virginia Flake is comprised of bright Virginias and the slightest addition of Perique. This cool, slow-burning blend possesses a natural sweetness expanded by a judiciously applied honey casing, complementing the natural sweetness of the Virginia without cloying or artificial characteristics.
After thirty years and nearing five hundred different blends, I'd say this is the silkiest and friendliest smoke of them all. To say that 633 is the champagne of Virginias is not enough. This is Dom Perignon. — Casca, 5-star review at Smokingpipes.com
Components: Virginia & Perique
Cut: Flake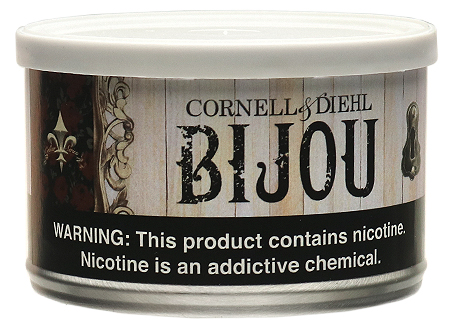 Accented by sweet bright leaf and rounded by an addition of small-leafed Katerini, Bijou is also married with a hint of honey before being pressed and sliced into delicate flakes. Dark, sweet, and with a discrete spice, this recent newcomer to the world of Virginias has already gained rapid popularity.
Bijou is a delicately sweet and rich mixture of Red VAs, and from what I was told it was harvested in 2003 alongside Bright VA from 2013, Katerini and a little bit of honey casing. This yummy flake is full of natural sweet spicy character, reminiscent of clove, cinnamon and dried fruit. Great for an after dinner smoke. — Michael F, 5-star review at Smokingpipes.com
Components: Virginia & Orientals
Cut: Flake
For Yorktown, the craftspeople at Cornell & Diehl start with a base of bright Virginias and red Virginias that have been gently stoved at a specific temperature for just the right time. Top-grade red Virginias are then introduced, creating a complex symphony of Virginia flavor. Even better, this complex Virginia blend is available in both tinned and bulk packaging. If Yorktown is already a favorite, be sure to try Cornell & Diehl's Derringer.
After my first smoke I knew this was going to be a great everyday smoke. The sweetness from the toasty red and bright virginias is very pleasant yet not overpowering. There is a bit more complexity there than most straight VA blends. I'm surprised I hadn't heard about Yorktown before purchasing an ounce to try. — Codger at Heart, 5-star review at Smokingpipes.com
Components: Virginia
Cut: Ribbon
A 100% pure Virginia flake with no additional flavors, made from a blend of Brazilian, Zimbabwean and Malawian bright Virginia leaf. This tobacco is cold-pressed and matured before being cut into flakes, giving a lighter-bodied but flavorful smoke. If this traditionally English Virginia flake is already a part of your rotation, you may also enjoy G.L. Pease's Union Square.
The best Virginia Flake I ever smoked! If you like pure Virginias- try this one to get addicted. — Ulrich M, 4.5-star review at Smokingpipes.com
Components: Virginia
Cut: Flake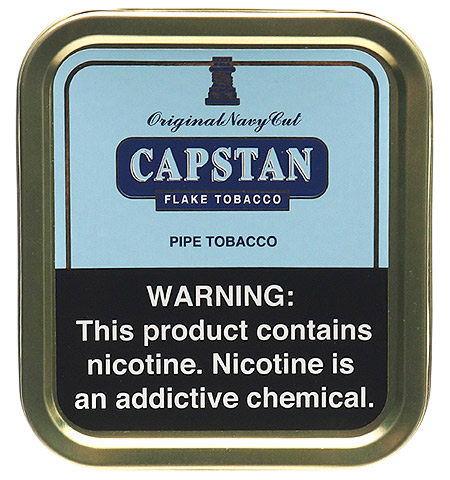 Capstan Blue was originally created by W.D. & H.O. Wills of Bristol well over a century ago. It's remained a favorite to countless pipesmokers across generations (J.R.R. Tolkien having been one of its most noted aficionados), a testament to the quality of this fine Virginia flake. The flavor and body are medium, with rich Virginia notes and a slight nuttiness.
One of the best Va flakes I've come across. A little malty and a little hint of sweet and a clean pure Va taste that stays true to the last draw on the pipe. A little pricey but it's been a great smoke every time I've lit it up and hasn't let me down... This is the kind of blend a truly experienced piper can appreciate over and over and a newer smoker can pick up and enjoy without a lot of fuss. — Al W., 5-star review at Smokingpipes.com
Components: Virginia
Cut: Flake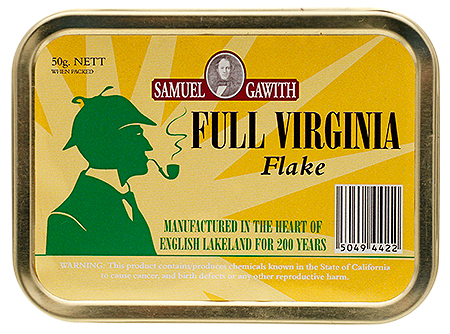 Full Virginia Flake is a dark-brown, dense flake that has been manufactured continuously by Samuel Gawith for over two centuries. Samuel Gawith describes this tobacco as "cool smoking, with a broad, capacious, rich and unfailing flavor," and they aren't wrong. If you're a fan of the dark, malty goodness of this elusive flake (like me), you may also enjoy Mac Baren's HH Pure Virginia Flake – a blended flake of top grade Virginias that also undergoes a similar process of heat and pressure to yield a rich, mature flavor.
This is a great Virginia flake. Not much more to it than that. For all the whiners complaining about the moisture level: after I transfer a freshly opened tin to a mason jar, I keep the tin to use as a drying container. I rub a flake into the empty tin in the morning,;by my evening bowl, its at a perfect moisture level. Since the tin no longer has its seal, moisture can escape quickly. Once you've packed your bowl with enough room for the tobacco to expand, take slow paced sips, and you can enjoy the best VA flake there is. — Vince D., 5-star review at Smokingpipes.com
Components: Virginia
Cut: Flake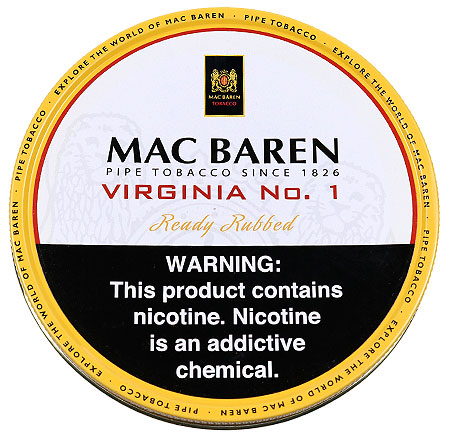 A cold-pressed Virginia tobacco, Mac Baren's Virginia No. 1 is a blend of 12 choice, ripe Virginia tobaccos combined to create a unique flavor, then pressed and stored for weeks before being sliced and broken to provide a sweet, slightly fruity, yet mellow experience. This blend is favored by those who enjoy a rich flavor on the brighter end of the Virginia spectrum.
This is a tobacco for the history books. The cut is uniform and if one rubs out the tobacco a bit they are rewarded with an easy "ready rub" cut. Smells of black cherries, hay and VA tobacco. When I'm going through my blends, I'll often open up a jar of VA #1 just to smell the tobacco. It's that good... Cannot recommend it enough. —Mark B., 5-star review at Smokingpipes.com
Components: Virginia
Cut: Broken Flake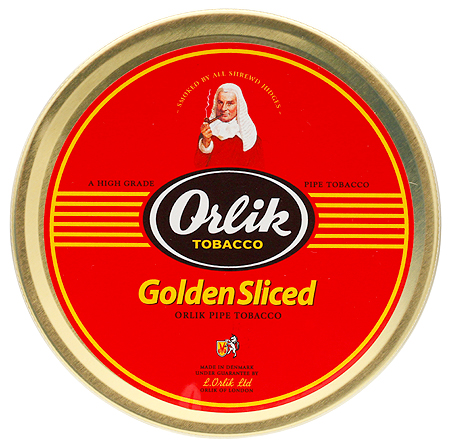 A mixture of golden, mature Virginia tobaccos with a very small pinch of Perique, Orlik Golden Sliced has a natural sweetness in both taste and aroma, reminiscent of bergamot. It's considered by many to be the quintessential Virginia flake due to its approachability and enjoyable flavor, and is immensely popular in both the United States and Denmark. Orlik Golden Sliced is also the personal favorite of many pipe carvers, including Adam Davidson and Tom Eltang.
This tobacco is absolutely perfect. Orlik is like an old, dear friend or slipping into some comfy clothes. I prefer the smaller tin, which is probably mental — but it just tastes better to me this way. This tobacco has saved angry pipes who didn't... like anything, and broken in some new pipes excellently. A standard; a classic. So terrific that your pipe acquires a taste for it after a few bowls. I cannot state enough how beloved Orlik Golden Sliced is. It is as perfect of a flake as one can hope for. A+. — ven, 5-star review at Smokingpipes.com
Components: Virginia & Perique
Cut: Flake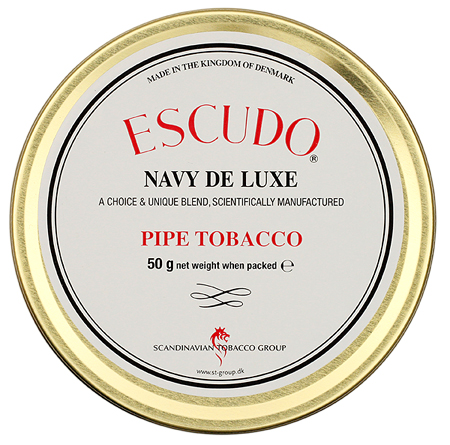 An old classic, Escudo Navy Deluxe is a popular Virginia/Perique coin-cut tobacco that has been around for over 140 years, and if you have ever had it, this will come as no surprise. Escudo has a rich, unfailing flavor that is certain to please fans of Virginia tobacco who also enjoy the plum and spice characteristics that are provided by a small but present addition of Perique. Escudo also holds claim to being the only coin-cut tobacco on our list, and while it's an excellent Virginia tobacco, it is considered the gold standard for Virginia/Perique blends, as well.
Best VA-Per I've ever had straight out of the tin. It has both the savory and grassy flavors just right. Tin note is a rush of fresh fruits, dried fruit and hay. There's no doubt it'll get better with age but it's great right from tin, and that's an excellent quality to have in the world of VA-Per's. Also, it's light on nicotine. I'm absolutely in love with this stuff! Makes a great all-day smoke; never leaves me feeling sleepy. The one & only downside is not having a bigger tin available. — Dr. Brandon, 5-star review at Smokingpipes.com
Components: Virginia & Perique
Cut: Coins
Luxury Navy Flake is a pressed and sliced blend of matured, "Old Belt" Virginia, lightly accented with a whisper of Louisiana Perique. Incredibly popular and maintaining the number one spot in our countdown, this bulk offering from Peter Stokkebye has been a celebrated favorite of countless pipe smokers old and young, expert and novitiate alike, due to its rich but easy-going flavor and unbelievably attractive price. Fans of Orlik Golden Sliced, Virginia No.1, Capstan, and Solani Virginia Flake are sure to already be fans of this one as well!
You can't go wrong with this stuff. Open up the bag and you smell what you'd expect; bready Virginias, rum, and a bit of that Stokkebye sweetness. The flavor's right about in the middle of light 'n grassy and the dark and malty type Virginia. I rate a... blend as it is out of the package, and this one is great. Given time I imagine it'll age well. A great value for the Virginia smoker as well. — Dr. Brandon, 4-star review at Smokingpipes.com
Components: Virginia & Perique
Cut: Flake
And there you have it: the top 10 best-selling Virginia blends we carry here at Smokingpipes.com. Did you spy any favorites on our list? Are there any blends you wish would've made the cut? Feel free to share your thoughts in the comments section or leave a review on your favorite blend.
A note on the tobacco information.
Strength: a measure of the tobacco's body and nicotine. One is the lowest. Five s is the highest.
Room Note: a measure of the pleasantness or intensity of the smoke's odor to everyone else in the room. One is the least intense room note, while five s would be the most noticeable to others.
Taste: A measure of the the power and fullness of the smoke's flavor, with one being the most mellow and five s being the fullest.
You may also enjoy: