Top 11 Best-Selling English Blends
November 7, 2017 by
Andrew Wike
in
Tobacco Talk
A while back, we compiled the top trending bulk tobaccos, and the results were pretty interesting. It got me thinking though, what are the ALL TIME best-selling blends? Since the cold weather's rekindling my love for Latakia and Orientals, let's start with the all time top 11 best-selling English blends:
11. Bengal Slices
First up is Bengal Slices, taking the number 11 spot on our comprehensive top selling English list. The delightful rum topping on this blend of black Cavendish, Burley, Latakia, and Virginias has made it a customer favorite. A crumble cake made from Cyprian Latakia, exceptional Orientals, sweet Virginias, and a touch of black Cavendish, Bengal Slices is finished with a subtle top note, resulting in a bright, sweet, and smoky blend with a lively, yet deep flavor.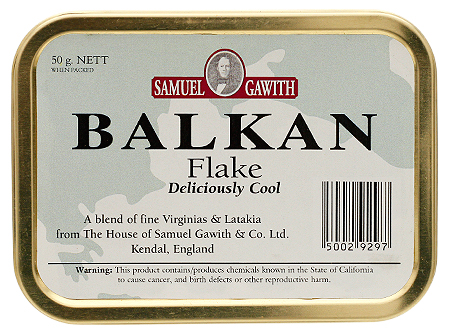 10. Balkan Flake
Though somewhat more mellow than most Balkan blends out there, Samuel Gawith have nonetheless impressed with beautifully formed dark flakes of pressed Virginias and a generous helping of Latakia.
9. Gaslight
Presented in compact, pressed bricks of exotic fragrance and flavor, Gaslight is a deep, rich and full flavoured blend that delivers a lingering, satisfying smoke for the connoisseur of Latakia English blends..
Balkan Sasieni is actually one of my favorite Oriental-forward blends. There's a slight peppery note that I find most enjoyable. The Macedonian leaf combined with ample portions of Latakia and Virginias has made this number 8 blend one of the most popular premium pipe tobaccos in the world.
7. Westminster
Though not as strong as Nightcap, G.L. Pease's Westminster embodies the very essence of a traditional English mixture: an exquisite balance of Cyprian Latakia and red and bright Virginias, seasoned with rich Orientals. As its impressive ranking suggests, such a balance makes for one perfect every-day English.
6. Quiet Nights
Smoky Cyprian Latakia, red Virginias, pristine Orientals, and Acadian Perique combine to form this number 6 blend, Quiet Nights. Perfect for those quiet moments of reflection with a good book and perhaps a wee dram.
5. Frog Morton
Inspired by the works of J.R.R. Tolkien, Frog Morton takes its name from the Eastfarthing village of Frogmorton and is a unique blend of Virginias and Latakia. For a sweet, mellow English blend, this one could be an all-day smoke.
4. Nightcap
For a stronger English mixture, Nightcap's a great choice. It was my first English blend, to be exact, and I've been known to have a few tins on my desk at home for special occasions or just quiet moments to myself. Coming in at number 4 on our list, I'd say I'm not the only one who appreciates a little more Latakia every now and then.
Josh practically swears by Early Morning Pipe. Passing by his office in the morning, you'll likely be greeted with that rich aroma of sweet Orientals and smoky Latakia as you make your way to acquire your morning joe. Seems he's not the only one, as EMP came in at a solid number 3 on our top ten all time best selling English blends.
Designed for connoisseurs of full-bodied tobacco, smoky Latakia, sweet Macedonian leaf, and brown Cavendish combine to create the blend that, as the statistics show, all confirmed pipe smokers love.
And the top, all time best-selling English blend goes to McClelland's Frog Morton Cellar. Though somewhat similar to the original Frog Morton in its Latakia and Virginia proportions, it technically falls into the English Aromatic category, as the blend itself topped and aged with stave cubes cut from oak barrels used to mature whiskey.
And there you have it: the top 11 best-selling English blends of all time here at Smokingpipes.com. Don't see your favorite on this list? Feel free to share it in the comments section below!