Top 11 Best-Selling English Blends
Updated for Spring 2023. This article was last revised and published on February 16, 2022. It has been updated to incorporate current data and edited to reflect product availability.
While its definition has been the source of much debate, the English family of pipe tobacco, today, typically refers to any blend that contains a significant percentage of Latakia. Unlike Burley or Virginias, Latakia is not a specific varietal or type of tobacco, per se; rather, it's a type of Oriental leaf that has undergone a curing process similar to Dark-Fired Kentucky. While Dark-Fired is fire-cured over hardwoods for 14 to 16 days, Latakia is smoked over smoldering, spiced, aromatic woods for five to six months — the extended curing duration and wood selection imparting a rich, incense-like quality to the smoke. While the flavor and aroma of Latakia is quite pronounced, it's actually one of the mildest tobaccos in terms of pure nicotine content; it also burns quite slowly and maintains a balanced pH, meaning little to no tongue bite. Its use in a blend can range from purely condimental to downright foundational and is often paired with sun-cured Orientals, Bright and Red Virginias, Burley, and even Perique or cigar leaf, depending on the blending style and manufacturer's goals.
It's a huge and incredibly popular family of pipe tobacco, with hundreds of different options available from myriad manufacturers — so many, in fact, that it can be overwhelming to choose one or two to try, especially for those entering the hobby. That's why we've done our part as your friendly neighborhood online tobacconist and compiled a list of our best-selling English blends for your consideration; hopefully it simplifies your selection process and maybe even introduces you to some future favorites.
Top 11 Best-Selling English Blends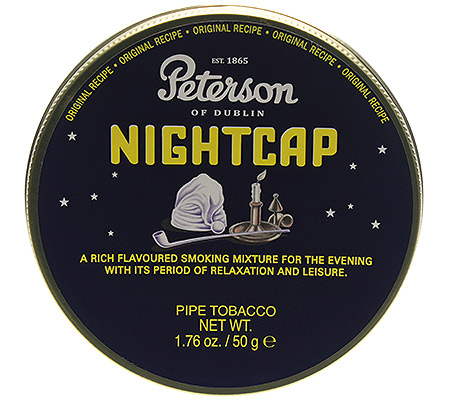 Alongside Early Morning Pipe, Nightcap has remained a favorite English blend of mine, and Peterson's resurrection of the old Dunhill blend maintains the mixture's original recipe as well as its lovable tin art. It's a rich tobacco blend, comprising Latakia, Orientals, Virginias, and a touch of Perique for a traditional flavor profile and a deliciously satisfying smoke — the perfect way to end the day.
Available in: 50g
Delicious Latakia tobacco with sweet, creamy, leathery flavors, rich taste, and pleasant to the nose. In my daily rotation. -安静的阿兹猫, 5-star review at Smokingpipes.com
Components: Latakia, Orientals, Virginia, Perique
Cut: Ribbon
A blend with an impressive 50% Latakia content, Cornell & Diehl's Star of the East is a full-bodied mixture with plenty of richness and complexity to satisfy even the most seasoned of pipe smokers. Its dark flavor profile and consistent performance have made it a favorite of many, and despite being predominantly Latakia, its medium strength makes it accessible even to newcomers who have developed a taste for the unique leaf. In addition, Star of the East also comes in flake form, offering an enhanced range of availability and an entry point for fans of flake-cut tobacco.
Available in: 2oz | 8oz | Bulk | Flake: 2oz | 8oz
This blend is hands down one of the best that I've ever smoked. It's definitely a Lat bomb, but velvety smooth at the same time. -Joshua L., 5-star review at Smokingpipes.com
Components: Latakia, Orientals, Virginia
Cut: Ribbon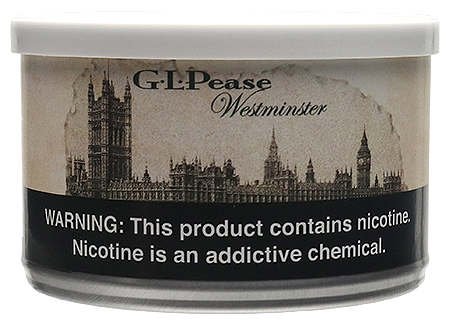 Lauded as one of the best all-day English blends available, G.L. Pease's Westminster is Latakia-forward yet smoothly balanced. A more traditional blend as part of Pease's Heirloom series, it's composed of Red and Bright Virginias, peppery, sun-cured Orientals, and, of course, generous measures of Cypriot Latakia. It presents layers of flavor and complexity as it develops throughout the bowl, and given Pease's reputation for crafting some of the most elegant English mixtures on the market, it's really no surprise to find Westminster among our best-selling blends.
Available in: 2oz | 8oz | 16oz
This is easily the best English style tobacco I smoke. It's easy to pack and light, and produces very nice clouds of smoke. Has an emphasis on smoky Latakia with a hint of sweetness in the background. A delightful smoke any time of day, but particularly in the evenings. -David F., 5-star review at Smokingpipes.com
Components: Latakia, Orientals, Virginias
Cut: Ribbon
One of two English blends in Cornell & Diehl's Sea Scoundrel series, Pirate Kake contains the largest portion of Latakia of any mixture on our best-selling list. If you find yourself wishing your English blends contained more Latakia, smoke a bowl or two of C&D's Pirate Kake. This mixture uses the smoky, fire-cured leaf not as a condiment, but as the main ingredient, comprising around 75% of the finished blend. While some might call it a "Lat Bomb," this dark crumble cake tastefully showcases Latakia's more nuanced characteristics, elevated by more modest quantities of Burley and Orientals for a flavor profile as full as any pirate's treasure chest.
Available in: 2oz | 8oz | 16oz
This is it! THE BEST PIPE TOBACCO EVER. -Nick b., 5-star review at Smokingpipes.com
Components: Latakia, Orientals, Burley
Cut: Ribbon
When Dunhill announced in 2019 that it would no longer be producing pipe tobacco, pipe smokers rued the loss of some of their favorite mixtures and began the difficult search for close substitutes to Dunhill's famed blends. Thankfully, Peterson took up the mantle later that year, offering the same exact tobaccos but branded under Peterson instead of Dunhill. Since that resurrection, Peterson's old Dunhill blends have surged in popularity, with three of them ranking among our top five best-selling English mixtures. Early Morning Pipe is aptly named, offering a lovely balance of Latakia, Orientals, and Bright and Red Virginias for an all-day English that's an ideal smoke to start the day.
Available in: 50g
A mellow English blend. Goes great with a black coffee early in the morning ... but a really good smoke anytime of day. -Dale M., 5-star review at Smokingpips.com
Components: Latakia, Orientals, Virginia
Cut: Ribbon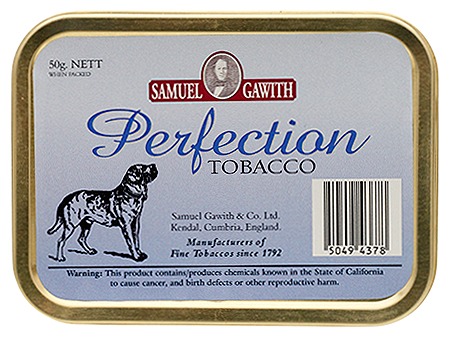 Said to have originated when a customer couldn't find his usual blend and asked Gawith himself to create one for him, Perfection Mixture takes its namesake from that customer's response: Perfection. Comprising a combination of Virginia, Orientals, and Latakia, this classic English blend is enhanced with the addition of a small dose of Vanilla, elevating the sweetness of its constituent tobaccos without overpowering the blend. A mild to medium bodied smoke, Perfection Mixture has found a place in the rotation of many enthusiasts.
My favorite pipe tobacco out there right now!!! -Ol' Boot Hill, 5-star review at Smokingpipes.com
Components: Latakia, Orientals, Virginia
Cut: Ribbon
Before Dunhill ceased tobacco production in 2019, My Mixture 965 was considered one of "The Big Three," joined by Early Morning Pipe and Nightcap. These iconic English blends were some of the few offered in bulk quantities as well as in tins and were among Dunhill's most popular mixtures. All three have made our best-selling list, ranking within the top five, and while rebranded under Peterson, the recipes remain exactly the same and the tins retain Dunhill's memorable artwork. My Mixture 965 is for connoisseurs of full-bodied Englishes, combining Oriental tobaccos and Black Cavendish with choice Latakia for a rich, cool, and smoky flavor profile.
Available in: 50g
A very good tobacco that has a great taste and smoke. Not overpowering, but still a good all-around smoke. Up there as one of my favorites. -Nathan W., 5-star review at Smokingpipes.com
Components: Latakia, Orientals, Black Cavendish
Cut: Ribbon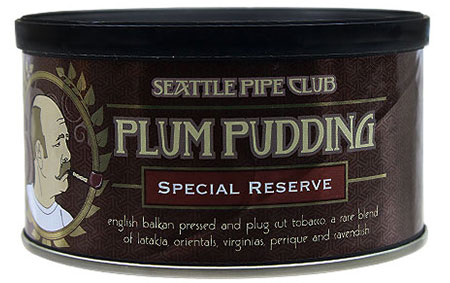 The original Plum Pudding is one of Joe Lankford and Seattle Pipe Club's most iconic blends, comprising Latakia and Orientals with Virginias, Black Cavendish, and Perique for a rich, smoky, and spicy flavor profile that delights lovers of traditional English blends. The Special Reserve version maintains the same foundation as the original Plum Pudding but substitutes some of the Orientals for a portion of rare, sun-cured tobaccos that were discovered in a warehouse and offered to Joe. Instead of creating an entirely new mixture, the blender decided to incorporate it into his Plum Pudding recipe, fashioning it into a plug. This tobacco is additionally available in flake form, for those who prefer that style of cut over a plug or who wish to sample a smaller portion of the blend.
Available in: 4oz | Flake: 2oz
I was curious how it would compare to the regular Plum Pudding. You will not be disappointed. Tremendously rich and more depth in the flavor than the original, and that's saying a lot. -Brad J., 5-star review at Smokingpipes.com
Components: Latakia, Orientals, Virginia, Perique, Black Cavendish
Cut: Plug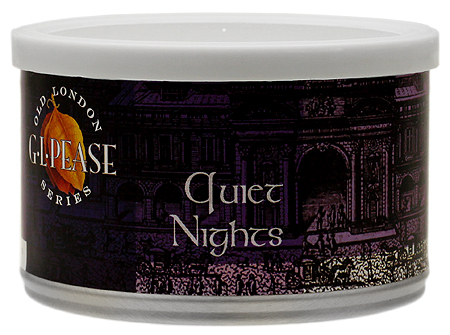 Gregory Pease has a way of weaving nuance and mystery into each and every blend he creates, yet few embody that intrigue quite like Quiet Nights. An intoxicating mixture of Red Virginias, Orientals, Cyprian Latakia, and a pinch of Acadian Perique — all pressed and matured in cakes before being sliced into delicate flakes — Quiet Nights is part of Pease's Old London series and is one of the most complex and captivating Latakia mixtures I've come across. Though you could smoke it any time of day, it's not what I would describe as an all-day smoke. It's a blend meant for quiet contemplation, for slowing down and appreciating every note that races across your palate. When I'm in the mood to sit and think and reflect, I smoke Quiet Nights, and with every bowl I seem to discover something new.
Available in
:
2oz
|
8oz
This is absolutely the best tasting tobacco I have ever experienced. It has locked my #1 spot. It has the right strength, the right burn, the right tin note, the right room note... I have smoked nothing but this since I bought the first tin. Greg Pease is to be lauded copiously for this mixture. For me, this is what pipe smoking is all about. Perfection. -PipeCat, 5-star review at Smokingpipes.com
Components: Latakia, Orientals, Virginia, Perique
Cut: Flake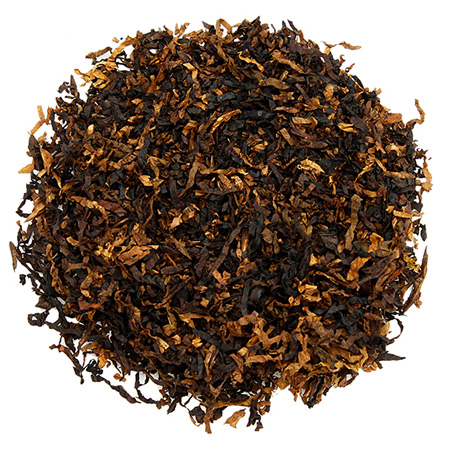 Not only has Arango's Balkan Supreme consistently made our list of top-five best-selling English blends, but it also ranks within our top-five best-selling bulk tobaccos, period. It's celebrated for its rich, Latakia-laden smoke, with many likening it to Balkan Sobranie. Far from one-dimensional, its fine balance of Orientals, Virginias, Black Cavendish, and Turkish Samsun leaf lend this English blend a smooth and silky character, while still being full-bodied enough to satisfy.
Available in: Bulk
If this isn't equal to Balkan Sobraine, it's better. Smooth, creamy, rich, and leathery. A morning smoke or an all-day pipe. Delicious! -March Hare, 5-star review at Smokingpipes.com
Components: Latakia, Orientals, Virginia, Black Cavendish
Cut: Ribbon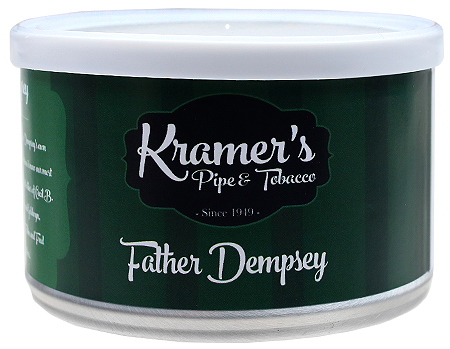 Kramer's Father Dempsey is the blend that started a tradition, propelling a humble tobacco shop on Little Santa Monica Boulevard to wide-spread recognition. Though originally custom-blended to match Father Dempsey's own preferred smoke, this full-bodied English mixture is now Kramer's most popular house blend and has been enjoyed by the likes of Cecil B. DeMille, Henry Wilcoxon, Samuel Goldwyn, Gene Barry, Mike Kaplan, Mel Tolkin, Fred MacMurray, and many others. In many ways, it epitomizes the Kramer family's meticulous, iterative approach to custom blending, and is certainly worth a place in your cellar — also offered in bulk for even larger, cellar-worthy portions
I've been smoking a pipe for 50 years. Father Dempsey is by far the finest tobacco I have ever smoked. I only wish I had found it many years ago. -Robert R., 5-star review at Smokingpipes.com
Components: Latakia, Orientals, Virginia
Cut: Ribbon
So there you have it: our top 11 best-selling English pipe tobaccos here at Smokingpipes. Keep in mind, these blends were ranked based on popularity, not by our own tastes or judgements. If you don't see your favorite on the list, leave us a comment and share your thoughts — perhaps it will make it in a future list!
Latest Updates (2023):
Arango: Balkan Supreme moved from #1 to #2
G.L. Pease: Quiet Nights moved from #2 to #3
Peterson: Nightcap moved from #3 to #11
Peterson: My Mixture 965 moved from #4 to #5
Peterson: Early Morning Pipe moved from #5 to #7
Seattle Pipe Club: Plum Pudding Special Reserve moved from #7 to #4
Kramer's: Father Dempsey moved from #8 to #1
G. L. Pease: Westminster stayed at #9
Cornell & Diehl: Pirate Kake moved from #11 to #8
Cornell & Diehl: Star of the East entered at #10
Samuel Gawith: Perfection Mixture entered at #6
A note on the tobacco information.
Strength: a measure of the tobacco's body and nicotine. One is the lowest. Five s is the highest.
Room Note: a measure of the pleasantness or intensity of the smoke's odor to everyone else in the room. One is the least intense room note, while five s would be the most noticeable to others.
Taste: A measure of the the power and fullness of the smoke's flavor, with one being the most mellow and five s being the fullest.
You may also enjoy: