Top 11 Best-Selling G.L. Pease Blends
Updated for Spring 2023, this article was last published on June 22, 2022. It has been updated to incorporate current data and edited to reflect product availability.
Few names within the field of pipe tobacco are as renowned as that of Greg Pease, and his journey began in the late 1970s at the famed Drucquer & Sons tobacco shop in Berkeley, California. A college student at the time, Pease quickly became enamored with Drucquer's tobacco selection as well as the shop's atmosphere and tight-knit community. Soon he was working there, helping to restore, clean, and repair pipes as well as tinning tobaccos, labeling tins, and learning the elementary stages of tobacco blending. For Pease, tobacco blending is an alchemical process, combining disparate elements to create something new, and over the years, his approach developed into two starting points: beginning with the flavor profile and mixing the necessary components to achieve it, or beginning with characteristics of an already extant blend and modifying them in interesting, more nuanced ways.
Since 2000, Pease has developed his own line of G.L. Pease pipe tobaccos, having partnered with Cornell & Diehl to realize his recipes on a mass-production scale while retaining an intimate, hands-on, and artisanal approach to blending. His mixtures are among the most celebrated within the community, lauded by novice and veteran pipe smokers alike for their sophistication, complexity, and balance, and his portfolio comprises over 40 distinctive blends — all available at Smokingpipes. Ranging from traditional Virginia and Virginia/Perique mixtures to discerning English blends of varying strengths and flavor profiles to more avant-garde tobaccos of singular character, G.L. Pease pipe tobaccos cater to and celebrate the diversity of pipe-smoking preferences, and to help guide in your selection, we've compiled a list of our top 11 best-selling G.L. Pease pipe tobaccos. Use it as a starting point for exploring Pease's work for the first time, or perhaps find a new favorite to enliven your regular rotation!
Top 11 Best-Selling G.L. Pease Blends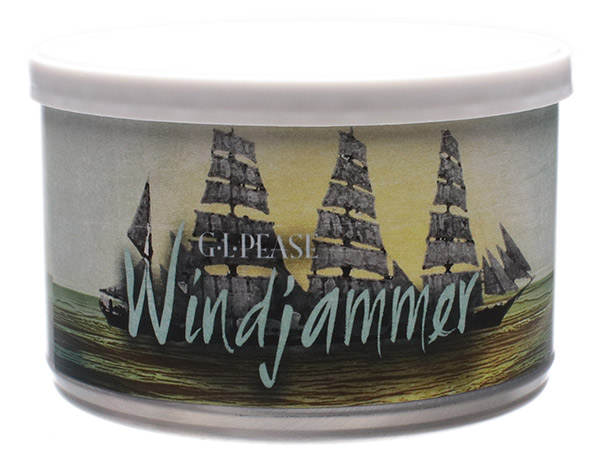 Released in February 2021, Windjammer is Greg's personal interpretation of old-school, navy flake pipe tobaccos. It combines naturally sweet Virginias and nutty Burleys with a significant percentage of spicy Perique, married and elevated by a splash of dark rum for a rich, flavorful smoke marked by notes of cocoa, black walnuts, and dried fruits. Fans of Pease's other Virginia-based blends like Haddo's Delight, Barbary Coast, and Fillmore are sure to find a new favorite here.
Available in: 2oz
G.L. Pease always hits his mark, but this one is phenomenal! If Virginia and Perique are your thing, don't miss out on this. I keep finding myself picking this over my other favorites. - ECSteele, 5-star review at Smokingpipes.com
Components: Virginia, Burley, Perique, Black Cavendish
Cut: Flake
Family: Virginia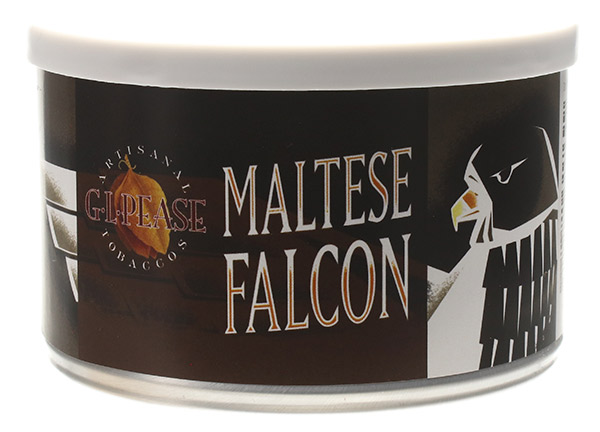 Much like the classic noir film of its inspiration, Pease's Maltese Falcon has a strong cult following of its own. And for good reason: It's a stylish, dark, and alluring all-day English blend that continues to surprise with each bowl. If Odyssey (fourth on this list) is a study in Latakia's boldness, Maltese Falcon is a testament to the Cypriot leaf's nuance in concert with other varietals. Matured Red Virginias, Bright Virginias, and Oriental leaf add a deep, full-bodied, yet silky quality and intriguing sweetness to the smoke, enhanced by a discreet and mysterious bit of spice. It's extremely balanced and perfect for those looking for an all-day English/Balkan mixture.
This is a great English blend. It is smoky and mild with just a touch of spice on the back end. The kind of smoke you could have all afternoon while reading a book. It will keep you interested without wearing you out. - JohnnyB, 5-star review at Smokingpipes.com
Components: Latakia, Orientals, Virginia
Cut: Ribbon
Family: English
The second plug-cut pipe tobacco on this list, JackKnife Plug is a study in Dark-Fired Kentucky leaf. Deep and earthy, this traditional plug tobacco combines ripe Red and Golden flue-cured Virginias with an ample portion of Dark-Fired Kentucky, offering a natural sweetness throughout the bowl that anchors the subtle, natural mesquite qualities of the dark-fired leaf. Though available in a ready-rubbed version, the original plug is the popular favorite for its sheer versatility and aging potential. Whether you prefer a chunky ribbon, a fine shag, or slow-burning flakes, how you prepare it is entirely up to you.
This is a great straightforward tobacco blend. The flavor profile is sweet, smoky, and spicy. The Kentucky adds a lot of depth to this blend. I love it! But be warned, it is a strong blend. - Bob T., 5-star review at Smokingpipes.com
Components: Dark-Fired Kentucky
Cut: Plug
Family: Burley
While many of Pease's blends feature Perique, few showcase the condimental leaf quite like Haddo's Delight. Rich, piquant, and redolent of stone fruits, this stout blend places its generous measure of long-cut Perique right up front, while select Virginia varietals, unflavored Black Cavendish, and a little air-cured White Burley balance the fermented leaf's body and strength. Though not a traditional Aromatic, it is cased with subtle notes of booze, cocoa, and dried fruits serving to underline Perique's natural character rather than mask or overpower its qualities.
Available in: 2oz | 8oz | 16oz
This is a Va/Per with an Aromatic touch. Some cocoa, some fig, and sweet on the tongue. I try to keep a tin or two around, but once I crack one open it's pretty much all I smoke until it's gone. - socketdrips, 5-star review at Smokingpipes.com
Components: Virginias, Burley, Perique, Black Cavendish
Cut: Ribbon
Family: Virginia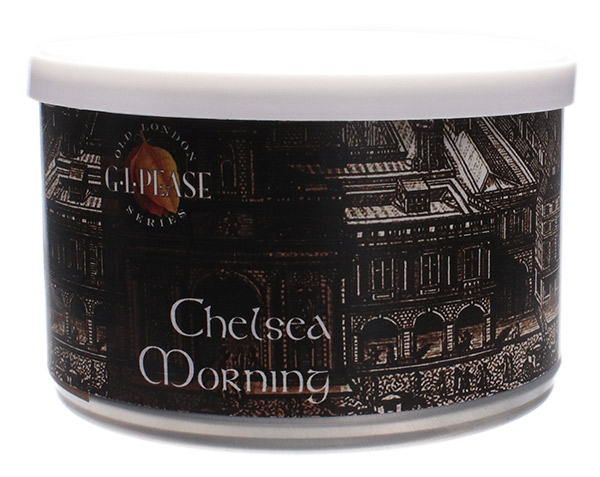 Chelsea Morning showcases Greg's affinity for balanced Latakia mixtures, offering just the right level of smokiness for those who prefer more mild-mannered English blends over Latakia bombs. It all starts with a base of sweet Red and Bright Virginia leaf, with fragrant Orientals, smoky Cypriot Latakia, and a pinch of Perique added in layers during the blending process. The mixture is briefly pressed, then sliced and tumbled into a broken flake; it's easy to pack and offers a mélange of flavors and aromas, with a creamy foundation that highlights bright citrus and subtle fruity notes balancing a bit of spice on the retrohale. As the name implies, it's a great start to your morning, especially with a cup of strong coffee.
This blend is exceptional: rich, creamy, smooth, and cool burning. It is not a Lat monster but has just enough to satisfy; it is rich and complex but not too strong. I could smoke it all day. - rrg991981, 5-star review at Smokingpipes.com
Components: Latakia, Orientals, Virginia, Perique
Cut: Broken Flake
Family: English
Among Greg's most unique and evocative creations, Gaslight is a blend for Latakia connoisseurs. Red Virginias provide a sweet, tangy backdrop all the way through the bowl, allowing the spicy Oriental leaf to showcase its peppery, piquant character while the Latakia fills out the body with a rich creaminess and smoky nuance that keeps you coming back for more. Overall, it's deep and rich with an impressive complexity — the perfect complement to a peaty Scotch on a cold winter's night. Moreover, it's presented in plug-cut form, offering excellent aging potential and convenient versatility when it comes to preparing your next bowl.
This plug is an extraordinary example of how Latakia can be used to make a perfect smoke. Far different than any other blend that I have tried, this blend seemingly transports you to another time. Relaxing on a calm night with this blend is to die for. Each slice of this plug is a slice of heaven. - Logan C., 5-star review at Smokingpipes.com
Components: Latakia, Orientals, Virginia
Cut: Plug
Family: English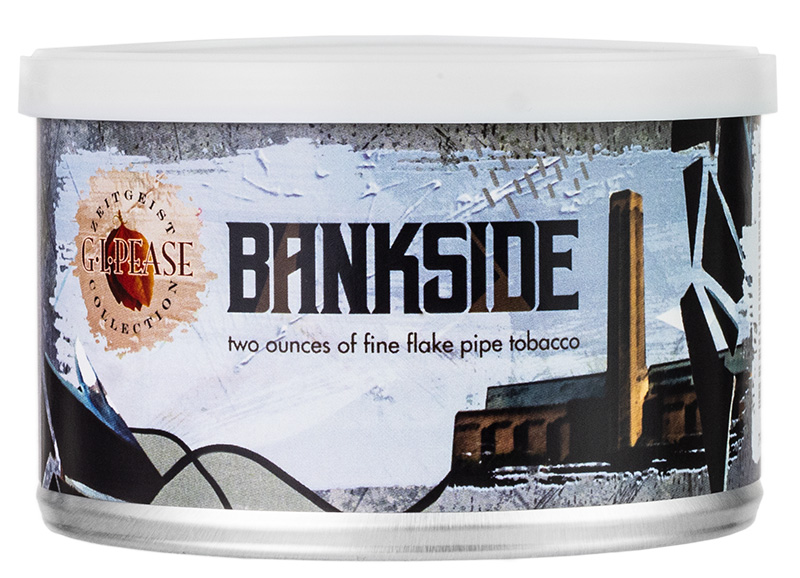 Part of Pease's Zeitgeist Collection, a line that celebrates the often avant-garde and rebellious themes of the modern era, the Bankside blend pays tribute to Modernist art and architecture, and offers an appropriately modernist interpretation of the archetypal Virginia/Perique flake. From a bold, traditional canvas of Red and Bright Virginias and genuine St. James Perique emerge subtle, contrasting strokes of dark-fired Kentucky and Latakia tobaccos — originating exotic, smoky undertones that support and enrich its notes of sweet cream and citrusy tang.
Available in: 2oz
Fantastic blend. Virginians are front and center with the Perique; dark fired Kentucky and Latakia working in balanced harmony in their supporting role. Great out of the tin, balanced medium smoke. This blend is certainly going into the regular rotation. - Chris W, 5-star review at Smokingpipes.com
Components: Latakia, Virginia, Perique, Dark Fired Kentucky
Cut: Flake
Family: Virginia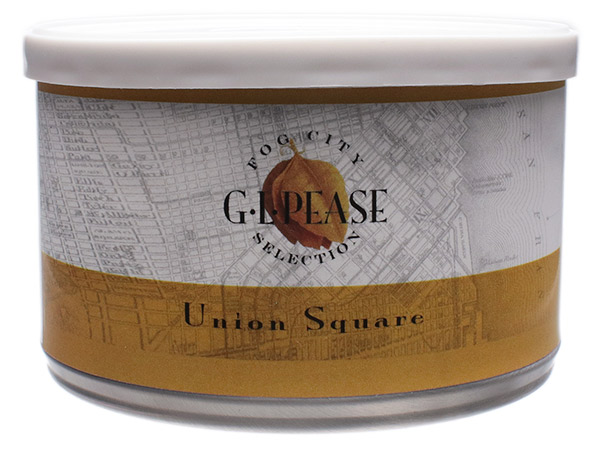 If you're looking for natural, pure tobacco flavor, Union Square delivers. This pressed, flake-cut blend is composed entirely of high-grade, flue-cured Virginias, ranging from sweet, citrusy Brights to deep, earthy Reds, without the added sugars or top flavorings common in many Virginia blends. Its complexity and flavor are derived entirely from its choice components, making Union Square a great choice for those searching for the purest Virginia tobacco flavor possible. Though not an Aromatic by any means, the room note is enticingly pleasant, evocative of freshly baked bread, with a delightful finish, and its aging potential makes Union Square a blend worth cellaring.
Available in
:
2oz
|
8oz
This blend is a masterpiece. My first experience was with a 10-year-old tin and it opened my eyes to the beauty of Virginia leaf. Even fresh, this is one of the most rich and complex Virginia blends I've ever had. Grass, hay, bread, toast, citrus, dark fruits. This blend does it all. Grab one for now and 10 for later. - Zrhunter86, 5-star review at Smokingpipes.com
Components: Virginia
Cut: Flake
Family: Virginia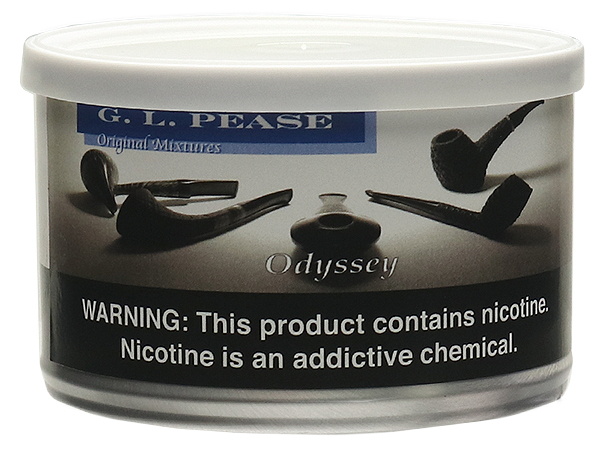 A Cypriot Latakia showcase, Odyssey is undoubtedly one of Pease's biggest blends in its bold flavor, generous use of Latakia, and overall popularity. From charring light to final draw, the dark, smoky Latakia dominates, offering abundant complexity and spice, as well as a slight creaminess that allows the fragrant Orientals and sweet, stoved Virginias to shine in their supporting roles. While not brutish or unrefined, Odyssey isn't subtle compared to some of Pease's other English mixtures: It's unashamedly Latakia forward, catering to those who prefer blends that prioritize the smoke-cured leaf. While the Orientals and Virginias offer a good bit of balance, the Latakia remains the focal point, arresting your attention all the way to the dottle.
This blend is by far my absolute favorite out of all GL Pease's blends. It trumps every English I've ever smoked. The name is a foreshadowing of an Odyssey you will embark on that is full of rich, creamy, perfectly balanced smoke. Please do yourself a favor and try it! - ALoverOfLats, 5-star review at Smokingpipes.com
Components: Latakia, Orientals, Virginia
Cut: Ribbon
Family: English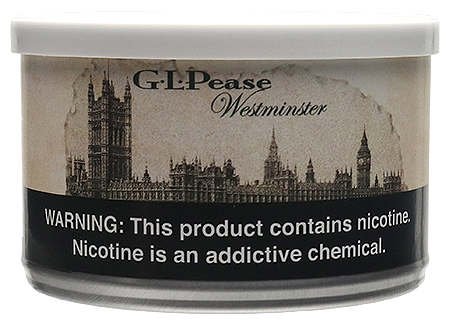 Inspired by Dunhill's iconic, since-discontinued London Mixture, Westminster is a traditional English blend through and through. A mixture of Red and Bright Virginias, distinctive Orientals, and Cypriot Latakia, it personifies measured simplicity and elegant balance. The Latakia, though certainly present in good measure, never towers over the rest of the components; they all work symbiotically, with the smokiness of the Cypriot leaf adding dimension to the sweet, tangy notes of the Virginias and naturally complementing the earthy spice and floral notes of the Orientals. If you're looking for an all-day, everyday English pipe tobacco that will never lose its appeal, Westminster is near the top of this list for a reason.
Available in: 2oz | 8oz | 16oz
One of my favorite "all day" English blends. So much flavor, not too strong and smokes so well. Love it any time. - Stephen K., 5-star review at Smokingpipes.com
Components: Latakia, Orientals, Virginia
Cut: Ribbon
Family: English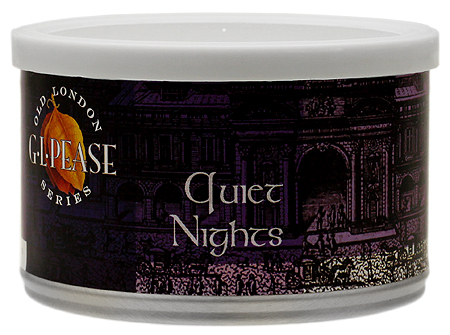 An impressively complex mixture of ripe Red Virginias, Orientals, Cypriot Latakia, and a pinch of Acadian Perique, Quiet Nights is considered by many to be Greg's magnum opus, the one blend that could rightly define Pease's entire blending style, from the proportions of its components to its overall preparation. Pressed and matured in cakes before being sliced into delicate flakes, Quiet Nights exemplifies the care, dedication, and creativity from which Pease approaches pipe tobacco blending. More Oriental-forward than, say, Chelsea Morning, it's full of mysterious nuance and sophisticated complexity, setting the stage for a rich, deep, and contemplative smoke — one best enjoyed, as you might expect, on a quiet night with a wee dram and a good book.
This is absolutely the best tasting tobacco I have ever experienced. It has locked my #1 spot. It has the right strength, the right burn, the right tin note, the right room note... I have smoked nothing but this since I bought the first tin. Greg Pease is to be lauded copiously for this mixture. For me, this is what pipe smoking is all about. Perfection. - PipeCat, 5-star review at Smokingpipes.com
Components: Latakia, Orientals, Virginia, Perique
Cut: Flake
Family: English
Those are our top 11 best-selling pipe tobaccos from G.L. Pease. Keep in mind, these blends were ranked based on popularity, not by our own tastes or judgements. If you don't see your favorite on the list, leave us a comment and share your thoughts — perhaps it will make it in a future list!
Latest Updates (2023):
Quiet Nights stayed at #1
Westminster stayed at #2
Windjammer moved from #3 to #11
Odyssey moved from #4 to #3
Bankside entered at #5
Gaslight moved from #5 to #6
Maltese Falcon moved from #8 to #10
Chelsea Morning moved from #6 to #7
Union Square moved from #7 to #4
Haddo's Delight moved from #10 to #8
JackKnife Plug moved from #11 to #9
A note on the tobacco information.
Strength: a measure of the tobacco's body and nicotine. One is the lowest. Five s is the highest.
Room Note: a measure of the pleasantness or intensity of the smoke's odor to everyone else in the room. One is the least intense room note, while five s would be the most noticeable to others.
Taste: A measure of the the power and fullness of the smoke's flavor, with one being the most mellow and five s being the fullest.
You may also enjoy: