Top 12 Best-Selling G.L. Pease Blends
Gregory Pease is one of the finest blenders of pipe tobacco in the world. From his early years mixing up Drucquer & Sons' house mixtures to creating what many call the perfect English blend, Pease has been a vital and stalwart visionary of the pipe tobacco world for years. If you've missed his expert mixtures, you've done yourself a disservice. But with dozens of blends to choose from, you may wonder how to start. For that, we've compiled the top 12 all-time, best-selling G.L. Pease blends at Smokingpipes.com.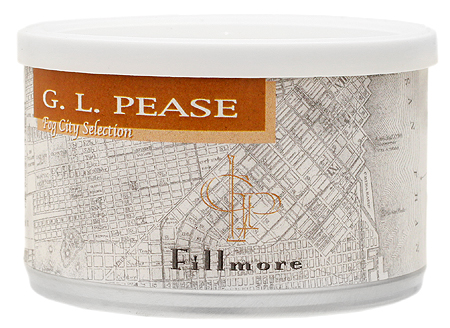 While some tend to naturally associate Greg's work with fine English mixtures, Pease actually blends a variety of wonderful Virginia blends as well, Fillmore being a great example. Blended in the Scottish tradition, Fillmore features thickly sliced broken flakes of ripe red Virginias and a generous measure of spicy Louisiana Perique. Pressed into cakes to marry all the components and deepen the flavors, it's then sliced and gently broken before tinning for easy packing. On the palate, it offers a subtle, natural sweetness and a delightful piquancy, enhanced by a creamy richness that develops throughout the bowl.
3.2/4 stars on Tobacco Reviews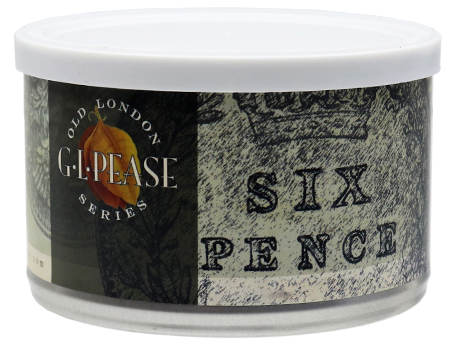 Another delicious Virginia/Perique mixture in Greg's lineup, Sixpence is one of those blends you'll always want in your cellar. Fresh from the tin, its flavor is bright and nuanced, with the Virginias offering a subtle sweetness enhanced by anisette topping, while the Perique and dark-fired Kentucky condiment leaves provide a rich and spicy backdrop that marries and enhances the flavors. Given its majority Virginia base, it's sure to age elegantly as well. It's presented in neatly sliced flakes, perfect for folding and stuffing or rubbing out alike.
3.3/4 stars on Tobacco Reviews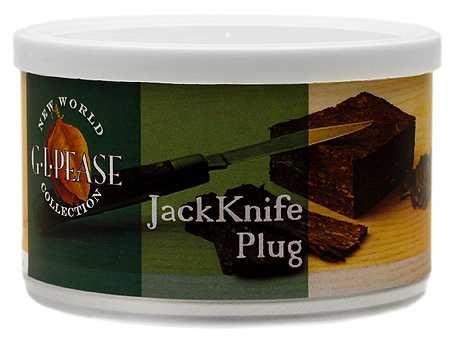 If you're looking for a study in dark-fired leaf, Pease's JackKnife Plug is the way to go. Deep and earthy, this traditional plug tobacco combines ripe red and golden flue-cured Virginias with an ample portion of dark-fired Kentucky, offering a natural sweetness throughout the bowl that anchors the subtle, natural aromatic qualities of the dark-fired leaf. Though available in a ready rubbed version, the original plug is our favorite for its sheer versatility and aging potential. Whether you prefer a chunky ribbon, a fine shag, or slow-burning flakes, how you prepare it is entirely up to you.
3.4/4 stars on Tobacco Reviews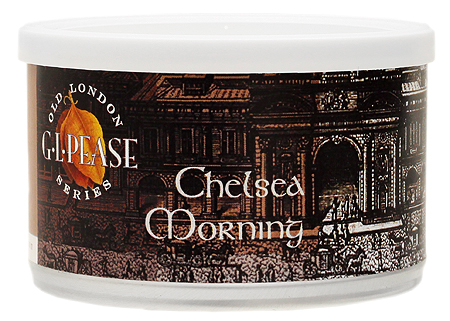 The first English blend in our top-twelve list, Pease's Chelsea Morning showcases Greg's affinity for balanced Latakia mixtures. Like many GLP blends, Chelsea Morning starts with a base of sweet red and bright Virginia leaf, with added layers of nuanced flavors building from fragrant orientals, smoky Cyprian Latakia, and a pinch of Perique. Blended in layers, briefly pressed, then sliced and tumbled into ribbons, it's easy to load and smokes evenly all the way to the bottom. On the palate, it offers a melange of flavors and aromas, with a creamy, easy-smoking foundation and bright citrus and subtle fruity notes balancing a bit of spice on the retrohale. As the name implies, it's a great start to your morning, especially with a cup of strong coffee.
3.4/4 stars on Tobacco Reviews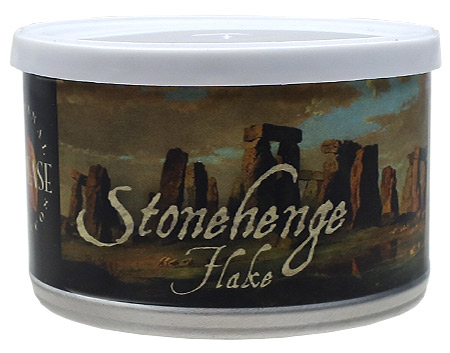 Stonehenge Flake is unique on this list, a collaboration between Greg and John Gawith of G.H. & Co. Originally released in 2001 as a limited-edition run of approximately 1500 tins, Stonehenge Flake is now part of Pease's regular production, and we're all thankful for that. Featuring bright flue-cured and sun-cured leaf from select regions around the globe, it's layered with piquant Louisiana Perique and a touch of Burley for added body. Before tinning, the entire mixture is steamed, hot-pressed, and matured to heighten the blends nuance and complexity, then sliced into delicate flakes. There is a slight top note of rich cocoa, but it serves mainly to enhance the natural flavors of the various varietals and components, rather than mask their flavor. It's an exquisite VaPer — one that combines the best qualities of both blending houses.
3.2/4 on Tobacco Reviews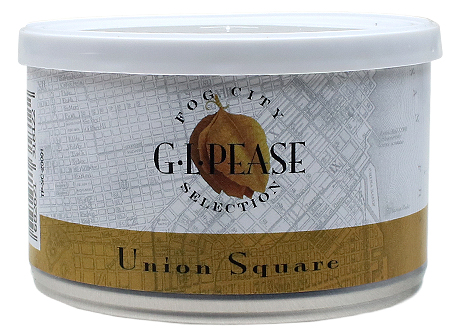 If you're looking for natural, pure tobacco flavor, pop a tin of Pease's Union Square. This blended, sliced cake is comprised entirely of high-grade, flue-cured leaf, ranging from sweet, citrusy brights to deep, earthy reds, without the added sugars or top flavorings common in many Virginia blends. Its complexity and flavor are derived from its choice components, evolving in layers with the clean, natural sweetness of pure tobaccos. Though not an aromatic by any means, the room note is quite pleasant, evocative of freshly baked bread, with a delightful finish.
3.3/4 stars on Tobacco Reviews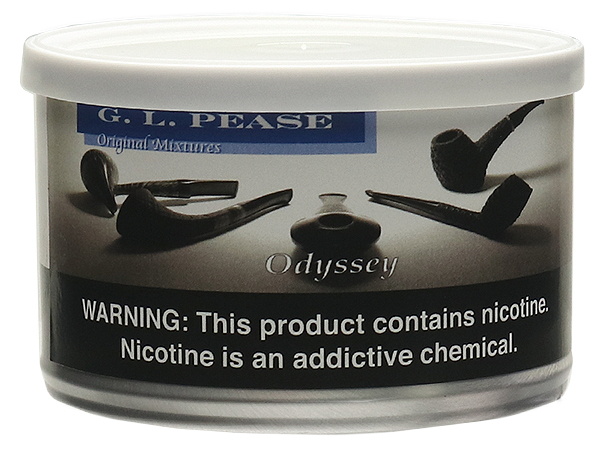 A study in Cyprian Latakia, Odyssey is undoubtedly one of Pease's biggest blends — in both its bold flavor and overall popularity. From the charring light all the way to the heel of the bowl, the dark, smoky Cyprian leaf steals the show, offering abundant complexity and spice, as well as a slight creaminess that allows the fragrant Orientals and sweet stoved Virginias to shine in their supporting roles. While certainly not heavy-handed, Odyssey isn't the most nuanced or subtle of Pease's English mixtures; it's quite Latakia forward, but the Orientals and Virginias do offer a good bit of balance, allowing the Cyprian leaf to keep surprising you all the way to the dottle.
3.4/4 stars on Tobacco Reviews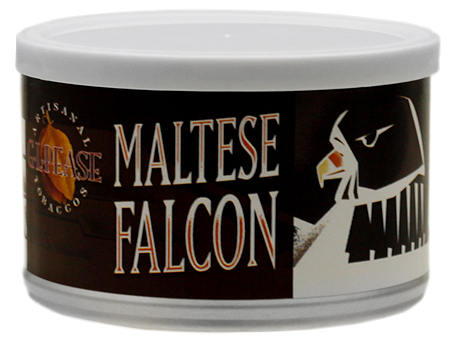 Much like the classic noir film of its inspiration, Pease's Maltese Falcon has a strong cult following of its own. And for good reason: It's a stylish, dark, and alluring all-day English blend that keeps on surprising with each bowl. If Odyssey is a study in Latakia's boldness, Maltese Falcon is a testament to the Cyprian leaf's nuance in concert with other varietals. Matured Red Virginias, exotic orientals, and bright flue-cured leaf add a deep, full-bodied, yet silky quality and intriguing sweetness to the smoke, enhanced by a discreet and mysterious bit of spice. All around, it's extremely balanced and perfect for those looking for an all-day English/Balkan mixture.
3.2/4 stars on Tobacco Reviews
Easily one of Greg's most unique and evocative creations, Gaslight is the perfect choice for the Latakia connoisseur. Red Virginias provide a sweet, tangy backdrop all the way through the bowl, allowing the spicy Oriental leaf to showcase its peppery, piquant character while the Latakia fills out the body with a rich creaminess and smoky nuance that keeps you coming back for more. Overall, it's deep and rich with an impressive complexity — the perfect complement to a peaty Scotch on a cold winter's night. It's also one of the few Pease blends available in plug form, meaning it has great aging potential and how you prepare the mixture is entirely up to your tastes.
3.3/4 stars on Tobacco Reviews
While many of Pease's blends feature Perique in some way, few showcase the condiment leaf quite like Haddo's Delight. Rich, piquant, and redolent with notes of stone fruits, this stout blend places its generous measure of long-cut Perique right up front, while several Virginia varietals, unflavored black Cavendish, and a little air-cured white Burley are well balanced in body and strength. Not a traditional aromatic, it is nevertheless cased with subtle notes of booze, cocoa, and dried fruits, which actually serve to underline those qualities in the Perique, rather than mask or overpower them. It's also one of Pease's most potent blends, best saved for an after-dinner smoke on a full stomach.
3.0/4 stars on Tobacco Reviews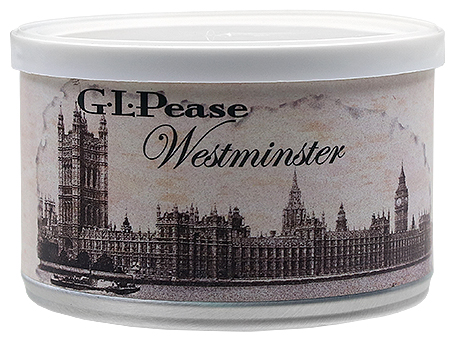 Inspired by Dunhill's no-longer-extant London Mixture, Westminster is a traditional English mixture through and through. A blend of red and bright Virginias, peppery Orientals, and choice Cyprian Latakia, its call to fame is simply its elegant balance. The Latakia, though certainly present in good measure, never towers over the rest of the components; it all works symbiotically, with the smokiness of the Cyrian leaf adding dimension to the sweet, tangy notes of the Virginias and naturally complementing the earthy spice of the Orientals. If you're looking for an all-day, every-day English that will never bore, Westminster gets #2 in this spot for a reason.
3.3/4 stars on Tobacco Reviews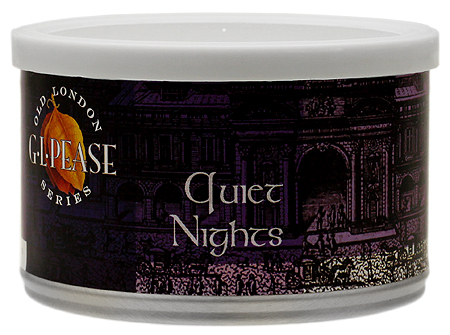 An impressively complex mixture of ripe red Virginias, Orientals, Cyprian Latakia, and a pinch of Acadian Perique, Quiet Nights is considered by many to be Greg's Magnum Opus, the one blend that could rightly define Pease's entire blending style, from the proportions of its components to its overall preparation. It's pressed and matured in cakes before sliced into delicate flakes — Quiet Nights showcases the ethos of Pease's lineup perhaps more so than any other blend. More Oriental-forward than, say, Chelsea Morning, it's full of mysterious nuance and sophisticated complexity, setting the stage for a rich, deep, and contemplative smoke — one best enjoyed, as you might expect, on a quiet night with a wee dram and a good book.
3.5/4 stars on Tobacco Reviews
So there you have it: our top 12 all-time, best-selling blends from G.L. Pease. Don't see your favorite on the list? Feel free to share your thoughts and experiences in the comments section below.
A note on the creation of this roster: To compile this list, we sorted by number of units sold since we began carrying Greg's mixtures. For simplicity, we also combined 2oz, 8oz, and 16oz facings to better represent the popularity of each blend.
You may also enjoy: