Top 10 Best-Selling Mac Baren Blends
Revised for Spring 2023, this article has been updated to incorporate current data and edited to reflect product availability.
Mac Baren began in 1826 as a small snuff and chewing-tobacco production facility in Svendborg, Denmark. Originally dubbed S. Bønnelyckes Tobaksfabrik, the factory continued for 60 years with little renown before its proprietor lost ownership in a poker game in 1887. The winner, then, traded it to Harald Halberg for a horse and a barrel of whiskey, and renamed the firm the Harald Halberg Tobacco Factory.
Halberg had completed his education in tobacco rolling, which was significant: It took longer to become a certified spun-tobacco master than it did to earn a bachelor's degree. With such expertise, Halberg founded Mac Baren on a tradition of quality and spun-cut tobaccos, and his competition was vast: In the late-19th century, there were over 400 tobacco factories in Denmark, four of them in Svendborg. By 1900, Halberg's was the only one left in the city. Passed to Harald's son Eimar and then to his grandson Jørgen, the Harald Halberg Tobacco Factory was eventually renamed "Mac Baren" after WWII out of fear that the original name would be confused for a German company, such origins having fallen out of favor in that era.
Since then, Mac Baren has delighted pipe smokers with some of the most pristine and celebrated tobaccos available, and today, the operation is supervised by head blender Per Jensen. Mac Baren's portfolio now spans an array of discerning mixtures from exquisite Aromatics and refined English blends, to nuanced Virginia- and Burley-based tobaccos — many boasting recipes that date to the mid-20th century. With such a vast selection, it can be difficult to decide which blends warrant consideration, so we've compiled our top 10 best-selling Mac Baren pipe tobaccos. We hope it guides your exploration of the brand's distinguished lineup and hopefully introduces you to some newfound favorites.
Top 10 Best-Selling Mac Baren Blends
A mild aromatic, Mac Baren's Original Choice is a tasty blend of North Carolina Virginas, Burley from Tennessee, and just enough Black Cavendish to provide a hint of spice. It's a calming mixture that's light on the palate and ideal for new and veteran smokers alike. Finished with a smooth topping, Original Choice offers a sweet flavor profile and a striking room note.
Of the 30 or so varieties of pipe tobacco I've tried, this is by far my favourite. Cool burning, pleasant note, and an overall very satisfying smoke. And while it might have some "fruity undertones," it definitely doesn't suffer from that soap-like aftertaste that some of the more recent popular brands do. - LostSpirit, 5-star review at Smokingpipes.com
Components: Virginia, Burley, Black Cavendish
Cut: Ribbon
Family: Aromatic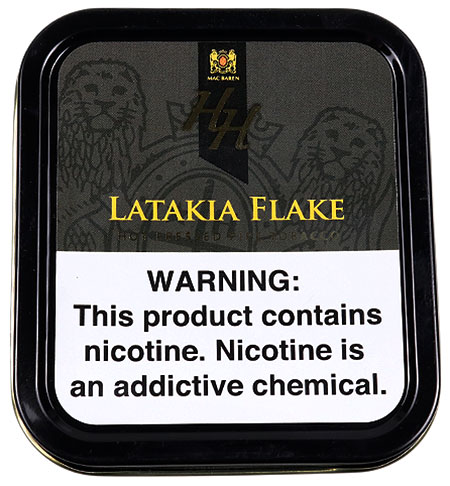 In line with the HH line's theme of showcasing particular tobacco varietals, HH Latakia Flake highlights the smoky, woodsy profile indicative of Latakia and English-family pipe tobaccos. English blends are most often ribbon-cut, making Mac Baren's HH Latakia Flake among the few flake-cut English mixtures. It combines Bright Virginias, Orientals, Burleys, and a generous portion of Cyprian Latakia, the Orientals enhancing the mesquite and incense-like qualities of the Latakia. The Virginias then add a bit of natural sweetness, while the Burley contributes strength and depth to the smoke. It's an extraordinarily complex flavor profile, but also elegant and refined — the heat-pressing process marrying all those flavors into a complex experience. HH Latakia Flake satisfies Latakia lovers, but is different enough from other English blends to delight those not typically drawn to Latakia-based mixtures.
Available in: 1.75oz | 3.5oz | 16oz
Reading through all the reviews since Latakia Flake's debut, it's fair to conclude we are all shooketh. It's so totally different, wildly different, and it's so absolutely delicious. It's as if Mac Baren discovered the REAL way Latakia is best incorporated in a blend. Latakia Flake is a game changer. It cleared the battlefield for me. All the English blends I was working through, they're basically irrelevant. This blend sets the bar. - DK Acolyte, 5-star review at Smokingpipes.com
Components: Burley, Latakia, Orientals, Virginia
Cut: Flake
Family: English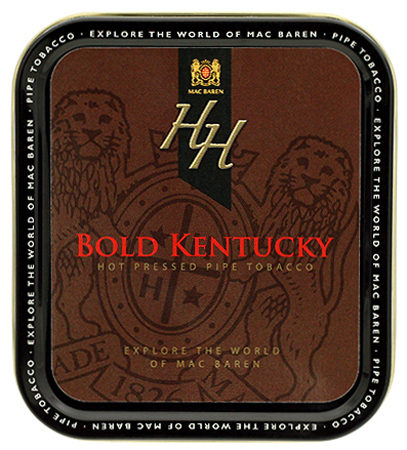 The brainchild of Mac Baren's product specialist, master blender, and tobacco ambassador, Per Jensen, the HH line is a series of pipe tobaccos devoted entirely to showcasing the natural characteristics of various components — blended with only minimum casings and no toppings whatsoever. Since its inception in 2006, it's quickly become among Mac Baren's best-selling and most sought after series, and HH Bold Kentucky showcases Dark-Fired Kentucky. Aside from the limited-edition HH Rustica blend, HH Bold Kentucky is the strongest pipe tobacco in Mac Baren's portfolio. It contains a significant percentage of Dark-Fired Kentucky from the U.S. and Africa — the tobacco varietal containing the highest levels of nicotine, and while it does pack a punch, it's remarkably balanced overall, the Dark-Fired slightly softened by Bright Virginias and mellowed through hot-pressing. Though comprising the same components as Mac Baren's HH Old Dark Fired, HH Bold Kentucky offers a stronger presence of Dark-Fired Kentucky's distinctive mesquite notes, offering a bold and smoky flavor profile.
Available in: 1.75oz | 3.5oz | 16oz
No big long-winded review here. Just good, strong tobacco taste with a slightly sweet flavor that stays good all the way to the bottom of the bowl. Hit it out of the park, Mac Baren. - timsmcm, 5-star review at Smokingpipes.com
Components: Dark-Fired Kentucky, Virginia
Cut: Flake
Family: Burley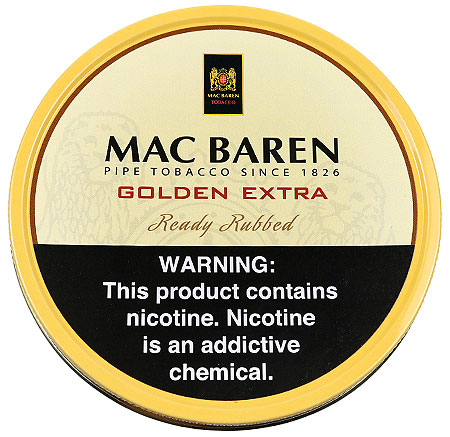 While most people tend to associate Burley-based tobaccos with American blending houses, the Danes have their own way of preparing the air-cured leaf as well, typically yielding milder mixtures, often with light casings of cocoa and anise. Mac Baren's Golden Extra is a delicious example of a traditional Danish Burley blend, easy to smoke and easy to enjoy. While the Burleys take center stage, their inherent nuttiness is complemented and accentuated by the cocoa and anise casing, while a good portion of Virginias balances the mixture with a touch of sweetness. Golden Extra has been one of Mac Baren's best-selling blends for years, and if you haven't tried it yet, you may appreciate how approachable and easy-smoking it is.
Available in: 3.5oz | 16oz | Bulk
This is my everyday blend. It is simple but comforting and pleasant. I use it for breaking in pipes and when I want a nice basic pipe tobacco. The room note is pleasant and the blend doesn't bite. - Eric G., 5-star review at Smokingpipes.com
Components: Burley, Virginia
Cut: Broken Flake
Family: Burley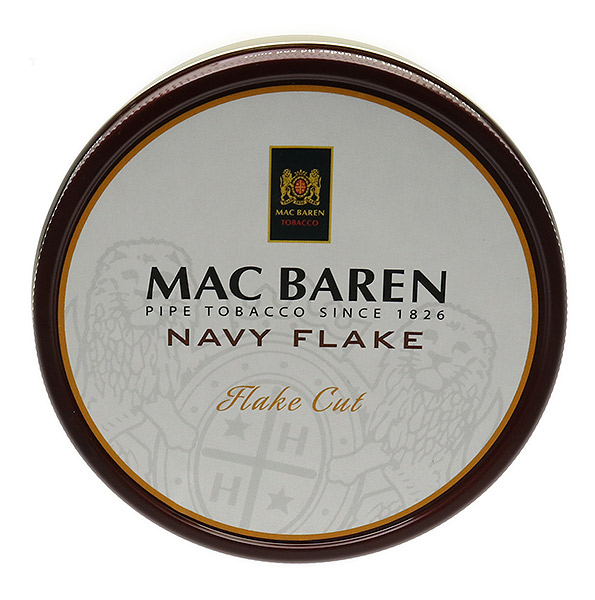 Historically, Mac Baren has specialized in spun-cut tobacco, aka coin-cut, with many of the blending house's early mixtures, such as Stockton, being coin-cut blends. First introduced in 1965, Navy Flake was among the first flake-cut blends Mac Baren produced, and it's since come to epitomize the manufacturer's approach to the cut. Navy Flake is a traditional, Burley-forward flake tobacco, elevated with Virginias for sweetness and Mac Baren's Original Cavendish to smooth it all out. The tobaccos are blended together with a slight casing redolent of brown sugar, booze, and honey, and pressed for a minimum of 30 days before being sliced into 1.4mm flakes.
For me, my perennial tobacco. The one tobacco I'm never without. Good, rich, smooth smoke. Slight topping of honey in the tin that in no way overwhelms this blend of Virginia/Burley. - nitehawk, 5-star review at Smokingpipes.com
Components: Burley, Virginia, Black Cavendish
Cut: Flake
Family: Burley
Considered one of Mac Baren's staple classics, Virginia No. 1 was first released in the mid-1950s and is among the oldest pipe tobaccos on this list, having delighted pipe smokers for nearly 70 years. As a straight-Virginia blend, it showcases carefully selected Virginias, and like many of Mac Baren's mixtures, it focuses on the tobaccos' naturally sweet, grassy, and citrus-like notes, elevated by a subtly sweet topping to provide a cool, sweet smoke that doesn't hide the natural tobacco flavors while still providing a pleasant room note.
Available in: 3.5oz | 16oz | Bulk
This is most likely my favorite one so far. I love the taste of hay and bread. Being a baker at heart and having spent time at my late grandfather's ranch, it takes me back to a simpler time. When enjoying this blend, think of it as a good sipping whiskey, take your time and enjoy it. - Stu H., 5-star review at Smokingpipes.com
Components: Virginia
Cut: Flake
Family: Virginia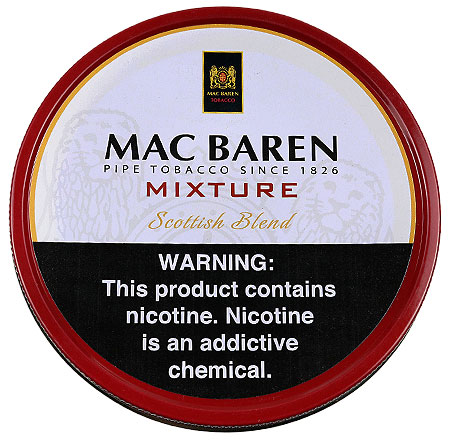 Mixture Scottish Blend or simply "Mixture" is among Mac Baren's most popular blends, not only here at Smokingpipes but worldwide. Originally introduced in 1958, it illustrates Mac Baren's signature Danish approach to blending: focusing on high-quality raw components elevated by subtle casings that amplify the natural characteristics of the leaf. Made from over 35 different tobaccos from all over the world, Mixture showcases various grades of Burley and Virginia leaf, married by Mac Baren's Original Cavendish. Given its wealth of components and subtle casing, Mixture is extremely complex, so much so that each bowl offers a new discovery; it can fade quietly into the background if need be, and its modest nicotine levels make it mellow enough to smoke all day.
Available in
:
3.5oz
|
16oz
|
Bulk
It falls somewhere in that middle ground. You can taste that the tobacco is fuller in flavor and depth than a straight Aromatic, yet is sweet and has some flavoring in there. Smokes cool, dry, and finishes to a nice ash. Leaves a pleasant room note. Not bad at all for a change of pace. I'd smoke it again. - Timothy S., 5-star review at Smokingpipes.com
Components: Burley, Virginia, Black Cavendish
Cut: Broken Flake
Family: Aromatic
As the name denotes, Mac Baren's HH Pure Virginia is a hot-pressed flake composed entirely of Virginia tobaccos, namely those from select growing regions in North America and Africa. Its profile is deep and bready, with bright highlights and a distinctive hay-like grassiness. Compared to Mac Baren's other Virginias, such as Virginia Flake, HH Pure Virginia is slightly less sweet and citrusy, more redolent of freshly baked goods with a little spice and a deeper, molasses-like sweetness. In other words, it's more similar to something like Samuel Gawith's Full Virginia Flake than to a blend like Orlik Golden Sliced.
Available in: 1.75oz | 3.5oz | 16oz
Another MacBaren jewel. Tasty, zesty, subtly sweet, never harsh, slow burning goodness. Rubs out easily, doesn't need too many relights. Weird thing is each bowl takes me elsewhere; with each bowl, I discover something new. Thank you Per Jensen. Highly recommended to all pipe smokers. - Angus, 5-star review at Smokingpipes.com
Components: Virginia
Cut: Flake
Family: Virginia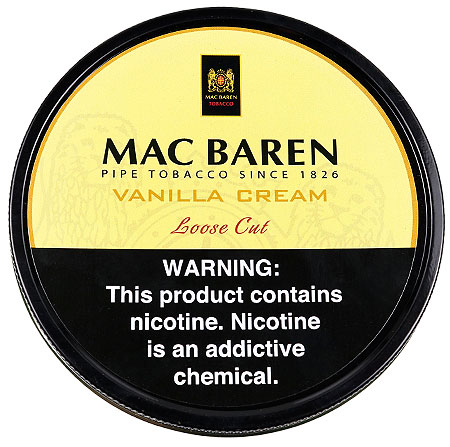 Beloved by newcomers and experienced pipe smokers alike, Vanilla Cream is a delightful blend of Virginias, Burley, and Mac Baren's Modern Cavendish, a Black Cavendish which adds a rich creaminess to the smoke that's further enhanced by an exotic vanilla topping. Unlike similar vanilla Aromatics, the top note is present in both the smoke and aroma, yet it never masks the natural flavors of the high quality leaf itself, yielding a fragrance and flavor more akin to freshly baked pastries than, say, vanilla extract.
Available in: 3.5oz | 16oz | Bulk
This is one of the best vanilla Aromatics out there. I enjoy this and the flake version. Both are similar in taste and smoke. Welcome to flavor city! - Casey Jones, 5-star review at Smokingpipes.com
Components: Virginia, Burley, Black Cavendish
Cut: Ribbon
Family: Aromatic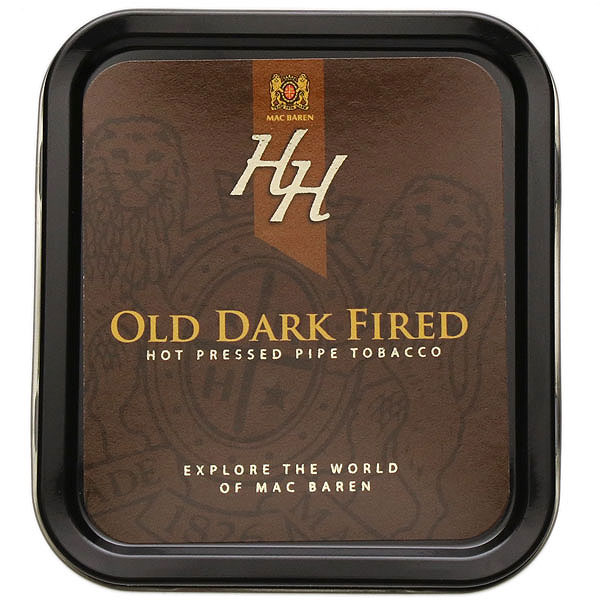 Mac Baren describes HH Old Dark Fired as an English-style blend, referring not to the presence of Latakia but to the traditional processes employed to produce this old-school flake tobacco. Select grades of Virginia leaf are blended with a significant percentage of Dark-Fired Kentucky, cased only slightly to enhance the sweetness and augment the pH, and then hot-pressed. The heat pressing steams the tobacco under pressure, expediting the marrying process and giving the blend an aged or matured quality right out of the tin. Though quite similar in strength and components, Old Dark Fired seems to be a little less mesquite in flavor than HH Bold Kentucky, offering a more rounded finish full of earthy spice but also a deep, rich sweetness similar to molasses.
Available in: 1.75oz | 3.5oz | 16oz | Bulk
I put off getting any of this one for a while. I've been burned by the hype bug before. In this instance, I regret that decision. Everything from the deep, spicy flavor to the perfectly cut flakes is of amazing quality. I can't get enough of it. If you haven't tried it yet you really should. It's every bit as good as people say. - Brett T., 5-star review at Smokingpipes.com
Components: Dark-Fired Kentucky, Virginia
Cut: Flake
Family: Burley
So there you have it: our top 10 best-selling Mac Baren pipe tobaccos here at Smokingpipes. Keep in mind, these blends were ranked based on popularity, not by our own tastes or judgements. If you don't see your favorite on the list, leave us a comment and share your thoughts — perhaps it will make it in a future list!
Latest Updates (2023):
HH Old Dark Fired stayed at #1
Vanilla Cream stayed at #2
HH Pure Virgina from #4 to #3
Mixture Scottish Mixture moved from #3 to #4
Virginia No. 1 stayed at #5
Navy Flake moved from #8 to #6
Golden Extra moved from #9 to #7
HH Bold Kentucky moved from #10 to #8
HH Latakia Flake moved from #6 to #9
Original Choice entered at #10
A note on the tobacco information.
Strength: a measure of the tobacco's body and nicotine. One is the lowest. Five s is the highest.
Room Note: a measure of the pleasantness or intensity of the smoke's odor to everyone else in the room. One is the least intense room note, while five s would be the most noticeable to others.
Taste: A measure of the the power and fullness of the smoke's flavor, with one being the most mellow and five s being the fullest.
You may also enjoy: