Top 10 Best-Selling Mac Baren Blends
Begun as a small family tobacco firm in Svendborg, Denmark, in 1826, Mac Baren is among the preeminent manufacturers of fine pipe tobacco in the world, maintaining traditional techniques to make between 60-70 percent of all pipe tobacco produced. From the light aromatics of the 7 Seas line, to the all-natural blends of the HH series, their tobaccos are admired by pipe smokers of all experience levels for their clarity, reliability, and complexity of flavor — continuously high-ranking on our Top 10 lists and earning numerous 4/4-star ratings on major review publications.
Of course, if you're new to Mac Baren, or new to pipe smoking in general, the sheer wealth of options available can be a little daunting; that's why we've compiled the top 10 best-selling Mac Baren blends here at Smokingpipes for your consideration. So let's get to it!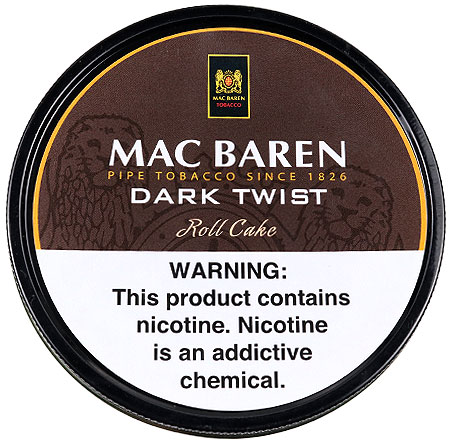 First introduced in 1955, Dark Twist has become a staple in the Mac Baren lineup, characterized by its dark, rich, and subtly sweet flavor and iconic coin cut. In fact, it's perhaps the most popular spun-cut or "roll cake" tobacco Mac Baren produces. Unlike flake or ribbon-cut blends, Dark Twist is made from blending two distinct kinds of spun ropes. The first rope consists of 100% Virginia tobaccos, with flue-cured leaf in the center wrapped in whole Virginia leaves. The second rope features a core of dark-fired Kentucky as the center, again wrapped in whole Virginia leaves. After maturing for several weeks, each of these ropes is sliced into delicate coins and blended according to a 2:1 ratio so that for every two all-Virginia coins in any given tin there is one coin of dark-fired Kentucky.
What's great about this ratio is that it affords us pipe smokers near endless ways of customizing this smoke; you can add as many or as few of the dark-fired coins to your bowl as you want. You can stack them, rub them out, fold and stuff... it's all up to you and your tastes.
Like Per Jensen says, 'if you wake up on a Monday morning and you are feeling a bit off, just smoke the ones with the dark center, and you will feel alright again.'... If I were on a desert island, this might be the only tobacco I would need. - TGreg, 5-star review at Smokingpipes.com
Components: Virginia, Dark Fired Kentucky
Family: Virginia
Cut: Coins
A lightly topped, Virginia-forward English Aromatic, Mac Baren's Plumcake is a seriously versatile, enjoyable smoke. Composed of carefully selected Virginias, cask-mellowed Burleys, Mac Baren's spicy Original Cavendish, and a whisper of Latakia, it's complex enough for an after-dinner smoke, yet it can fade beautifully into the background as your all-day English blend. Described as a Navy Blend, it does feature a subtle topping of Jamaican rum, but it's not overtly aromatic — the topping simply elevates the sweetness of the Virginias while adding a nice balance to the smokiness of the Latakia and Original Cavendish. Its fine ribbon cut makes it easy to pack, as well.
When lit the tobacco unrolls a very nice balanced aroma of sweet fruits with the typical Latakia flavour. The Latakis is not too strong, so I recommend it for everyone who wants to try Latakia for the first time. Since I bought it, I smoke it nearly every day. This one is definitely a keeper for me. - Kevin A, 5-star review at Smokingpipes.com
Components: Cavendish, Burley, Latakia, Virginia
Family: English Aromatic
Cut: Ribbon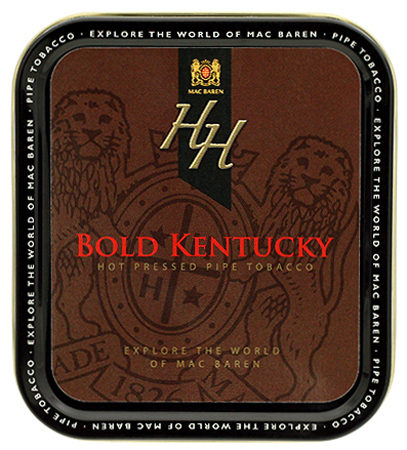 The brainchild of Mac Baren's product specialist, master blender, and tobacco ambassador, Per Jensen, the HH line is a series of pipe tobaccos devoted entirely to showcasing the natural characteristics of various components — blended with only minimum casings and no toppings whatsoever. Since its inception in 2006, it's quickly become among Mac Baren's best-selling and most sought after series.
Within that line, aside from the limited-edition HH Rustica, HH Bold Kentucky is the strongest pipe tobacco in Mac Baren's portfolio. It contains a significant percentage of dark-fired Kentucky from the USA and Africa, which is the tobacco varietal that contains the highest levels of nicotine. While it does pack a punch, it's remarkably balanced overall, the dark-fired slightly softened by bright Virginias and mellowed through hot-pressing.
This is not for beginners. If you're a cigar smoker as I once was this will certainly remind you of the pleasure derived from a fine cigar, namely Opus X including the nic hit. All my sessions, the burn was even, smooth and full flavored. Overall, this is a strong but yet flavorful tobacco which will surely delight the veteran connoisseur. - Smokey Joe, 5-star review at Smokingpipes.com
Components: Dark Fired Kentucky, Virginia
Family: Burley
Cut: Flake
A more recent addition to the HH line, Mac Baren's HH Burley Flake places its air-cured leaf front and center. Though balanced with ripe Virginias for sweetness and a touch of dark-fired Kentucky for smoky complexity, the focus is certainly on the Burley itself — particularly in showcasing the components' naturally earthy and nutty qualities. Given that Burley is among the tobacco varietals with higher nicotine levels, HH Burley Flake is a fairly strong blend, though not quite as potent as HH Bold Kentucky or HH Old Dark Fired, which both contain significantly greater quantities of dark-fired Kentucky. In fact, it's eminently smokable and performs well as an all-day smoke, particularly for those who prefer a more earthy, more woodsy flavor.
Top-shelf tobacco, excellent presentation, wonderful burning, and very tasty. I cannot imagine that a Burley-lover would find any fault with this stuff. After my first tin, I bought a whole pound. A most enjoyable smoke! - Baba, 5-star review at Smokingpipes.com
Components: Burley, Dark Fired Kentucky, Virginia
Family: Burley
Cut: Flake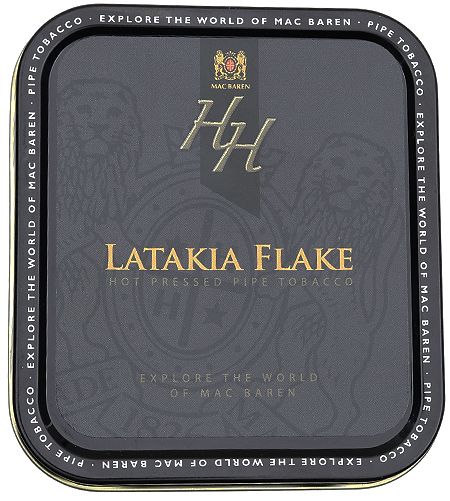 One of the few English mixtures in the all-natural HH series, HH Latakia Flake combines bright Virginias, Orientals, Burleys, and a generous portion of Cyprian Latakia. While fans of English blends may already be sold, what's most interesting about this blend is just how well all the components work together. The Orientals enhance the mesquite, incense-like qualities of the Cyprian Latakia; the Virginias add a bit of natural sweetness; and the Burley gives the blend a much needed kick (the rest of the components having relatively low nicotine levels). It's extraordinarily complex, but it's also elegant and refined — the heat pressing process marrying together all those flavors in a beautiful way. Even if you're not a heavy English smoker, try HH Latakia as a change of pace; you just might be surprised.
Penzance is my favorite tobacco, but is notoriously hard to come by. HH Latakia Flake is very close, IMO. The balance of Orientals and Latakia is superb, held together by the touch of sweetness brought by the Virginias... I am ordering a pound of this (as well as Old Dark Fired) a month to stockpile- it is that good. - owencopeland, 4.5-star review at Smokingpipes.com
Components: Burley, Latakia, Orientals, Virginia
Family: English
Cut: Flake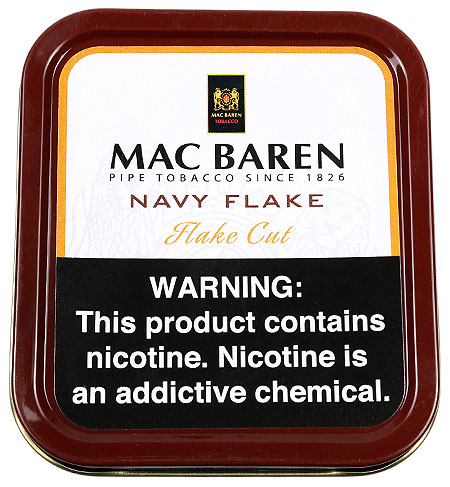 Historically, Mac Baren has specialized in spun-cut or "roll cake" tobacco; indeed, many of the blending house's early "Navy Cut" mixtures such as Stockton were coin-cut blends. First introduced in 1965, Navy Flake was among the first flake-cut blends Mac Baren produced, yet it's come to epitomize the manufacturer's approach to the cut. Navy Flake is a traditional, Burley-forward flake tobacco, elevated with Virginias for sweetness and Mac Baren's Original Cavendish to smooth it all out. The tobaccos are blended together with a slight casing redolent of brown sugar, booze, and honey and pressed for a minimum of 30 days before being sliced into 1.4mm flakes.
This is a delicious flake! Smokes cool, tastes sweet with flavors of rum, honey, and brown sugar in a tobacco base. This is an awesome blend and with age it's even better. - Thomas S, 4.5-star review at Smokingpipes.com
Components: Burley, Cavendish, Virginia
Family: Burley
Cut: Flake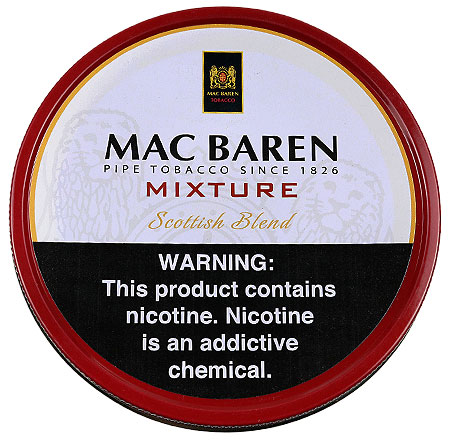 Mixture: Scottish Blend or simply "Mixture" is among Mac Baren's most popular blends, not only here at Smokingpipes but worldwide. Originally introduced in 1958, it illustrates Mac Baren's signature Danish approach to blending — focusing on high quality raw components elevated by subtle casings that amplify the natural characteristics of the leaf rather than mask them. Made from over 35 different tobaccos from all over the world, Mixture showcases various grades of Burley and Virginia leaf, married by Mac Baren's Original Cavendish. Given its wealth of components and subtle casing, Mixture is extremely complex, so much so that each bowl offers a new discovery; it can fade quietly into the background if need be and its modest nicotine levels make it mellow enough to smoke all day.
This might just be one of my favourite blends. It smokes well and the cut is excellent, but where it really shines is in the flavour. Sweet and earthy, this tobacco just fills the air around you with a comfortable aroma and atmosphere. It's not heavy on nicotine, but if you want a nice, relaxing evening smoke then this is the blend for you. Would highly recommend. - Eric C, 4.5-star review at Smokingpipes.com
Components: Burley, Cavendish, Virginia
Family: Aromatic
Cut: Broken Flake/Ribbon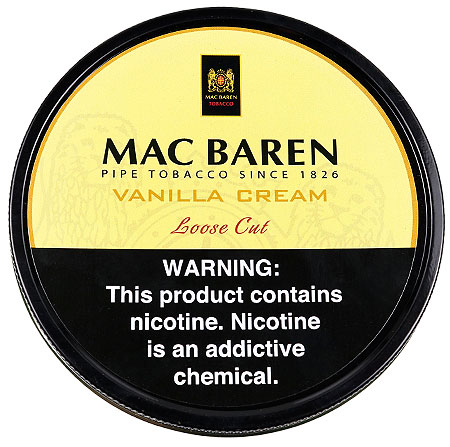 A beloved Aromatic among newcomers and experienced pipe smokers alike, Vanilla Cream is a delightful blend of loose-cut Virginias, light brown Burleys, and Mac Baren's Modern Cavendish, a black Cavendish which adds a rich creaminess to the smoke that's further enhanced by an exotic vanilla topping. Unlike similar vanilla aromatics, the top note is present in both the smoke and aroma, yet it never masks the natural flavors of the high quality leaf itself — yielding a fragrance and flavor more akin to freshly baked pastries than, say, vanilla extract.
This isn't an overcased tobacco. In fact, it is done superbly. It smokes cool if you don't rush it, the aroma is to die for, and the taste is smooth, creamy and sweet without being overbearing or cloying. You get notes of vanilla, cream, cinnamon and nutmeg. - Thomas S, 5-star review at Smokingpipes.com
Components: Burley, Cavendish, Virginia
Family: Aromatic
Cut: Ribbon
As the name would suggest, Mac Baren's HH Pure Virginia is a hot-pressed flake composed of 100% Virginia tobaccos, namely those from select growing regions in North America and Africa. Its profile is deep and bready, with bright highlights and a distinctive hay-like grassiness. Compared to Mac Baren's other Virginias, such as Virginia Flake, HH Pure Virginia is slightly less sweet and citrusy, more redolent of freshly baked goods with a little spice and a deeper, more molasses-like sweetness. In other words, it's more similar to something like Samuel Gawith's Full Virginia Flake than to a blend like Orlik Golden Sliced.
I have smoked pipes for 20+ years and I honestly feel this is the best Va without any Perique I have ever smoked. A good nice medium full flavor with a nice medium nicotine level. I highly recommend this to anyone wanting the pure Virginia experience. I will be purchasing as much of this as possible to cellar for future enjoyment. - Al W, 5-star review at Smokingpipes.com
Components: Virginia
Virginia
Cut: Flake
Mac Baren describes HH Old Dark Fired as an English-style blend, referring not to the presence of Latakia but to the traditional processes employed to produce this old-school flake tobacco. Select grades of Virginia leaf are blended with a significant percentage of dark-fired Kentucky, cased only slightly to enhance the sweetness and augment the pH, and then hot-pressed. The heat pressing steams the tobacco under pressure, expediting the marrying process and giving the blend an aged or matured quality right out of the tin. Though quite similar in strength and components, Old Dark Fired seems to be a little less mesquite in flavor than HH Bold Kentucky, offering a more rounded finish plenty of earthy spice but also a deep, rich sweetness similar to molasses.
It's what I've been looking for in a pipe tobacco for 30 years. It's like smelling a pig in a smoker with great tobacco added to the smell. It's my go-to smoke from now on. Add a couple of fingers of your favorite Scotch and enjoy life because it's too damn short to go without this tobacco any longer. - Charles Z, 4.5-star review at Smokingpipes.com
Components: Dark Fired Kentucky, Virginia
Family: Burley
Cut: Flake
So there you have it: the top 10 best-selling Mac Baren blends here at Smokingpipes. If you're new to the Mac Baren brand, or are simply looking for new recommendations, this list is a great place to start. Mac Baren caters to a variety of tastes, though, so don't stop there. Use our Tobacco Locator tool to search through the Mac Baren lineup based on your own preferences.
Don't see your favorite Mac Baren blend on this list? Not to worry; a few of our favorites got left off too (looking at you, Acadian Perique). Leave us a comment below and share which Mac Baren blend you feel is the best.
A note on the tobacco information.
Strength: a measure of the tobacco's body and nicotine. One is the lowest. Five s is the highest.
Room Note: a measure of the pleasantness of the smoke's odor to everyone else in the room, particularly non-smokers. One is the most pleasant room note, while five s would be the least pleasant to others.
Taste: A measure of the the power and fullness of the smoke's flavor, with one being the most mellow and five s being the fullest.
You may also enjoy: