Employee Spotlight: Favorite Peterson Shapes
Peterson is the oldest continuously operating pipe factory in the world, and over the course of its many years of operation, the Irish firm has produced some of the most iconic pipes in the medium. Having appeared in various films, television shows, and exhibitions, Peterson pipes boast a prestigious reputation, their tubular shaping and muscular proportions making them immediately recognizable. Peterson is perhaps best known for their System pipes, which feature three distinct components: an army mount, an internal reservoir to collect moisture from the smoke, and a graduated bore P-Lip mouthpiece. Each aspect of the System pipe ensures a cooler, drier smoking experience, reduces the risk of tongue bite, and more evenly distributes a tobacco's flavor across the palette.
But not all of Peterson's pipes feature System engineering; in fact, many of the Irish marque's pipes come in various configurations, shapes, sizes, and finishes. The sheer breadth of Peterson's shape chart can be intimidating at first glance, but the task of finding a Peterson pipe that best suits you doesn't have to be daunting, especially when you can glean some perspective from those intimately familiar with Peterson's history and portfolio. Luckily, we here at Smokingpipes are the home of a great number of Peterson aficionados, many of whom are more than happy to discuss their favorite Peterson pipes and offer their respective viewpoints on the brand.
Hopefully, by learning about some of our favorite Peterson pipes, you'll be better equipped to explore Peterson's vast portfolio and find something that accommodates your individual tastes.
Sykes Wilford – Chief Executive Officer, Laudisi
As a long-time pipe enthusiast and great admirer of Peterson's work, Sykes Wilford was more than happy to reveal his favorite Peterson shapes, though, as will become clear, he, like several other Laudisians, had a difficult time naming only one: "My favorite new Peterson shape is the 124. In a lot of respects, even though it's actually an old Peterson shape, it's pretty far outside of Peterson's standard aesthetic lexicon, with its long, lithe lines and small proportions. But I love it, particularly as a spigot and particularly in a sandblasted series."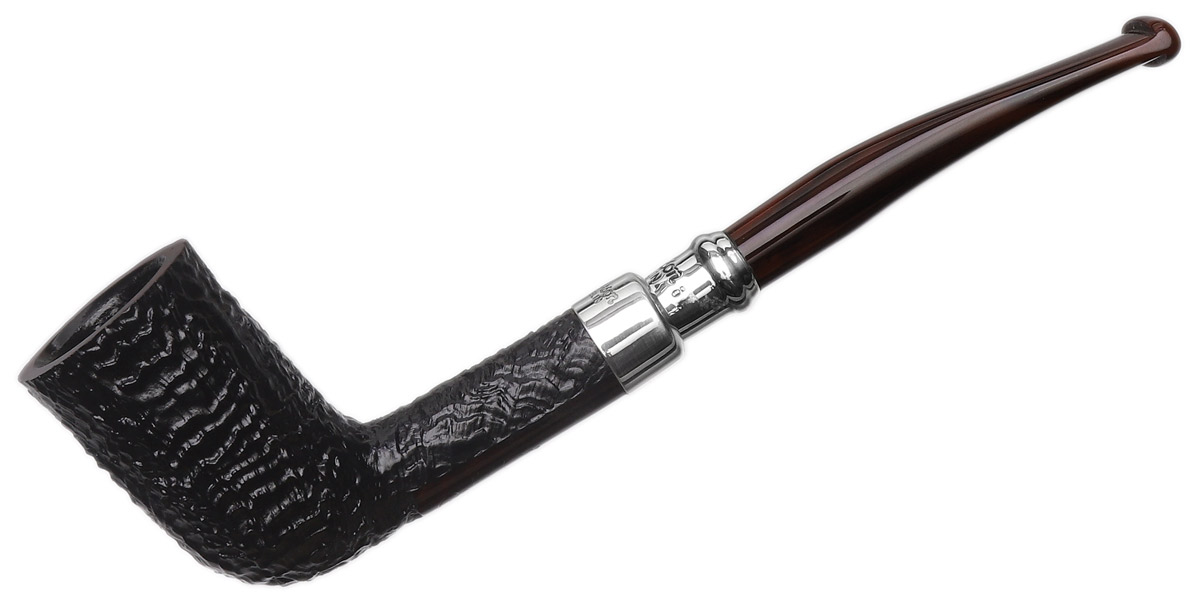 Peterson: Newgrange Spigot (124)
As far as classic shapes, however, his favorites are "the 221 and its System cousin the 314: they're small, at least by Peterson standards, and also classically iconic for the brand. Outside of Peterson, I don't typically smoke deeply bent pipes, but the System does make a difference in that regard, and the 314 has become a go-to standard for me, particularly in the past couple of years."
Shane Ireland – Vice President and Director of Smokingpipes.com
Among the most well-traveled of our staff, having spent countless hours in various workshops and factories, Shane Ireland is particularly fluent in the nuances of pipes and pipe design, and he had a lot to say about his favorite Peterson pipe. He couldn't narrow it down to just one. He has "two favorites, and for slightly different reasons: First, the 303, otherwise known as the 03 bent Apple." He loves the Apple because he's "always liked rounded bowls. They tend to be very comfortable in-hand and I think the shape often lends itself to great cross-grain and interesting sandblasts. Apart from that, I feel like the profile of the shape relative to the chamber lends the design a good bit of material to evenly insulate the chamber."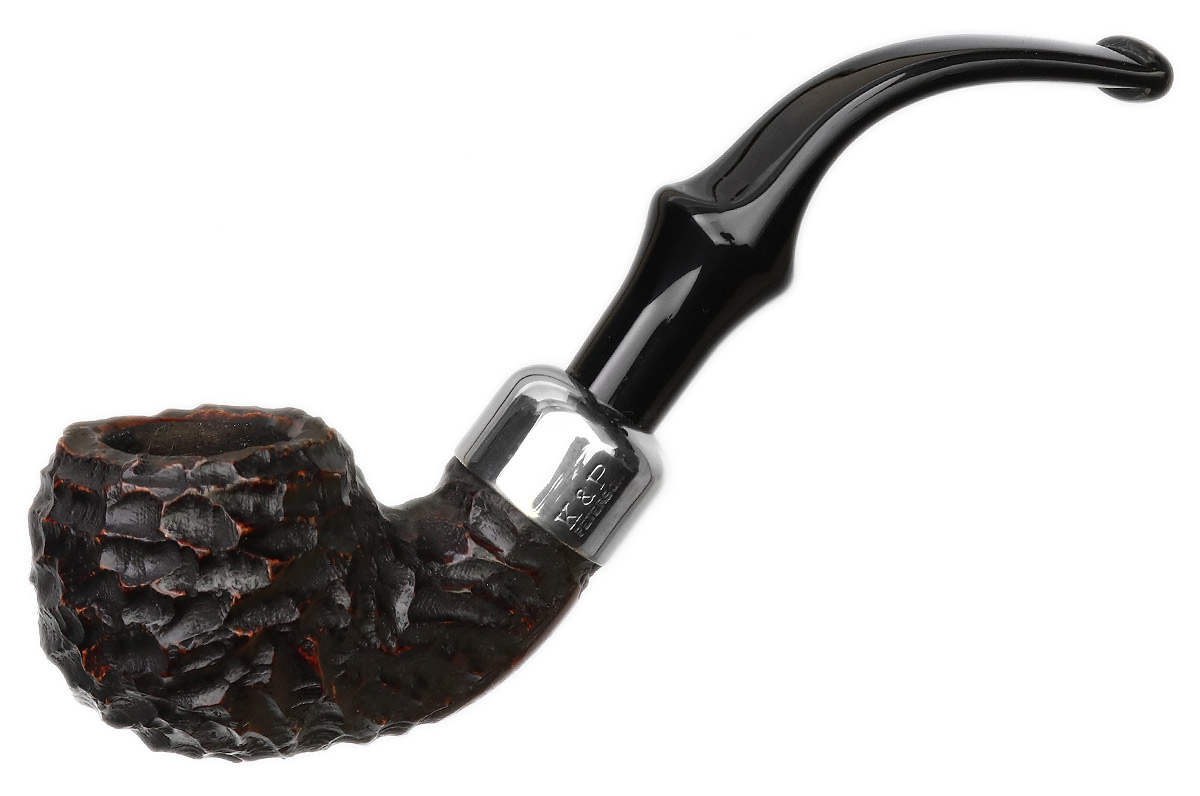 Peterson: System Standard Rusticated (303)
A Peterson System Standard Rusticated 303 was Shane's first "nice" pipe: "The guy in the shop told me it suited me (he said a round face and round pipe work), and I also loved the size of the chamber, which is a little more shallow than most System Shapes, and allows for a slightly shorter smoke (around 45-60 minutes). The System engineering means that I can smoke it several times in one day, which is more convenient for me than one bowl lasting over 2 hours."
His second favorite is the 314/20s: "It's classic, muscular, and masculine Peterson. The slightly tapering lines of the bowl and curve of the underline are unmistakable in profile, and I also think the size is very handy. This one is a clench monster — light enough to hold in the teeth during long work days, and with enough chamber capacity to smoke for a solid 1.5 hours or more. Again, all with System engineering, which works extremely well if you can only grab one pipe for an overnight or weekend, or day trip, but need a pipe that can handle being smoked heavily in a 24-48-hour period. Any System pipe is basically a week's rotation on its own."
Truett Smith – Merchandizing Manager, Smokingpipes.com
Smokingpipes' Merchandizing Manager, Truett Smith's favorite Peterson shape is "the 12.5 (the Deluxe System version of the 317)." He "prefers smaller, shorter pipes," so the 12.5 is perfect "because it still embodies Peterson's signature, muscular shaping style but in a more lightweight and compact package. Plus, the Deluxe System series pays tribute to Peterson's vintage, space-fitting mouthpieces; some may dislike them, but I love the old-school aesthetic and how they honor Peterson's history. Also in the Deluxe System series, it has silver, and if you're interested in Peterson, you gotta get silver."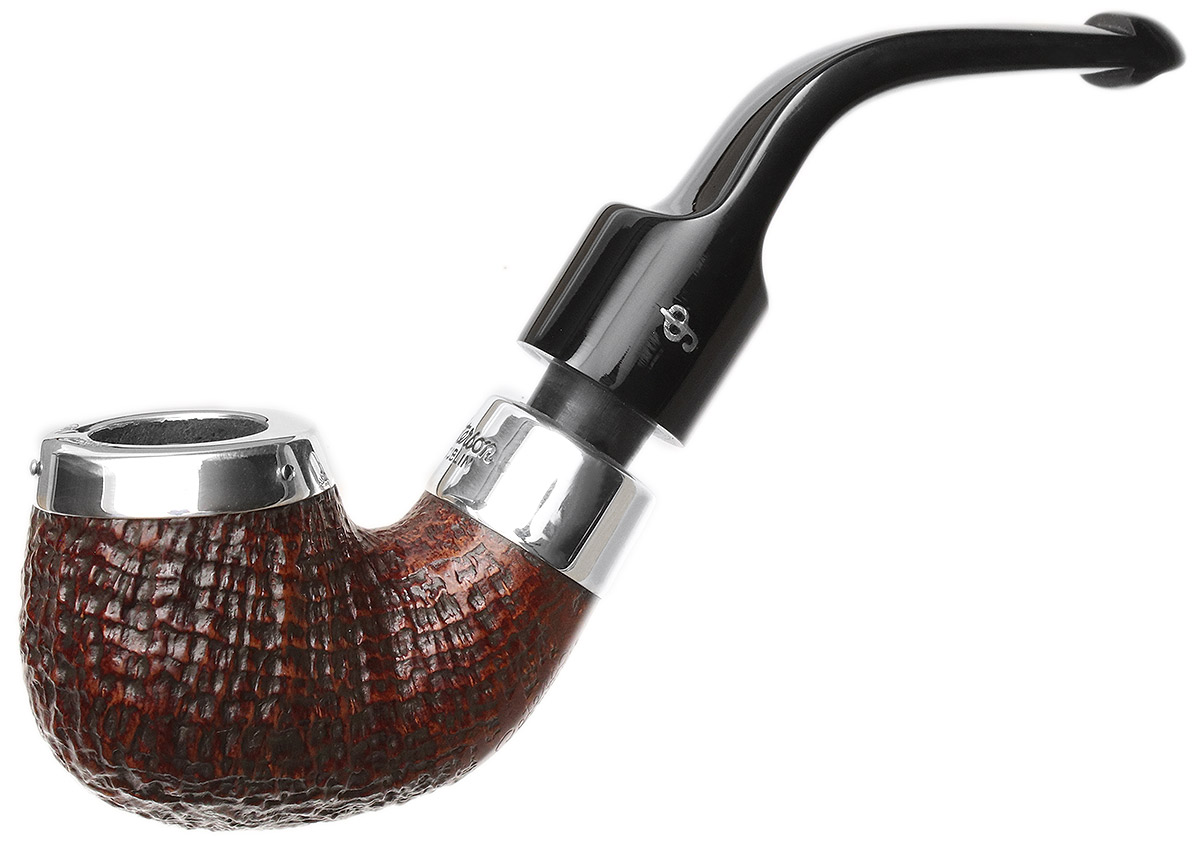 Peterson: Deluxe System Sandblasted (12.5)
Glen Whelan – Director of Sales, Peterson
Glen Whelan, as the Director of Sales for Peterson, has an intimate knowledge of Peterson's catalog, so it's no wonder that he can only "narrow it down to 3!" His first pipe was a Standard System 314: "The system is just an iconic pipe for Peterson, and it's pretty much almost everyone's (who bought in the retail stores in Ireland) first pipe that they started on. I always hold an affinity to that pipe!"
Peterson: System Standard Rusticated (314)
But he has other favorites: "In terms of other shapes, I tend to lean toward lightweight pipes which are mostly straight or very slightly bent. In order of my own preference, I would say 264 or 406. For me, both are classic shapes and I love the weight and feel of the pipes. I have several finishes in each of those shapes, but at the moment my favorites are my Irish Harp Sandblasted 264, and my Newgrange Spigot in the 406 shape."
Adam O'Neill – General Manager of Retail Operations, Smokingpipes Europe
Adam O'Neil, General Manager of Retail Operations for Smokingpipes Europe, has a long history with Peterson pipes and has watched his tastes evolve alongside Peterson's various releases: "For years, I would have said either the 03 or the 221, with the 03 mostly being an aesthetic choice (I'm quite taken with its supple lines, curvaceous bowl and stout shank), and the 221 hitting some of the same notes but with a smaller form and chamber.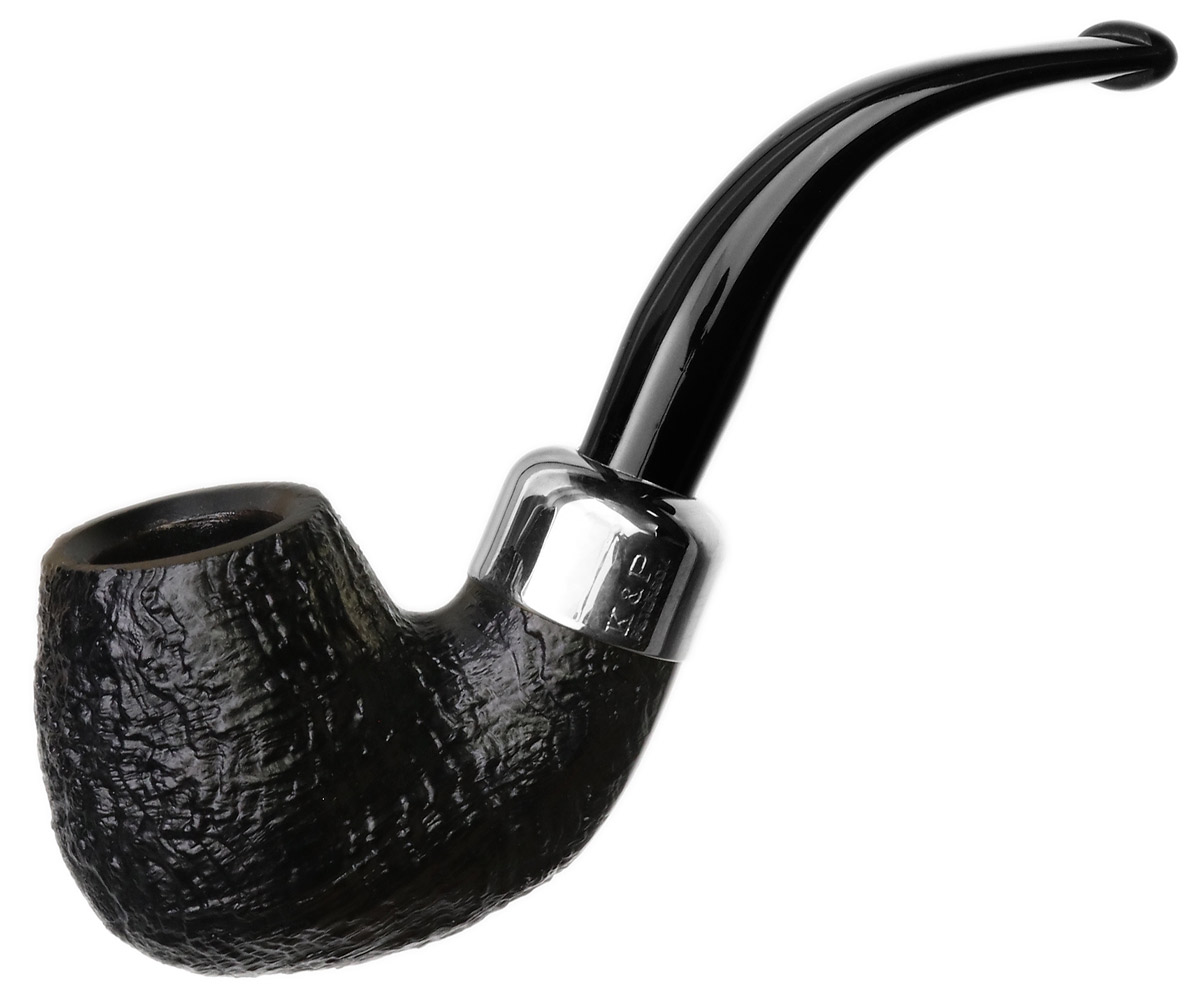 Peterson: Army Filter Sandblasted (221)
"They're still my top three, but since the Trinity Fox release within the Nassau project, I've been a bit obsessed with the D20. It's completely out of type for me as well. When I do go for straight pipes, I tend to go with something with a bit more meat on its cheeks, like a Danish-style Billiard or a Dublin with a forward reach at the front of the bowl, but there's just something about the jaunty angles, and when lengthened with a spigot mount, a rakish profile that just tickles me. Oh, and it eats flake like a champ, so that helps."
Chuck Stanion – Editor/Writer, Laudisi
As the editor for virtually everything published by Smokingpipes, Chuck has an eye for detail, which he needs for finding misplaced modifiers and commas, and awkward sentence structure. That discernment applies to his pipes as well.
"No surprise here," he says. "My favorite Peterson is the Mark Twain. I've been a Twain fan since the time I could first read and smoking a pipe similar to his is somehow comforting." System pipes like the Mark Twain are unusual for Chuck, whose collection is predominantly straight pipes. "I'm not a clencher, and Petersons are the only pipes I can comfortably hold in my teeth while writing. They're effortless, and because of the System, there's no fiddling with pipe cleaners during a smoke, so my hands can stay on the keyboard." He also owns an old 20s Deluxe System with the original bone tenon extender, and that pipe gets a lot of use because of its minimal weight. "It's no more uncomfortable than holding a toothpick in your mouth. It doesn't hold as much tobacco as the Mark Twain, though."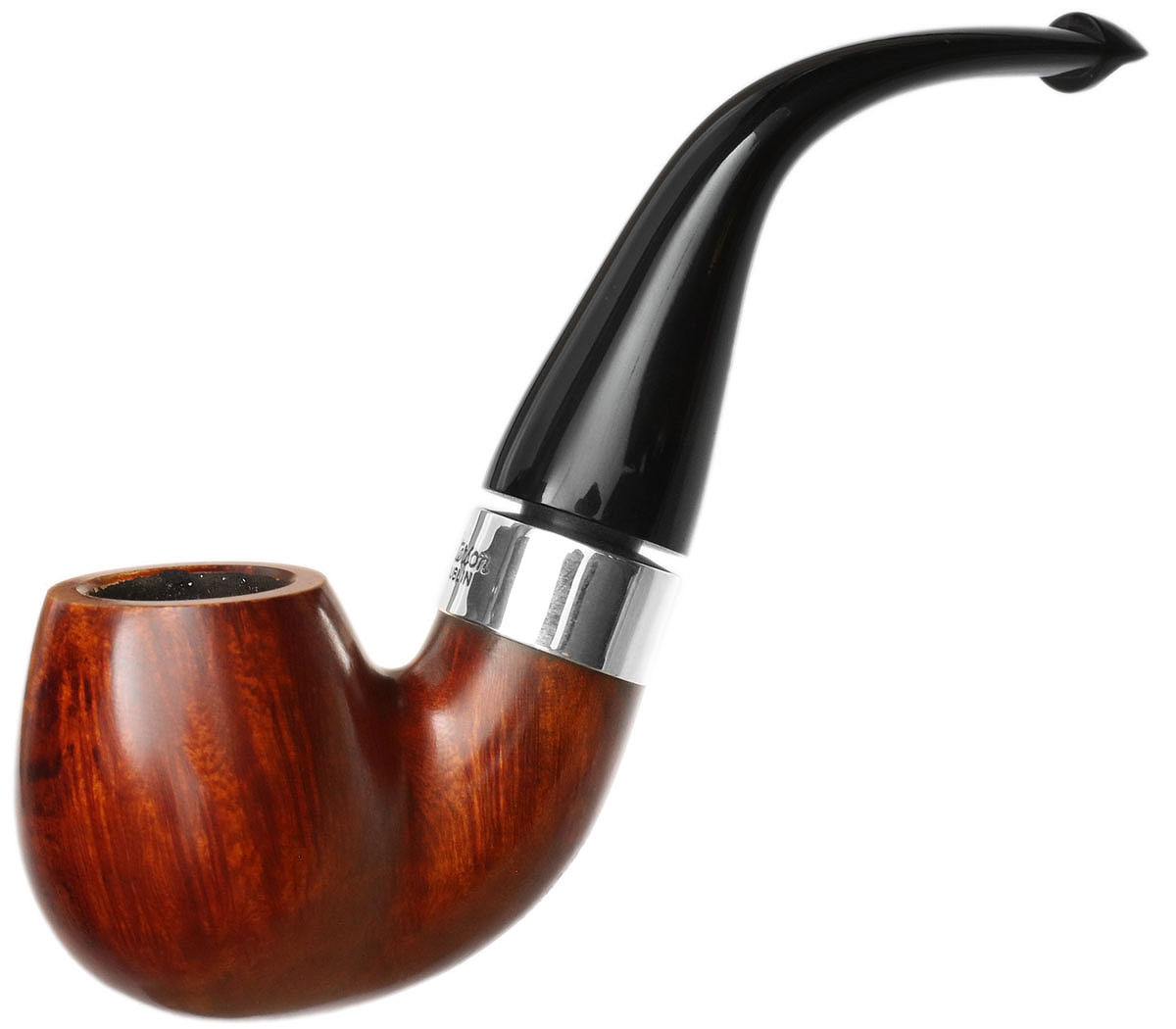 Peterson: Pipe of the Year 2022
The 2022 Peterson Pipe of the Year, the 14b, is also a favorite, though he doesn't own one yet. "I was too slow when it came out, but it's actually a more accurate rendition of the original. The Mark Twain was made by measuring Twain's own pipe in the Mark Twain Boyhood Home museum in Hannibal, Missouri, but that pipe is burnt and beaten and the rim is charred halfway down the bowl. The 14b went back to the original and is as close to what people were smoking at the turn of the 20th century as possible. I'm on the lookout for one."
Andy Wike – Director of Marketing, Laudisi
As Laudisi's Director of Marketing, Andy's been intimately involved with numerous Peterson projects, from redesigning their website to managing marketing campaigns for myriad releases. He's also developed useful resources about Peterson pipes, including a comprehensive guide to the patented System pipe. It's fitting, then, that his favorite shape from the Irish marque would be one such System pipe: the 317.
"My favorite 317 is my Premier System version, which sort of falls between the System Standard and System Spigot lines," he says. "I've owned a number of Petersons in the past, but my Premier 317 is the pipe that taught me how to smoke Systems. I think about it like a knife: You can have the sharpest, strongest, most beautiful knife made with 600+ layers of Damascus steel, but at the end of the day, it needs to make cutting, slicing, or chopping easy. My Premier 317 made pipe smoking easy and fun; it's a field tool that helped me become a better pipe smoker."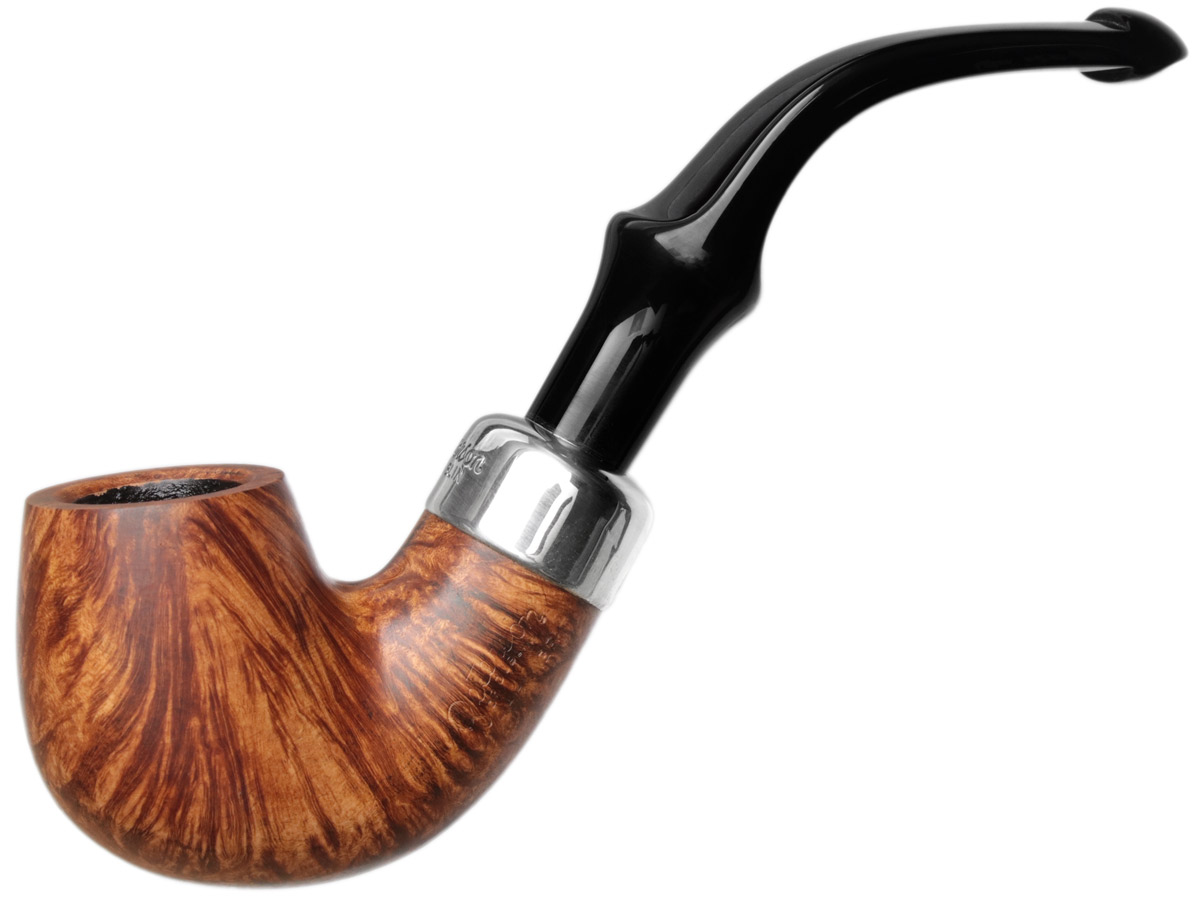 Peterson: Premier System Smooth (317)
Though the Premier System is a discontinued series, the 317 remains an ardent shape within Peterson's portfolio and is available in the System Standard series and in the Deluxe System series as the 12.5s — Truett's favorite Peterson shape. Moreover, the System series is the perfect introduction to Peterson pipes, offering the engineering for which Peterson is known while also providing a wide range of finishes and prices.
"For example, you can start your collection with a System Standard Rusticated version of the 317 for under $100. Depending on your preferences, you could upgrade that model to a Sandblasted or various Smooth finishes, like Heritage, Ebony, and the flagship Smooth, for just a few dollars more, without ever leaving the System Standard sub-line." There are also options that feature sterling silver, such as the System Spigot series or the Deluxe System line. "If you're extremely lucky, you may even come across a super-rare Supreme version of the shape. (I've never seen a 317 Supreme, but you can bet your last tin of Sun Bear I'm on the lookout.)"
Giacomo Penzo – Pipe Specialist, Peterson
An established artisan carver long before joining Peterson in 2019, Giacomo applies his expertise to improve manufacturing processes and evaluate pipe-making strategies, and he not only helps make Peterson pipes, he's an enthusiast.
"I love many Peterson shapes," he says. "Everyone has their favorites, but mine is the Dutch Bent 4A and 4S, or the 309 and 313. They are simple, classic and iconic, and never boring."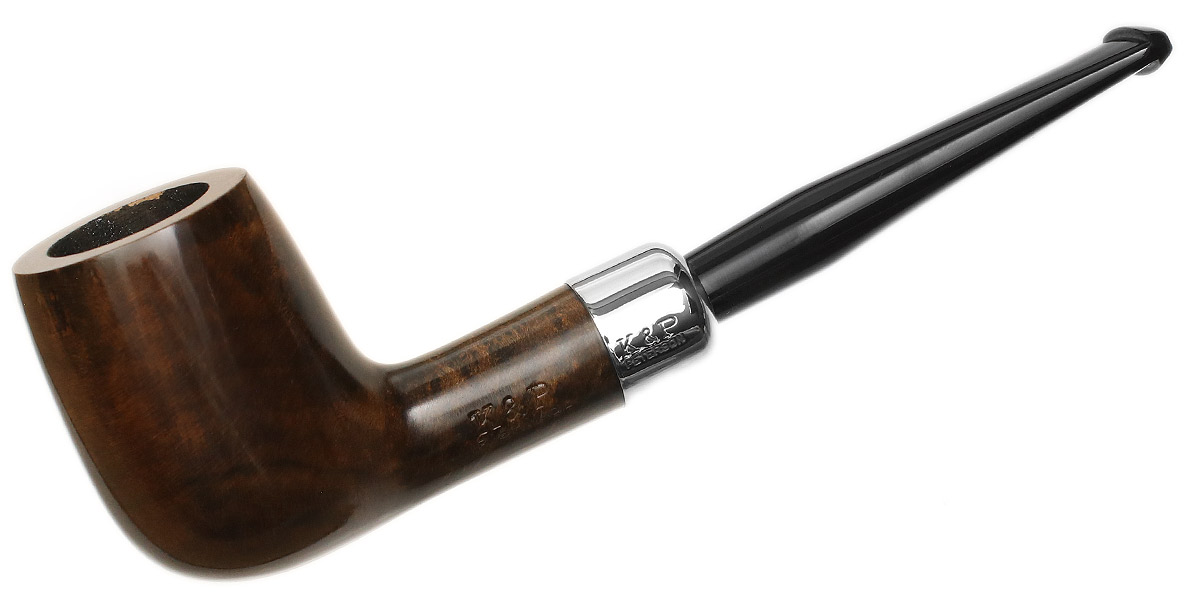 Peterson: Irish Made Army (101)
His favorite smokers include the 101 in the Irish Made Army series, which he refers to as a "battle" pipe. "It's a pipe for any smoking environment and conditions." Like Andy, Giacomo also appreciates the 317 System Standard. "It's very compact, perfect for short smokes and strong, tasty tobacco. Obviously, both the 101 and 317 feature P-Lips, which is an advantage. I like the reliability of Peterson pipes; they are pipes designed and made for real smokers without excess frills and are great companions for daily smoking with a lovely, distinguishable style."
Peterson has evolved over the years to better suit the tastes and demands of the modern world, all while remaining true to their core ethos and upholding a legacy of innovation and quality craftsmanship. Countless generations have been drawn to Peterson's pipes, and no doubt countless more will follow. As illustrated above, even those with tastes contrary to a certain style of pipe find themselves making an exception for a Peterson rendition, because a Peterson pipe isn't just a smoking instrument, it's a companion, a piece of history, and a part of of the legacy of engineering and craftsmanship that is simply hard to beat.
Do you have a favorite Peterson pipe? If so, what makes it special or unique? What do you love about it? Let us know in the comments below.
You may also enjoy: