Innovation Squared: Werner Mummert
Portrait of Werner Mummert by Artur Lopes
Unless already achieved, the ambition of every pipe carver is to develop a style that is easily recognizable, something widely admired and theirs alone. That's the saying at pipe shows: "You can recognize it from across the room." If a style is easy to identify, then it has already attracted attention.
Sometimes a style emerges that is particularly unforeseen. There's something of a surprise when discovering it that is fun and interesting, and it's also interesting to watch established carvers continue to innovate and surprise all while maintaining their own distinctive styles.
Werner Mummert innovates at a high level in his workshop in Otterbach, Germany. His Bulldogs are famous, for example. Structured and firm-lined, with sharp paneled facets often shaping the heel, and fine, perfectly etched beadlines circling the rim, they are German precision instruments.
Some of those Bulldogs, along with other Mummert pipes, can be finished with bright, avant-garde colors juxtaposed against each other, sometimes following the grain of the pipe, and sometimes not. That multi-colored finishing is difficult to achieve. "You need some experience," says Werner. When he first started developing the techniques necessary, he had to redo the finish, sometimes several times, stripping everything off the briar to begin again. "But now I've got some experience, and it has worked out pretty well."
Other Mummert pipes may be finished more traditionally but with enormous attention to every aspect that makes a pipe attain one's admiration, such as Werner's conspicuously fastidious sandblasting. Werner also routinely fits his pipes with colorful vulcanite, and he was among the first to take advantage of new colors as they were developed in Germany.
Bulldogs are masculine shapes, and industrial masculinity seems to be a theme throughout Werner's portfolio. Firm structure, sharp ridges and edges, forward momentum, razor-sharp silhouettes, a sense of kinetic energy, minimalist shaping aesthetics, and aggressive geometry dominate not only his Bulldogs, but virtually every shape he develops. His reverse-Calabash Barrel, for example, is a study in minimalism. Where it may deviate is in the finish, which is often artistically, and some may say playfully, color-contrasted with bright stems and bright, multi-color staining.
... a sense of kinetic energy, minimalist shaping aesthetics, and aggressive geometry dominate not only his Bulldogs, but virtually every shape he develops
The world respects German engineering, and Werner is a German engineer who has applied his skills to pipe making. "I was an engineering technician for 40 years," he says. "I was making pipes in my free time, mostly on the weekends, but I've been retired now for three years and able to make pipes full-time."
Early Pipe Smoking
He started pipe smoking like many of us, with economical pipes. "My first pipe was a terrible one. It was a leather-coated straight pipe. It was cheap; I bought it in a warehouse. After a while it became wet: the tobacco condenser was dripping, and I threw it away. Then I had a straight pipe from Stanwell, and it was much better. They had an advertising slogan in Germany: 'All a man needs is fire, a pipe, and Stanwell.'"
As for his first tobaccos: "Stanwell for sure, German mixture No.9, and Clan." Today he prefers Capstan Flake, and his current favorite is Cornell & Diehl's Briar Fox. "Also, I very much enjoy Peterson De Luxe Navy Rolls, Samuel Gawith flakes, and similar types."
His early motivation for learning to make pipes was monetary. "I started smoking pipes when I was about 16-17 years old," he says. "As a young man, I had no money to buy all these nice pipes that I saw in the shops. So I thought I'd try it myself. Like many others, I bought a kit: a briar block with a mouthpiece already fitted." He shaped that block with files and a Dremel, and it turned out well. Pipe-smoking friends insisted that he make pipes for them.
Mummert's Start in Pipe Making
"I made some nice pipes, showed them around, and then the idea occurred to me: Why not try selling them?" This was 36 years ago, around 1985-'86. "It was when we moved to our new house. I finally had the space for a workshop. I went to exhibitions, showed my pipes at small shows, at arts-and-craft shows, and people liked them, so I kept doing it. At first, I was selling them privately. And then I found out that it's much better to have some good dealers."
Werner doesn't seek inspiration from other pipe makers, though he has favorites and he watches what other craftsmen are doing. "I like Danish pipes, for example: Balleby, Manduela, Ivarsson. These are my favorites."
His inspirations come from sources less intrinsically focused on pipes. "I go to art exhibitions, and what they show there gives me inspiration in the widest range. When I go to these art exhibitions or photo exhibitions, any kind of art-related shows or sales, I attend as often as I can. And this gives me my inspiration. This is not copying something; it widens horizons."
"I go to art exhibitions, and what they show there gives me inspiration in the widest range."
Among Werner's many innovations are glass-shanked pipes. Again, necessity and curiosity motivated him. "I had a pipe that was not very good. The bowl was nice, but the shank was not, and it was old. I thought, it's a pity and a shame to throw this away. I had it sitting to the side for a long while, and then I had the idea to put a clear shank on it. Some people use bamboo. It just came by luck, that idea. I tried Plexiglas, but it didn't work well. Then I looked at normal glass. It did not work. Then I found a supplier who has thick, tempered glass. I tried it and made a couple of pipes with it, and people liked them, so I keep making them."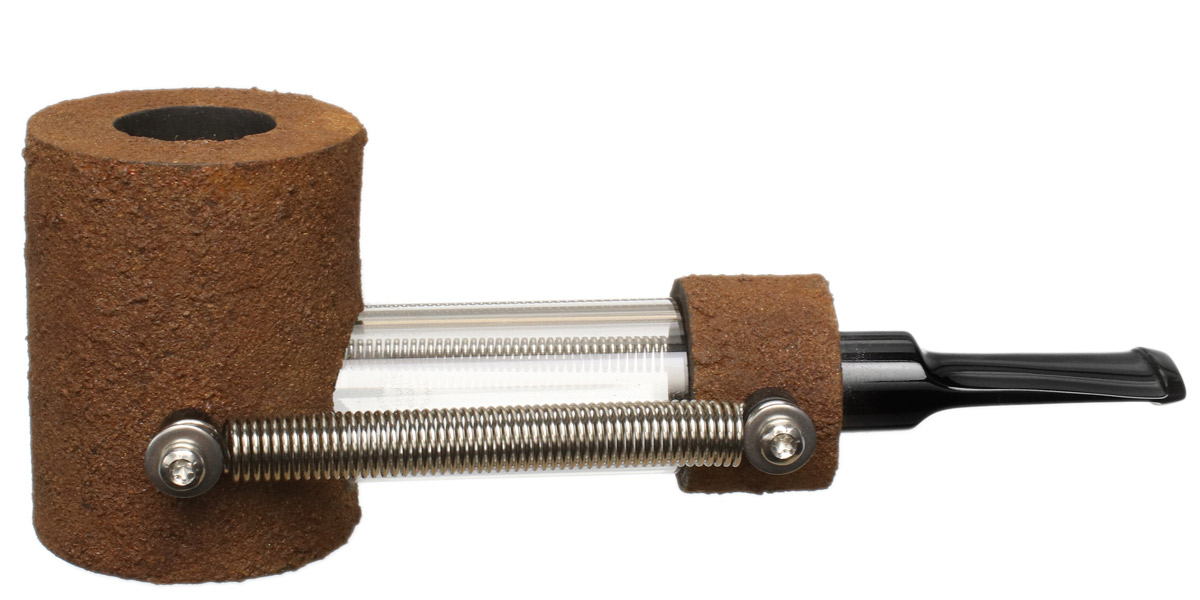 Rusticated Reverse Calabash Poker
Among the distinguishing characteristics of his glass-shanked pipes are the springs that bind the components snugly together. "I wanted to make a steampunk pipe. I was thinking and thinking, and I decided I had to do something with screws on it. I started looking through my cabinet drawers of hardware, and I found springs." They seemed like a good idea, so he tried them with the glass-shanked reverse-Calabash design, and it worked. "I was trying this way, that way, other ways, and then finally I came up with the design, which is current now, with a cylindrical bowl or with a square bowl. It took significant time to develop." The final pipe in his series of experiments was exceptional, and he sent it to Smokingpipes, where it was immediately sold and where future iterations continued to appeal to pipe smokers.
It was particularly important at the onset of Werner's pipe-making career that he become a member of the European Wood Turner Association, a guild with strict and advanced requirements. "At the time I was doing it, it was pretty difficult. I had to demonstrate my skills and I had to bring some samples of my work to the committee. They decided, 'okay, we'll take you.' Membership demonstrates professionalism. It means that I'm registered as a professional pipe maker, a woodturner." It has tax benefits and tells people that he knows what he's doing.
Mummert's Sandblasting
Sandblasted Apple
Known for his exceptionally defined sandblasts, Werner spent considerable time developing his technique. "It was self-learning, a horrible story. I had about four different types of sandblasting setups at my house. And none worked. The third one I had, it was working, but it was breaking all the time. And then the fourth one I bought ... I almost gave up. But the last one I bought works fine, and I'm still using it." Sandblasting is a difficult process to learn with the myriad options, decisions, and details necessary in pipes, among them what medium(s) to use and under what pressure for different steps in the process. Werner's craggy and deep sandblasting style is remarkable, and it pairs thematically with the masculine nature of his carving style.
"It was self-learning, a horrible story."
Alternate Materials
Bright, avant-garde colors are not the only visual elements that commend Werner's pipes. He's also famous for utilizing alternate materials in his accent work, a convention that he migrated from his other woodworking projects. His pipe accents of polymerized corn leaves, for example, are mesmerizing.
"When I was not so concentrated with pipes, I also made woodturning objects, like spinning tops and other small stuff. I saw other craftspeople combining materials like boxwood with ebony, for example. There were all kinds of variations."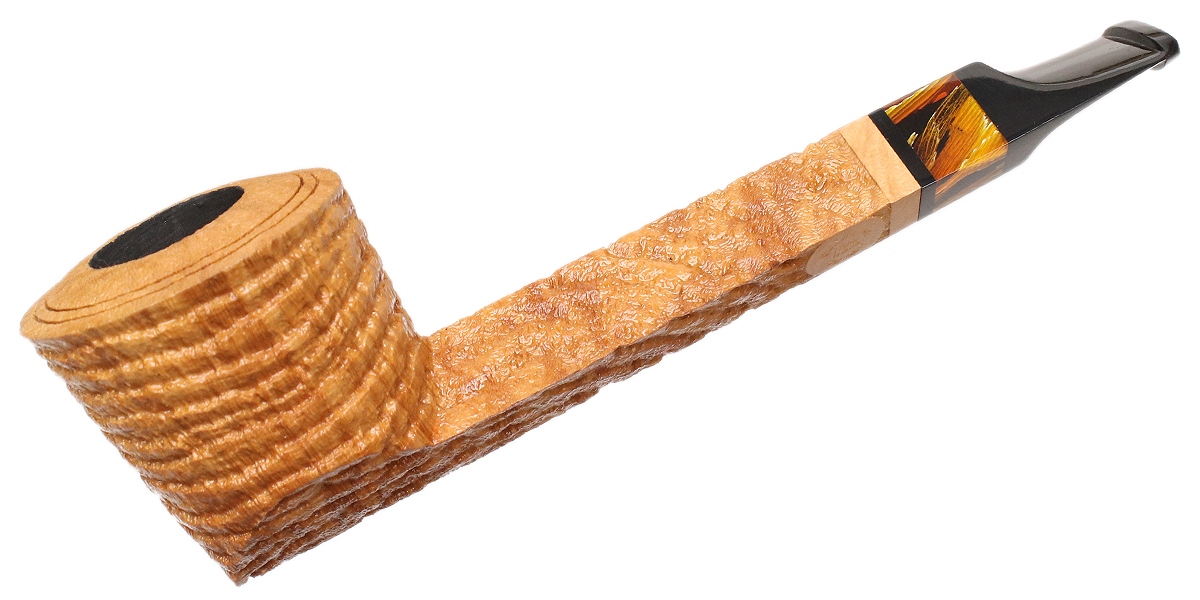 Sandblasted Bulldog with Polymerized Corn Leaves
Werner was searching for interesting accent materials in 2019. "I was looking for an industrial style, and in Chicago, I found blocks of polymerized corn leaf. You can buy it in blocks." He uses other exotic materials as well. "Deer antler, walrus tusk, mammoth, ebony, redwood, all kinds of materials."
Exotic accents are among the characteristics that contribute to the overall recognizability of his pipes. "It's a lot of work to apply an accent to a stem; not many people do it. Most pipes have a black or colored mouthpiece and that's it. In most cases, I make these accents. It's another way of showing that this is a Mummert pipe."
Exotic accents are among the characteristics that contribute to the overall recognizability of his pipes
Werner's Barrel shape has grown in popularity, and came about, again, because circumstances merited it. "It was a material issue. I had some briar that I could not use for a standard pipe. It was laying around. I would stop and look at it, think about it, pick it up, put it back, then three or four days later look at it again, put it back again." Finally, an epiphany arrived in the shape of a barrel.
"I made one and people liked it, so I kept making them. The main thing was, I had some wood that could not be used as a normal pipe; it didn't have the necessary dimensions." It would, however, accommodate a Barrel.
Sandblasted Reverse Calabash Barrel
He says that his Bulldog and glass-shanked pipes are his favorites, primarily because he invested so much time and thought in their development. Some pipes take longer to make than others. A carver always risks finding unsavable flaws in the briar. More often, a shape must be rethought to remove more superficial flaws, but certain shapes inherently require more time. "When I make a Billiard, for example, it goes fast. But when I make a Hawkbill or I make a Mummert Apple, this takes forever. For that Mummert Apple, I need three to four days because there are so many curves; they need to be smooth, they need to be proportional, and symmetrical. They need to match harmoniously. So it's a lot of time you need for a Mummert Apple. The Bulldog also takes time. But the Billiard and the standard, classical straight pipes go pretty fast."
"When I make a Billiard, for example, it goes fast. But when I make a Hawkbill or I make a Mummert Apple, this takes forever"
Mouthpieces are always ebonite, except on occasions when Mummert does something more exotic, like cut a mouthpiece from walrus tusk. The tenons, though, are nylon. "They're more flexible than ebonite. So when the pipe changes with the temperature or humidity, the tenon still fits properly. When you make an ebonite tenon, it's possible that the stem could fit improperly; nylon tenons are the better solution, in my experience."
Planning Stages
In development now are smaller versions of Werner's Hawkbill and Apple shapes. "I'm trying to make the Hawkbill a little shorter and a little lighter, but there are some technical problems I need to solve. You can't make it smaller on a scale of 1:1; you need to change the proportions so that the entire shape looks right." It isn't a matter of shrinking the original. The ratio of widths and lengths from shank to bowl must be determined, among other considerations. "You need to change the angles and the bowl dimensions. I'm working on it."
Beyond all of the details and craftsmanship of Mummert pipes is their smokability. They are engineered for optimum performance. "I try to make functional pipes, pipes that are able to be handled and to be smoked with confidence. My goal is this: if you see my pipes, you don't need to look at the stamp to see who made it."
Through vast experimentation in yielding the most fascinating and handsome results for each element of his pipes, Werner Mummert has achieved that recognizability. Distinctive, beautiful, and projecting enormous personality, Mummert pipes represent some of the finest and most unique smoking instruments made, pipes with personality and real style, pipes to enjoy for a lifetime, and possibly for generations.
Shane Ireland, Werner Mummert, and Tom Eltang - Chicago Show 2016
You may also enjoy: