Mac Baren: HH Rustica Flake 3.5oz Pipe Tobacco
Product Number: 003-039-0112
A sister plant to Nicotiana tabacum, the Caribbean leaf from which all modern Virginias, Burleys, Orientals, and other varietals originate, Nicotiana rustica is a historic species of tobacco native to the Americas. English settlers observed the indigenous Powhatan population smoking N. rustica tobacco when they arrived in North America in 1607, and the leaf grew in popularity among the settlers as well. Given its high nicotine content, however, Nicotiana rustica quickly faded from the public's interest once the settlers secured N. tabacum seeds from the Caribbean and began growing them in Virginian soil.
HH Rustica celebrates this historic strain of tobacco, elevating the hearty leaf with choice N. tabacum varietals like naturally sweet Dark Virginias and cool-smoking Burley. Like all flakes in the HH line, it's heat-pressed and finely sliced, resulting in an elegant balance of the traditional and the modern. HH Rustica is the strongest tobacco in Mac Baren's portfolio, and is among the strongest pipe tobacco blends in the world. Despite its strength, however, it maintains a delicate complexity and nuanced flavor, offering deep, earthy base notes and a rounded finish, especially enjoyable after a full meal.
HH Rustica is a full, robust mixture that presents a scintillating vignette of the history of tobacco in the Americas. Only 5500 tins of this limited edition blend were produced worldwide.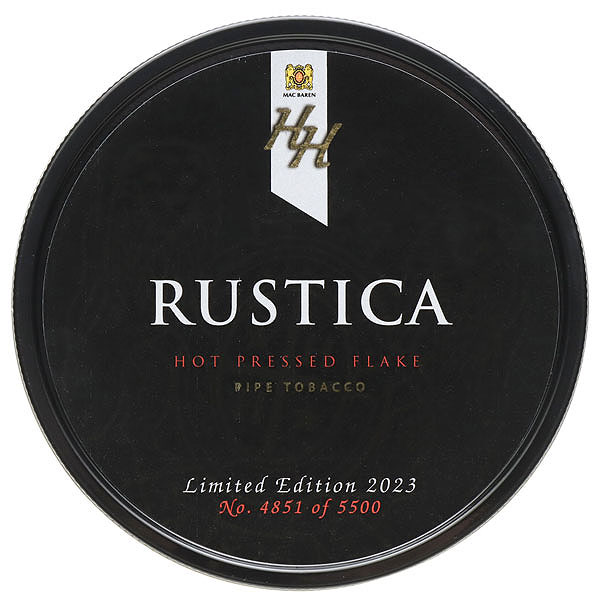 We apologize, but this item is temporarily out of stock. Please check back with us in a few days.
Components:

Virginia, Burley

Family:

Virginia

Cut:

Flake