Mac Baren: Royal Twist 3.5oz Pipe Tobacco
Product Number: 003-039-0117
Among the most elusive of Mac Baren's spun-cut mixtures is Royal Twist, a distinctive Virginia/Perique blend enhanced by Dark-Fired Kentucky. Despite strong popularity and demand, it was delisted in the 1960s due to shared name registrations and unfortunately was taken off the market. While it later returned as Mac Baren's flagship Roll Cake, one of the blending house's most popular tobaccos of all time, the recipe had changed and no longer included Perique.
Crafted using its original 1960s recipe and packaged in 100g tins with vintage artwork, Mac Baren's Royal Twist returns in a limited-edition run, available only at Smokingpipes. Select Virginias, Dark-Fired Kentucky, and Perique form the core of this complex mixture, elevated by a naturally sweet, whole-leaf Virginia wrapper for a nuanced, all-day smoking experience with just the right amount of peppery, smoky spice. Meticulously handspun into ropes, aged for weeks, and sliced into delicate coins, Royal Twist is a testament to Mac Baren's proud spun-cut legacy.
Don't miss your chance to experience this special-edition revival of Mac Baren's Royal Twist, the predecessor to the modern Roll Cake, blended as it was in the '60s.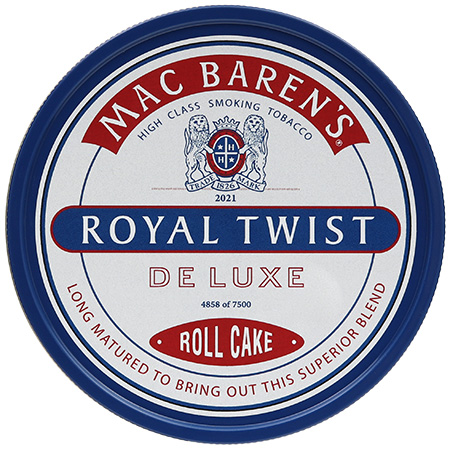 15% Off Mac Baren Tins
Sold Out
Components:

Virginia, Perique, Dark Fired Kentucky

Family:

Virginia

Cut:

Coins