Michail Kyriazanos Pipes
3 Total

+

About Michail Kyriazanos

Born in Athens in 1989, Michail Kyriazanos (Mi-ha-il Ki-ria-za-nos), with the exception of five years of collegiate study in the city of his birth, was raised in and continues to live/carve on Paros Island, arguably one of the most beautiful spots on earth.

The Kyriazanos logo is a modernist twist on Cycladic art figurines first created in roughly 3300 BCE by the Cycladic people of the Aegean Sea, they represent the world's first intentionally minimalist sculptures, and Michail feels the symbol best represents his commitment to perfect functionality and non-superfluous aesthetics. This mindset is well reflected in his love for, and faithful hand carving of, traditional English shapes. Kyriazanos began his professional pipe making career in 2010, and had already found his first buyer on his third briar.

Michail only uses Greek briar from two sources, a briar which he proudly declares is the "tastiest in the world!" Kyriazanos hand cuts his stems from ebonite and hand turns his tenons (no delrin). His drafts are set to 4mm in the stummel and 3mm on the stems, and he then inserts a 4mm taper drill to the stem to make the transition smoother.

For more on Kyriazanos from the man himself be sure to read our interview or check out this video.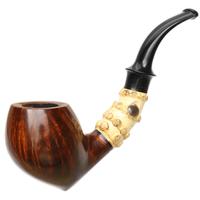 Portfolio for Michail Kyriazanos