Nikolay Kozyrev Pipes
1 Total

Moscow-born artisan Nikolay Kozyrev is, in the direct sense, a student of accomplished pipemaker Sergey Ailarov, who taught him both how to make pipes and previous to that how to smoke them, the two having long been friends. In terms of indirect learning, as Nikolay's skills and reputation developed he was fortunate enough to begin receiving commissions to repair pipes made by other artisans he counts among the "great masters," particularly S. Bang and Jess Chonowitsch, and taken these opportunities to closely examine their work: the details of craftsmanship and design that make pipes by these artisans so great.

Along with gratitude towards his friend-and-mentor Sergey, Nikolay has also expressed appreciation for "a lot of support" provided to him by artist-caricaturist Konstаntin Kukso, whom he describes as, "a wonderful person and pipe smoker with years of experience.​" Beyond the S. Bang and Jess Chonowitsch pipes Nikolay has had hands-on experience with, he as well admires the work of Bo Nordh, Lars Ivarsson, Hans "Former" Nielsen, and Jeff Gracik.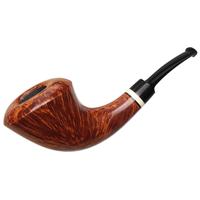 Portfolio for Nikolay Kozyrev