All Pipes Considered: Glen Whelan from Peterson
Welcome back to another episode of All Pipes Considered. Today, I'm joined by a very special guest, all the way from Dublin: Glen Whelan, Director of Sales for Peterson. Tune in as Glen and I discuss his history at Kapp & Peterson, including Glen's own family tradition at the company as well as his favorite shapes and series, and some of the marque's exciting new releases and future projects.
Note: The following transcription has been edited for clarity and brevity.
[Shane Ireland]: Hey everybody, I'm Shane Ireland, and welcome to another episode of All Pipes Considered. I have a very special guest with me today, all the way from Dublin, Glen Whelan, director of sales for Peterson of Dublin.
[Glen Whelan]: Hi everyone.
[S.I.]: Thanks for joining us, Glen. It's good to have you stateside. Yeah.
[G.W.]: It's a pleasure to be here, finally. Long overdue.
[S.I.]: So, Glen, real quick: For those who may not be familiar, can you tell us a little bit about your history with Peterson and your family's history with Peterson?
[G.W.]: Yeah, so I started at Peterson as a 16-year-old part-time associate at a store, going in after school on Friday evenings, as well as weekend work on Saturdays and Sundays. That turned into a full-time role when I got out of school. I spent about 13 years there. And then I got a big break: a chance to move to the factory and move into a more business-to-business role. Once I began working in a B2B capacity, I just had kind of a rapid growth through the company, and now I'm heading up our international sales. My family definitely has a history with Peterson. My father has served at the factory for 53 years. He's retired twice now and just kept coming back. He first retired and was doing three days a week. Now he's back and he's doing one day a week, kind of floating around the factory, helping us in different stations. Not a lot of people know but my brother worked in the factory as well for about six years. He's gone back to doing car servicing and things like that now, but yeah, we have a long history with Peterson, and we're trying to expand that association. My niece worked there last week, so we had three generations in the building in one day.
[S.I.]: That's amazing.
[G.W.]: We got a nice souvenir photo of it as well.
[S.I.]: That's amazing. Now, Tony, your father, you said he's sort of floating around right now. I imagine he's doing that with maybe a little bit less pressure these days, because he was running the factory for quite some time previously.
[G.W.]: He was, yeah. He was responsible for the overall operation of the factory for about 15 years, all told. He was the working operator of the factory, and was generally stationed at papering, but he also did bowl grading, pick and putty, and a lot of other early stages of production.
[S.I.]: I remember him grading a lot during the first couple of years when I visited the factory before Laudisi bought the company. So is he loving just not having to worry about anything and just working on the pieces of the production that he's interested in?
[G.W.]: He's loving the free-flow nature of what he gets to do. He's going in there, and he's just being able to go in and enjoy the process without the stress that comes with it or having to run a factory from the factory floor. So he's just basically responsible for himself now in there.
[S.I.]: It's a good retirement gig.
[G.W.]: It is. He still churns out the numbers.
[S.I.]: And I'm sure everybody loves having him around.
[G.W.]: Oh yeah, and like, it's a great asset for the company to have him around, to be able to draw on his experience. For example, if we need to know how things were done previously, he's an excellent resource for that. And he's a great mentor for new people that come in, because we do have a few new hires in the place. So having someone like that, with that much experience there to draw upon, is invaluable. There's not a lot of companies that can have that at their disposal.
[S.I.]: So how many other folks would you say over the years, to your knowledge, have sort of matched your father's tenure at the company? How many people have we had that have been there half a century?
[G.W.]: In active, we still have Joe Kenny there working on the factory floor. Joe does the spigot stems and a lot of other floating around. Joe is coming up on 45 years. Then you have Doris, who is in the packing station, who you've met as well. Doris just hit 49 years with the company, I believe, a couple of weeks ago.
[S.I.]: Yeah, I was going to say next year would be her 50th.
[G.W.]: Yeah. So it's just one of those companies. We kind of have a running joke in Dublin: If you survive the first six months in the company, you're there for life.
[S.I.]: I love that so much, though. Especially when I first started visiting the factory, you just don't see that kind of tenure in a ton of other industries.
[G.W.]: You don't. And I think it's testament to the atmosphere that we've created in Dublin. It's a very welcoming work environment. There's great camaraderie amongst the guys on the factory floor, right through to the office. Everybody's working, rolling in, and pitching together, and it just works.
[S.I.]: They take pride in the craft.
[G.W.]: Absolutely, yeah. There's an awful lot of pride in the work. When I look at Jason doing the silver, for example, you can just tell the level of pride he has in what he does. And people just have a passion for the product.
[S.I.]: Yeah, I love that. I love that. And I love that the people have such a rich history there. So, can you tell us a little bit more about your role at the company today? What are you responsible for? What does that look like? Maybe what's your day-to-day?
[G.W.]: So my day-to-day is running all the international sales. I check in with our international distribution network and let them know about new releases. I'm also responsible for coordinating shipments going out the door. The most enjoyable part of my role now, though, is probably the product development. That's the part I get most excited about — thinking about new releases or what's coming down the track, or new ideas for Pipe of the Year, St. Patrick's Day, etc. That's the fun part. That's not work.
[S.I.]: So, over the last two years on the product development side, is there any project in particular that you are most proud of?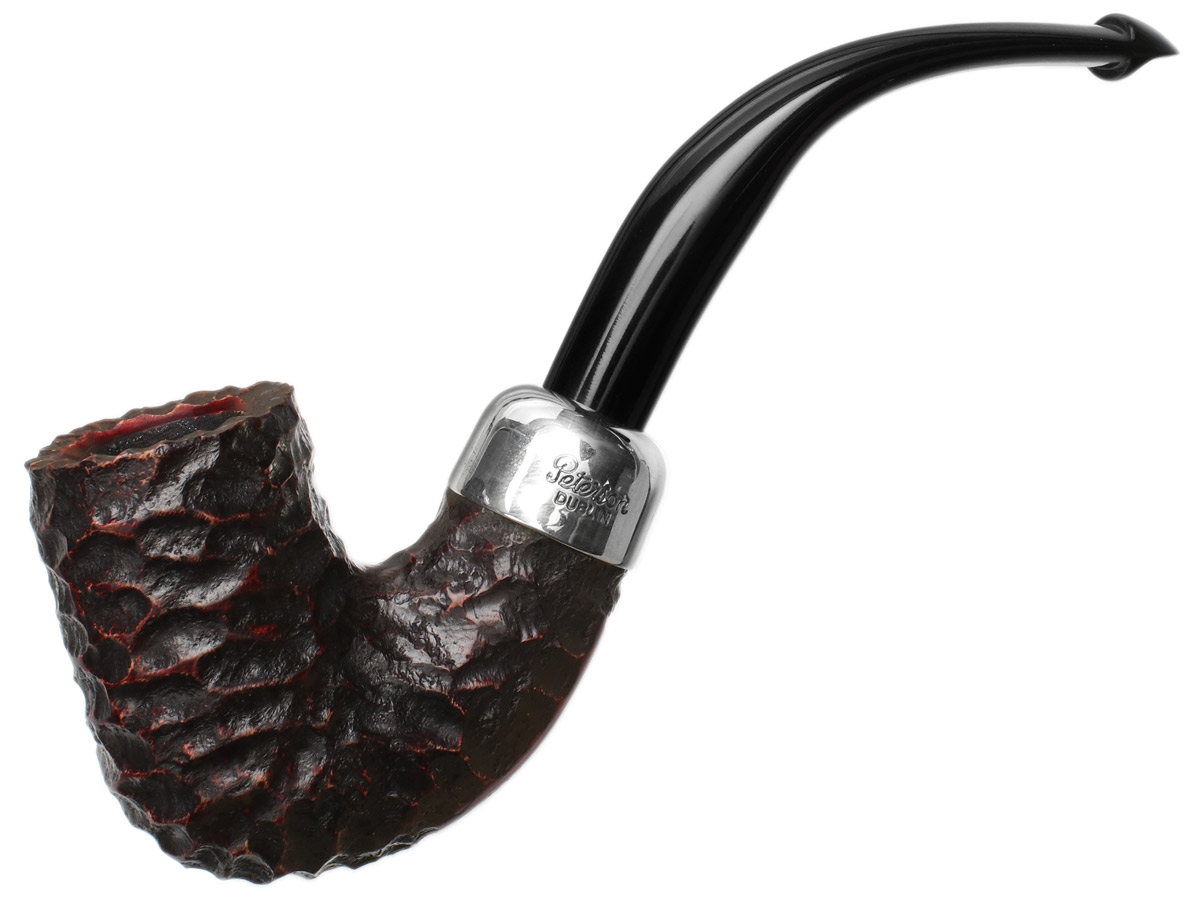 Peterson 2021 Pipe of the Year
[G.W.]: Last year I helped come up with the idea for the 4AB as the 2021 Pipe of the Year. It's a shape that I felt just fell off Peterson's shape chart and was a huge, huge miss.
[S.I.]: And I'm sure you all had plenty of requests for that shape over the years as well.
[G.W.]: Absolutely, yeah. I really enjoy working with Josh [Burgess] as well. Josh is a lot like me in that he believes Peterson should continue to steer more toward a traditional aesthetic. And that's what, I think, we've done really successfully in the last three Pipe of the Years — from the John Bull, to the 9BC, and most recently the 4AB. And I'm excited for what we have coming up in 2022.
[S.I.]: Yeah, returning to those old catalog shapes for Pipe of the Year designs is amazing, but it's also really hard, right? A lot of folks out there may be thinking, "Oh, it's just as simple as coming up with the shape." But, really, one of the challenges that any pipe manufacturer faces is sourcing the materials, not just briar — which can be hard to find, especially in the quality that you need or the size that you need — but also stems of a particular dimension, length, and design. P-lip in this case. It's just not that easy to turn something on like that.
[G.W.]: Not at all, no. And when we're doing new releases, we're also mindful that it has to fit in with the traditional aesthetic. So we don't want to go too crazy on stem design. But there's a couple of series that we get to have fun with. St Patrick's Day, for example, is a complete shift from the ordinary for Peterson. We get to have fun with it. We're Irish, so we're allowed to do things in green. And Dracula, as well, has been one of the most popular shifts from our traditional aesthetic in recent times. And we've actually expanded that line completely just to serve demand. So that's kinda where we've been with those kinds of series.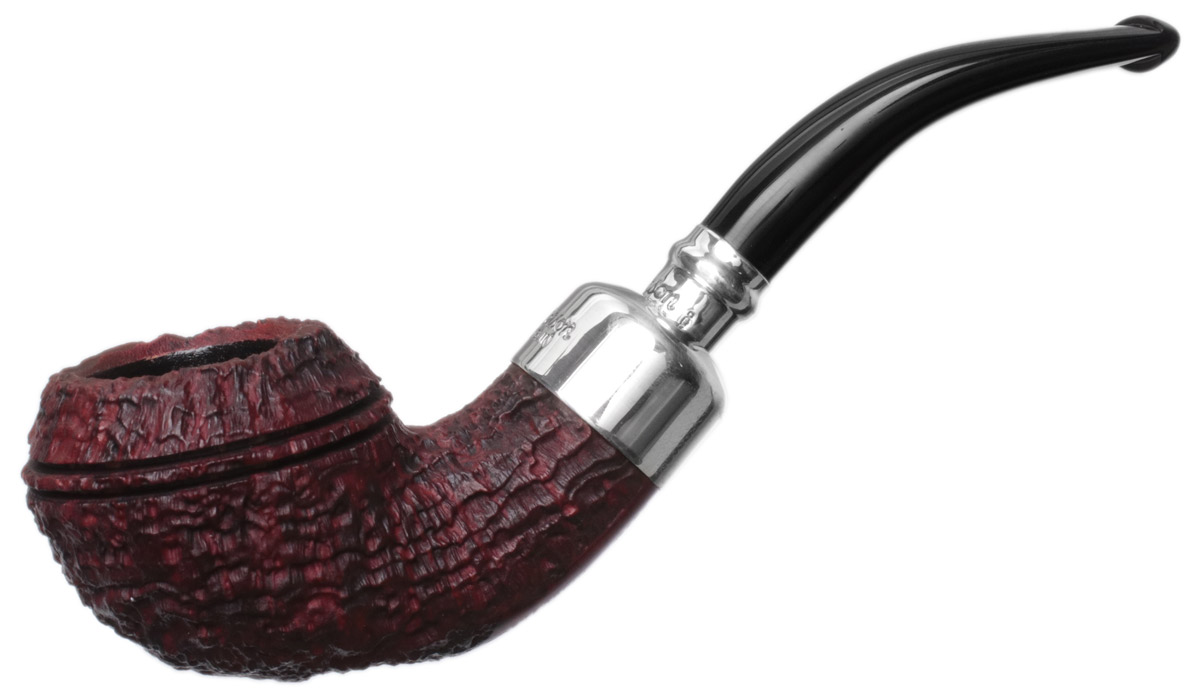 Rua Spigot (999) Fishtail
[S.I.]: Now, what about the Rua and the introduction of the PSB grade sandblast. Elevating sandblasted finishes and the addition of new sandblasted finishes seem to have been a big focus over the last couple of years.
[G.W.]: Definitely, and really just in textured finishes in general. Bringing the rustication back in house has yielded amazing results and has elevated what would have been entry-level lines to a new dimension. The PSB is probably my favorite of all the sandblast grades. It's all about the character that's in the blast. Going through those to find PSB bowls is so much fun. It really is. When Willie, who does the grading of our bowls, probably has three or four people over his shoulder just wondering what's coming. And then Willie will come running up to us so excited about what he's finding. And we're like, yeah, we know what we want to do with that. But sometimes when we're sorting through a batch of recently blasted bowls, we do end up finding inspiration for a new series, and that's what happened with Rua. It was just a light bulb moment where we realized that we could do something really cool here, something that Peterson has never done before. And we could have a lot of fun doing it.
[S.I.]: Yeah, yeah. And the results were excellent. So, just so people know: I think everybody's sort of aware that PSB is a rare grade within sandblasting, but I'm wondering if we could explain just how rare these are? Maybe not a specific percentage, but how many bowls for a given shape does Willie have to go through to find, I don't know, a half dozen PSBs.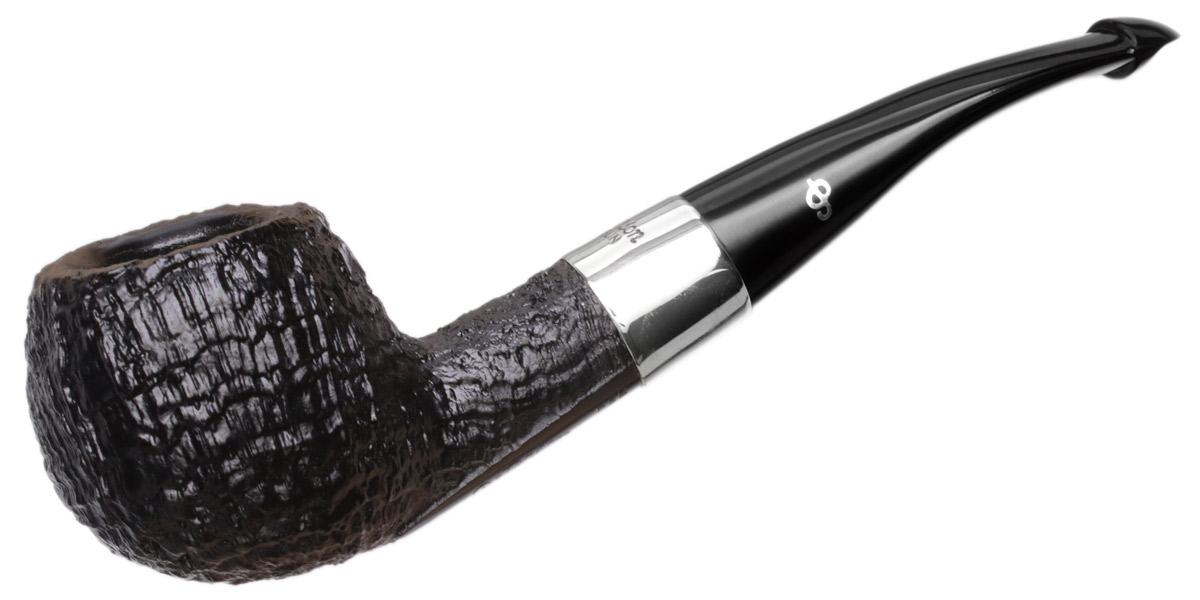 Deluxe Classic PSB (408) P-Lip
[G.W.]: It can depend really. Because, in general, Willie would have to send a hundred bowls into the blasting room. One day he could come out and maybe have one destined for PSB. And then the next day, if it's a really good run, we might get 10. It really is like that. We just don't know what's coming.
[S.I.]: It all depends on the briar.
[G.W.]: Exactly. And sometimes, we send some bowls back for a re-blast, just to kind of chase the grain out a little more. That can yield great results as well.
[S.I.]: Having that control in the factory is so important.
[G.W.]: Exactly. Control, as well, is a really important thing in the blasting room, because the main thing we want to protect is the integrity of the shape. There's a fine line between chasing the grain and going too far.
[S.I.]: And thinning the lines.
[G.W.]: Exactly. If that happens, the bowl is just rejected, because we can't confidently stamp our shape number on it.
[S.I.]: So what is your dream project? What would you do here if you were creating a line that was just for you?
Aran Smooth (264) Fishtail
[G.W.]: If I'm being honest, if I were making pipes just for me, I'd love to have like a seven-day set of 264s in all the high-end finishes — I'm talking all the way from smooth Natural right up to Rua. All the high grades, really. Just having a seven-day set that would really showcase all the craftsmanship that exists in the factory, what it can do creatively and technically. I think our silver work is second to nobody in the industry, and has been for years. The silver work at Peterson is just synonymous with the range. And I think everybody tries to get to where we are, and very few, if any, have succeeded at a factory level basis.
[S.I.]: Yeah, absolutely. So a seven-day set of 264s. Man, I would get into that too, for sure.
[G.W.]: Yeah, I don't think we'd have enough for two sets, though.
[S.I.]: No, no. Especially not if we're talking Naturals and Supremes and Rua. That would take many years. That's another thing that our customers and viewers may not know. To get a couple of Supremes in a specific shape, you're talking about, in some cases, years of production.
[G.W.]: Yeah, this year we've actually been pretty spoiled, because we've got three Supreme smelts. Which is, it sounds incredibly low, but I think it's a testament to our grading criteria to get to that level.
[S.I.]: I mean, it has to deserve it.
[G.W.]: It has to deserve it. There's so much criteria for a Supreme-graded bowl. Has to be perfectly clean, but have a consistent grain structure along with many other things as well.
[S.I.]: Oh yeah, of course. I mean, just clean briar is not enough. Good grain is also not enough. The shape, the way that the grain catches on the shape... to be a Supreme, it's gotta be perfect.
[G.W.]: And there have been times where a pipe has started the process as a potential Supreme, and then as work was being done on it, it just didn't make the cut. Papering, in particular, is a very sensitive process. You can lose that cleanliness or uncover marks in papering. So probably 50% of pipes that start their life as a Supreme don't finish as a Supreme.
[S.I.]: Right. And even then you're still talking about a percentage that is far less than 1% total production. That's incredible. Maybe you would disagree here, but that brings me another point: it feels like there's been more transparency about what goes on in the factory over the last couple of years than the previous couple of decades. And that's a great thing, because pipe customers and collectors at this point are so educated and so engaged in the hobby that there's a strong curiosity about what's behind the manufacturing process. So along those lines, is there anything you could communicate to Peterson customers about what is going on at the factory? What kind of improvements are being made? What are the focuses at this point? Like what can they expect?
[G.W.]: I think continued improvement is the main goal of Peterson along with maintaining the level of consistency that we have shown over the past two, three years. I just think we're at a stage now where we kind of need to just keep focusing on what we're doing, make sure we keep doing it, and don't let standards drop. And then increasing production is a big thing. Peterson is at the stage now where we have so much demand for products that we really need to be pushing pipes out the door. But we have to do that without dropping quality. So that really has to be the key driver: quality before quantity. Quantity will come, but we're also continually trying to expand the staff. We've gotten creative with how we've tried to employ people. We brought Giacomo Penzo in from Italy as our Pipe Specialist, and as an artisan pipe maker himself, he's a great addition to the team. There's always a job ad for Peterson.
[S.I.]: And then of course you're also facing supply chain issues, which is pretty much a problem that every industry is still dealing with right now.
[G.W.]: We have had supply chain issues. Europe is kind of in and out of lockdowns. If factories have to close for coronavirus cases, you lose that production time. You can't predict when that's going to happen. You really can't. And they just tell us there's going to be delays and we have to suffer them, unfortunately. It's just a part of the industry nowadays.
[S.I.]: So, we already learned that if you could make a series for yourself, it'd be the seven-day set of 264s, but is there a certain Peterson model, Peterson shape, or Peterson design that's just iconically Peterson. Even if it's not to your personal smoking tastes, in terms of size or shape preference, is there a design that you'd show someone who's never heard of Peterson? What would you choose?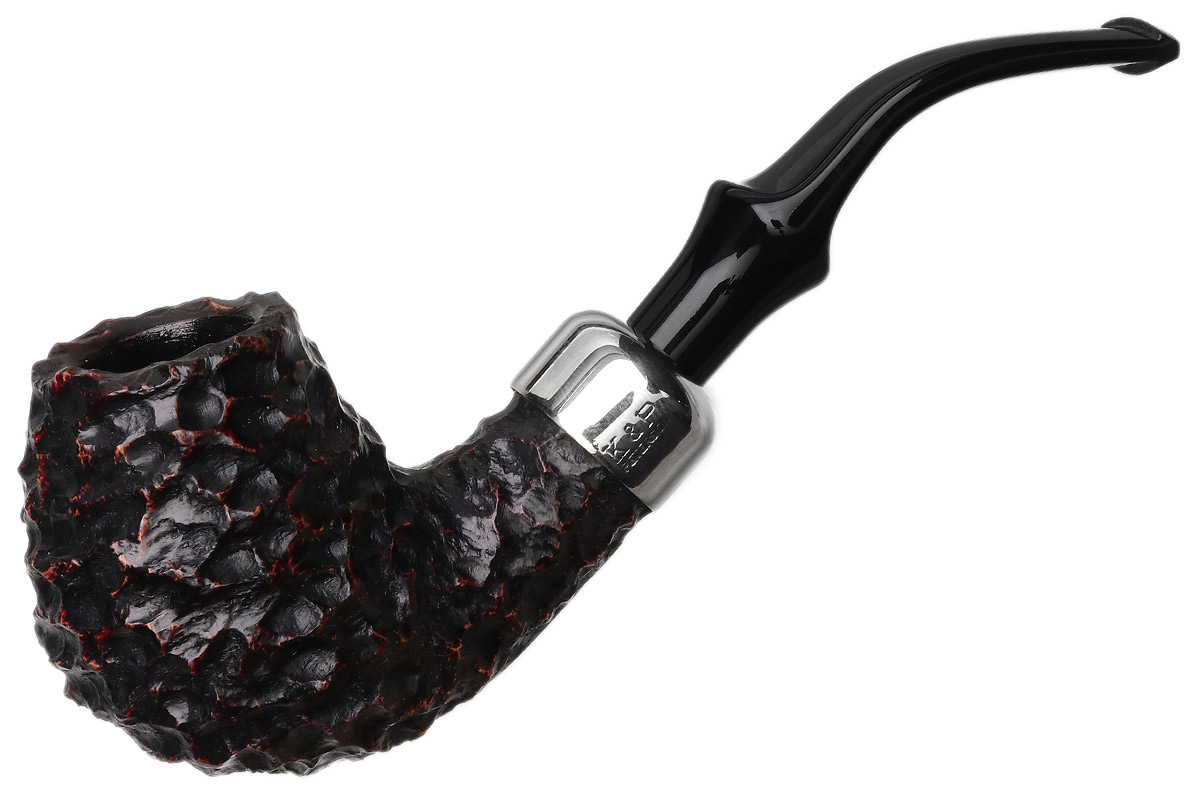 System Standard Rusticated (B42) Fishtail
[G.W.]: I think I would go to a series first. If I wanted to explain what Peterson is all about to a customer, the Standard System. It's iconic for the series. It's what the whole brand was sort of built around, Charles Peterson's patented System. We have these dissected System pipes in the office that we always use to show people. We have them in the shop for any new customer that comes in the shop. The go-to Peterson pipe for everybody to start from was a Standard System. It was my first pipe.
[S.I.]: It was my first Peterson as well. My first good pipe.
[G.W.]: Exactly. Everybody has to have a Standard System in their smoking arsenal.
[S.I.]: What about Standard System shapes, then?
[G.W.]: Well, I'm kind of biased. The 314 was my first one, so the 314, definitely. I think you're smoking a 221 there.
[S.I.]: This is a 221, which is not a System.
[G.W.]: Yeah, it's the 314 System equivalent. So I've kind of gotten into larger bowls as well. So I really love the 2s Deluxe System. I just love the wear-gap, the feel, the comfort, and the balance. Everything is just right about the shape. For such a large bowl, it's a great smoking machine.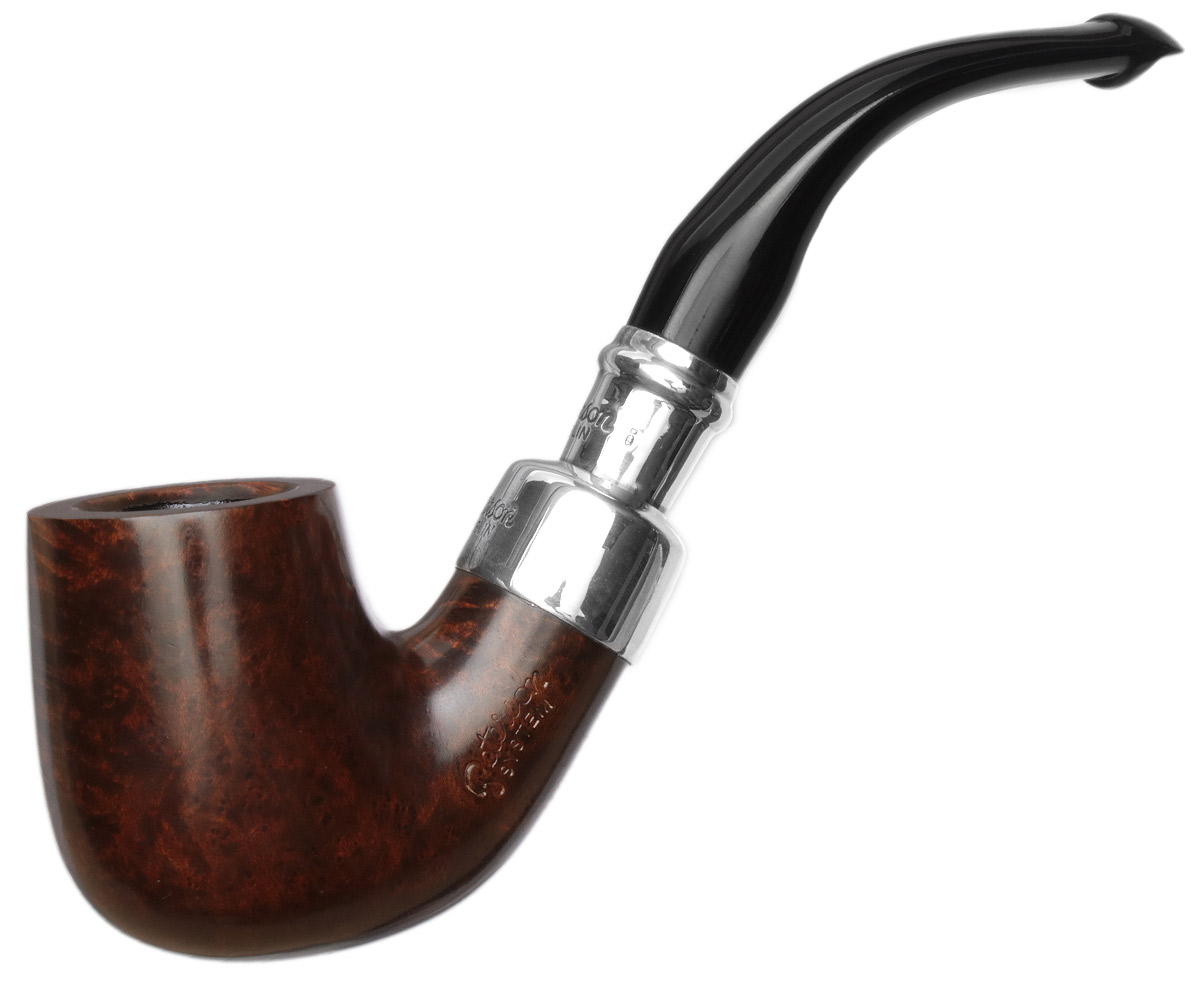 System Spigot Smooth (313) P-Lip
[S.I.]: Also, even before the 4AB came back officially... I don't know, I've got to get a 313. There's just something about that shape that is so iconic.
[G.W.]: It's a really charming shape.
[S.I.]: Yeah it is. Super simple, too.
[G.W.]: Yeah, of course. Dutch Billard, just classic
[S.I.]: Really tubular, really muscular.
[G.W.]: A great fold and stuff, a flake pipe. Smokes like a train.
[S.I.]: Glen, thank you so much for coming. Glad to see you stateside, like I said. And this won't be the last time we do this.
[G.W.]: Thank you Shane, pleasure to be here. And I hope not. It was a long overdue visit but, hopefully it'll be a lot more frequent nowadays.
[S.I.]: Absolutely. I need to get back to Dublin too, it's been too long.
[G.W.]: You'll have to sample the night life again.
[S.I.]: Yeah, absolutely. I need a snug fix. Yeah, I do, I do. Everybody, thanks so much for watching. We'll see you next time.
You may also enjoy: