Back in March, Joshua Burgess wrote an article describing a very special 4-pipe Barling set, discussing its historical and pipe historical significance. This is a guest post written by our fellow piper Ed, who took it upon himself to conduct further research into the set and shed some additional light on this curious narrative.
A near forty year pipe smoker whose love of history started at his Mother's knee, Ed learned to read as much from history picture books as comics and continued through school and his degree in International Relations (at least half history) and lasted into his favorite reading in retirement. While he has no formal background in research of historical records, during his career he had considerable experience of investigation both in public sector audit and forensic accountancy.
Thoughts for Further Consideration
by our fellow piper Ed
In early March Smoking Pipes introduced for sale a Barling smoking set with the following intriguing dedication engraved on the front of the case:
Presented To
Sergeant A.W. White, RMLI
By the Officers, N.C.O's & Men
B. Company N.S.W 3rd Contingent
Infantry As a Mark of Esteem
10.5.1900
As a life long history buff, the questions that fascinated me were: who was this sergeant, why did an infantry company give this sergeant a gift fit for at least a Colonel, and who indeed were the company? After a bit of digging on the internet I have discovered (at least to a fairly high level of certainty) all of that and found his photograph! Okay, the photograph may either be part of a delightful coda to this story or an amusing coincidence that also has the merit of taking us into a completely different but equally great Second Boer War pipe story.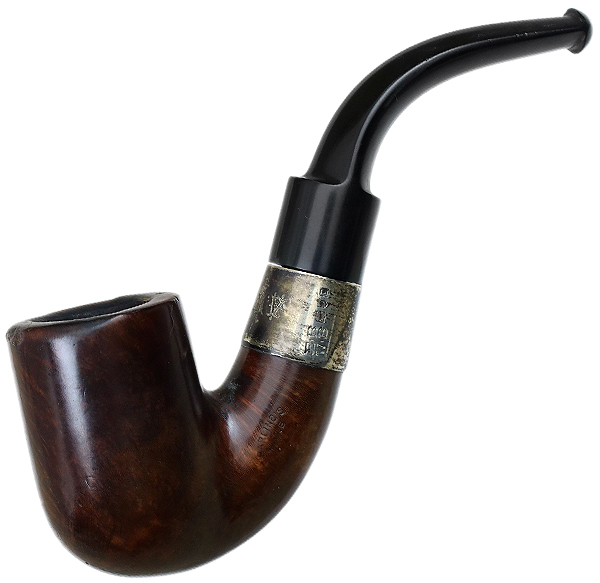 What was the context?
Just a little context is helpful. As Josh Burgess explained in the original blog, when the set was released for sale, the date and the reference to "NSW Contingent" indicates the gift occurred during the Boer War 1899-1902 (the second such conflict between the British Empire and the Boer republic over power and the vast mineral resources in the country we now call South Africa). NSW was New South Wales in the country that became Australia in 1901, and the reference to contingent follows from that being the organising unit above battalion level used (rather than brigades or divisions) by the Australians for the Boer War. Indeed the Australian Government's record of the war is called "The Official Records of the Australian Military Contingents to the war in South Africa" (Official Record for short hereafter).
Who was Sgt A.W.White?
Sergeant Arthur William White's Royal Marine Light Infantry (RMLI) service record held in the United Kingdom National Archive states he was seconded as drill instructor to the Permanent Staff of Military Forces New South Wales (NSW) from 18 June 1900 (June was about the worst written word in the record and had to be magnified to at least double size and compared to the same word in the same handwriting, but I am 90% sure it is correct). According to his service record, Sgt White was a career marine born in Tottenham, London in 1869, enlisted in 1887, promoted to Corporal in 1894, to Sergeant in 1899, to Colour Sergeant 1905, completing his service in 1908. He was a Baptist by religion, was married, is described as fresh faced, brown haired, brown eyed and 5ft 10 1/2" tall.
From 1897 until his secondment on 18 June 1900 Sgt White had been on the marine complement of HMS Katoomba, a Royal Navy cruiser and flagship of the Auxiliary Squadron on the Australia Station (based at Sydney New South Wales) from 1892 to 1906. Sgt White is therefore firmly located in NSW up to 18 June 1900. This in turn locates both his much appreciated instructional activities and the presentation of the pipes on 10 May 1900 to NSW (Australia only officially came into existence in 1901) and almost certainly in or around Sydney. The Official Record confirms that the NSW contingents received their training in NSW before embarking for South Africa and very quickly going into action.
Why was he important?
The NSW recruits in 1900 were certainly viewed by the NSW military as being in need of drill. The Official Record differentiates between the first two contingents (raised from existing militia units), who were "a superior class of individuals, from whom considerable was to be expected; and there was little trouble in getting them away..." and the later contingents which were made up of recruits who were "rough material" and more particularly "Many of the recruits, however — a large majority in some cases — were mere rough bushmen, countrymen, handicraftsmen, farm labourers, and the like, who had never soldiered before, and had everything to learn in the way of drill and discipline."
This was of great importance because drill was then highly prized by the military. While nowadays it is still seen as having value in militarising recruits into cohesive units, the late 19th and early 20th century was at the end of a period where drill manoeuvres were practises of actual battlefield manoeuvres and military training was drill with a bit of musketry. More pressingly, being well drilled would help applicants to get accepted for the units to go to South Africa (many volunteers were patriotically ardent to take part, plus the pay was good in a period of drought and economic hardship), and then these NSW contingents faced embarkations which amounted to formal parades through the streets with cheering crowds and other military present. Being seen to lead a scruffy shambles ("rough material" !) could make a commanding officer, perhaps all the officers, a laughing stock and might well be career threatening, so intense gratitude to the drill Sergeant is certainly understandable. The following quote from the Official Record perhaps gives a real flavour of what was achieved and how it was valued:
By these means, and a severe course of what might be termed 'forcing,' the various Contingents were enabled to make quite a creditable appearance when they marched to the quay for embarkation; usually in the presence of thousands of interested and enthusiastic spectators. Great encomium was due to the Head-Quarter Staff, both the A.A.6. and A.Q.M.G. Departments, and to the Pay Department, under Mr. J. B. Laing, upon which an unusually severe strain was placed. Also to the officers and sergeants instructors for the unanimity and energy with which they worked to bring about so desirable a consummation."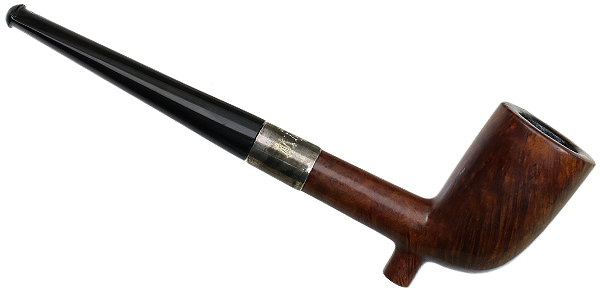 Who were B Company?
The identity of the unit was a real puzzle, but some considerable searching in the newspapers of the time (their availability on the internet is a magnificent resource provided by the National Library of Australia on Trove) revealed a training formation operating as a boot camp and referred to as the "Third Contingent". This formation was based at several camps around the Sydney area, including one called Ravenswood, from January through to at least August 1900. Unfortunately the press reports are short articles giving snapshots of news and never a clear narrative, but throughout these men seem to have been paid and under training, including both infantry and mounted units, were organised into squadrons/companies, and when the opportunity arose joined units destined for the front (it was called the front although the term is more usually associated with World War I) with more recruits periodically joining the camp. Those failing to obtain an enlistment would eventually get a month's notice to leave. While the press reports say very little about the internal organisation of this formation, there is reference to both infantry and mounted infantry and companies as well as squadrons. So it is much more likely than not that there was indeed a B Company NSW Third Contingent Infantry.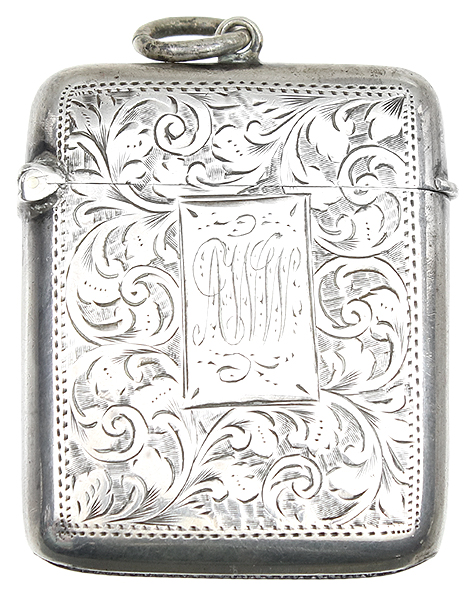 What did Sgt White look like?
Identification of Sgt White in one of the contemporary photographs is tentative but more likely than not. The Official Record lists a Sergeant Major Arthur William White in 2nd New South Wales Mounted Rifles (NSWMR) and the Australian Light Horse site carries captioned photographs of this unit including a Sergeant White. The Official Record nominal role does not list any other NCO Arthur William White in 2nd NSWMR, so the Sgt and Sgt Maj discrepancy could be explained by a promotion after he joined the company. Our Sgt White certainly served in South Africa, as his record lists the relevant service decoration (which gives no indication of date except that he did not go with either of the NSW Bushmen contingents on their initial deployment in 1900, as he did not have a Rhodesia clasp) and his return to the RMLI at the end of his secondment in September 1902 is consistent with the 2nd NSW Mounted Rifles' embarkation from South Africa in July 1902. Unfortunately the Official Record and the Australian Boer War record site do not list the Sgt Maj White of 2nd NSWMR as a Royal Marine (both records work on the basis of assuming all are Australians except the few exceptions noted as otherwise), but that may just be an error, perhaps because he came to them from another Australian unit.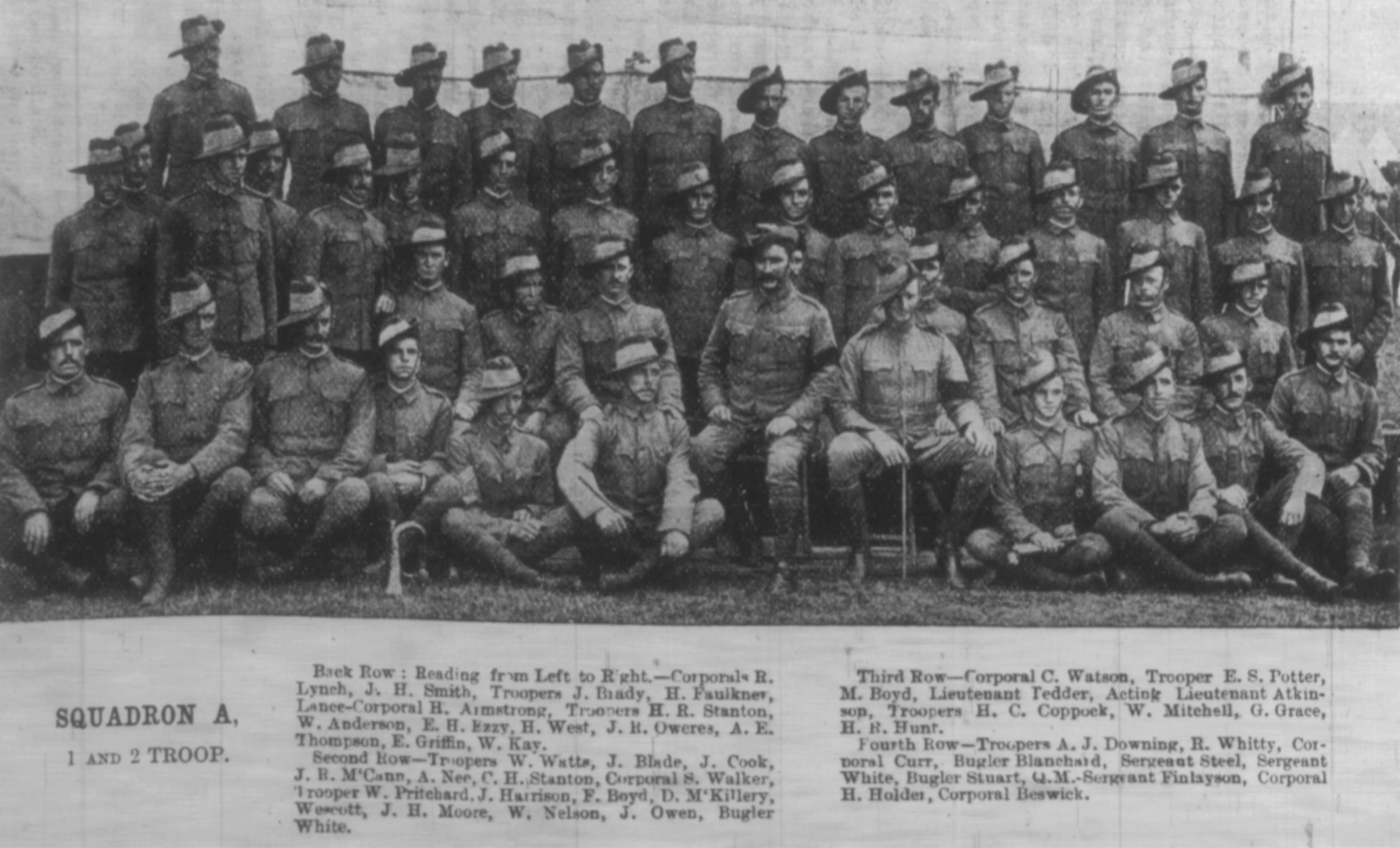 Sgt White is in the front row sitting on the ground six places across from left to right (two places to the right of the bugle standing on the ground) with his swagger stick resting on his right hand. His stripes, as with other NCOs apparently worn on the right sleeve only, are barely visible.

2nd New South Wales Mounted Rifles Regiment
A Squadron, 1st and 2nd Troops
Australian Light Horse Studies Centre
What was the other great pipe story?
The great pipe story certainly attached to Sgt Maj White 2nd NSWMR, whether he is the Sgt White of the Barling gift set or not, is a reference in the Official Record to him being one of 18 or 20 members of that unit who were awarded Queen Alexandra presentation pipes for gallantry and distinguished conduct in the field. Queen Alexandra was the consort of the then reigning monarch King Edward VII, and 5,500 presentation pipes were sent to the forces in South Africa in her name and engraved with her insignia to be presented to selected recipients. Whether the connection is a coincidence of name or not, the story of presentation pipes being listed as gallantry awards in an Official Record with the same prominence as medals is still surely a great pipe story!
Sources
OFFICIAL RECORDS OF THE AUSTRALIAN MILITARY CONTINGENTS TO THE WAR IN SOUTH AFRICA.
Sgt White's service record National Archive ADM 159-113-204
HMS Katoomba Wikipedia
WoggaWogga Express 9/1/1900
(Melbourne) Weekly Taxes 27/1/1900
Brisbane Courier 23/1/1900
Barrier Miner 31/1/1900
Ashbury Banner & Wodanga Express 16/2/1900
Wogga Wogga Express 27/2/1900
Brisbane Courier 28/4/1900
Goudburn Evening Penny Post 5/5/1900
Brisbane Courier 9/5/1900
Brisbane Courier 22/5/1900
The Adventurer (Adelaide) 23/5/1900
Coolgardie Miner 28/5/1900
The Age Melbourne 14/6/1900
Sydney Morning Herald Saturday 25/7/1900
Sydney Morning Herald Saturday 28/7/1900
Australian light horse study centre site for photograph
You may also enjoy: