Classic OTC Blends: Carter Hall First Impressions
Since I started working at Smokingpipes, I've had the opportunity to sample exquisite blends that have aged for years from colleagues and have been able to find my favorite mixtures using the Tobacco Locator and reading reviews online. Upon realizing that I've never smoked any of the classic over-the-counter (OTC) blends, I've made it my goal to try as many of these cherished staples as possible. Also called "codger" blends, these mixtures have endured for decades and continue to be enjoyed by pipe smokers around the world. These tobaccos are often inexpensive and widely available, allowing pipe smokers the opportunity to try them for the first time or stock up on them at an affordable price. One of the most popular and beloved OTC blends of all time is Carter Hall.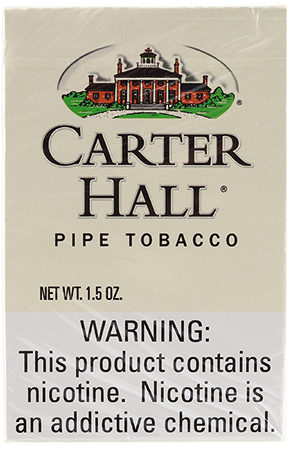 History of Carter Hall
Wanting to know more about Carter Hall, I did some research before trying out the celebrated blend. Carter Hall is currently manufactured by John Middleton Co., which originally began in 1856 as a small tobacco shop in Philadelphia, Pennsylvania and grew over the years, eventually opening a chain of stores. However, it should be noted that while Carter Hall reportedly dates back to 1895, John Middleton didn't begin producing it until 1987 when they purchased the brand from R.J. Reynolds Tobacco, after announcing it was seeking buyers for their pipe tobaccos and roll-your-own tobaccos to concentrate more on high-volume cigarette production. While sources indicate R.J. Reynolds originally manufactured the blend starting in August 1956 and filed for the trademark later that same year, there's virtually no information about Carter Hall's production prior to this. Other than some scarce newspaper clippings and vintage advertisements from the mid- 20th century, there's a surprising lack of information on the classic blend.
Components, Cut & Tin Note
Carter Hall is a ribbon-cut blend consisting primarily of Burley with a touch of Virginia, and while there's a topping of bourbon and cocoa, which technically makes it an Aromatic, I don't consider it to be an Aromatic and view it strictly as a Burley blend. The topping is light-to-mild and not overwhelming, which is something I had reservations about before opening the pouch. From the pouch note I was getting more of a fig, raisin-like smell and the nuttiness of the Burley was particularly prominent but not overpowering. The grassy and hay notes typically associated with Virginia leaf were slightly noticeable but they were more in the background compared to everything else.
Moisture Content
For me, the moisture was perfect straight from the pouch and required no drying time, though for others, a couple minutes should be adequate. Thanks to its ribbon-cut form and ideal moisture content, I found it incredibly easy to pack. After lighting, the Burley's natural nuttiness comes forward, along with a molasses-like flavor with chocolate undertones. As someone who tends to smoke somewhat on the hot side, I was surprised at how forgiving Carter Hall was in terms of my puffing pace and cadence. The bowl would become warm at times but wasn't unbearable and the tobacco required little relighting.
Flavor Profile
While it's a fairly unassuming, humble, and straightforward blend, there are some underlying complexities if you're looking for them, particularly on the retrohale as I was picking up hints of baking spices. Several times I smoked Carter Hall while having a cup of coffee and found that it's a wonderful pairing as both play off each other perfectly in terms of their flavor profiles, with the coffee emphasizing the tobacco's cocoa/nutty notes.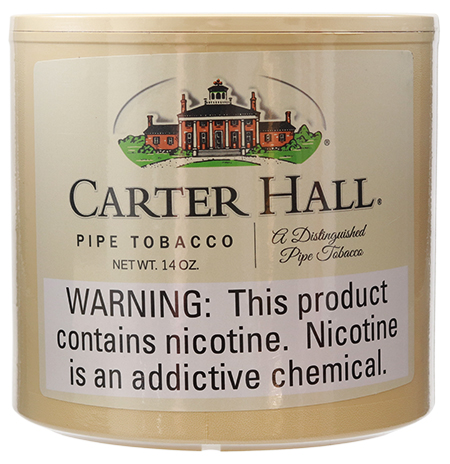 Overall, I was thoroughly impressed with Carter Hall and regret not having tried it sooner as it has already become not only one of my favorite Burley blends, but a mixture I find myself going back to almost daily. For anyone who primarily smokes Virginia or English mixtures, I feel Carter Hall would be an excellent and accessible introduction to a tried and true Burley blend. It's perfect for anyone looking for an easy going, dependable blend for working around the house or one that can be enjoyed any time of day. The 1.5-ounce pouch is great for anyone curious about trying Carter Hall for the first time and can be transported easily for on-the-go smoking, while the 14-ounce tub ensures you'll have a steady supply on hand. I've grown to appreciate Carter Hall and understand why it has endured for so long and has remained a favorite for generations of pipe smokers.
Have you ever tried Carter Hall? If so, what are your thoughts on it? I would love to hear your opinion!
You may also enjoy: