Classic OTC Blends: Five Brothers First Impressions
When someone decides to take up pipe smoking, it can be overwhelming trying to decide which blends to try first and find what mixtures or tobacco varietals are the most palate pleasing. There are several blends many experienced pipe smokers swear by and those mixtures have endured for decades, primarily ones referred to as over-the-counter (OTC) due to their widespread availability. They're also affectionately called "codger" blends due to their longevity and association with the type of tobacco enjoyed by older pipe smokers decades ago. While nostalgia, affordability, and availability may play a role in the continued success of these beloved blends, they continue to remain incredibly popular among newer and veteran pipe smokers alike.
I came to realize that I've never tried any of these "classic" staples and it wasn't because I looked down on them or viewed them as inferior to the blends I love; I just never took the time to research them and try them for myself. After reading reviews on our site for some of these timeless blends, I decided the first one I wanted to try was Five Brothers. My goal is to eventually try each of the classic OTC blends, making notes of my initial impressions and observations after smoking several bowls of each mixture. I wanted to smoke these blends from a different perspective and purchased a Missouri Meerschaum Country Gentleman to try out a pouch of Five Brothers. I thought it would be interesting to approach this as if I were a totally new pipe smoker or someone who prefers a more stripped down smoking set up, utilizing items that are easily available and budget-friendly.
History of Five Brothers Pipe Tobacco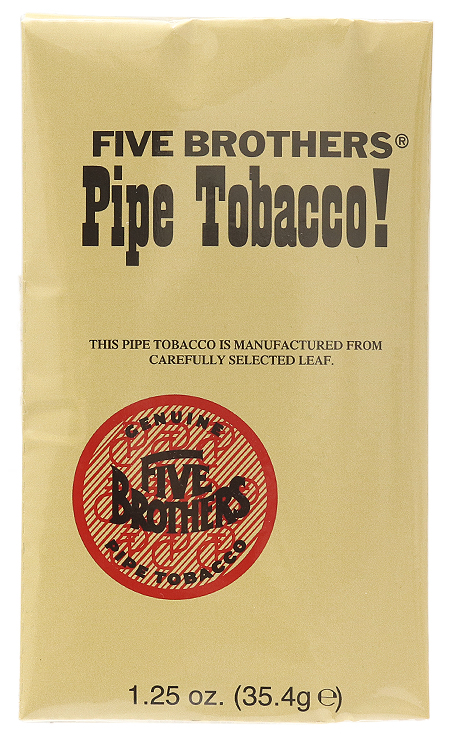 Five Brothers is a historic, single-blend brand that has retained a loyal following over the years. The tobacco is named for the Five Finzer brothers, John, Benjamin, Frederick, Rudolph, and Nicholas, who established Five Brothers Tobacco Works in Louisville, Kentucky back in 1866. The siblings were originally from Bern, Switzerland and emigrated with their family to the United States when they were children. Soon after, they learned how to manufacture plug tobacco by working in various tobacco warehouses around the Louisville area.
After developing relationships with prominent business leaders in the city, the brothers were able to create their own tobacco company. While they started out in a small-scale factory, the quality of their products attracted attention and they exponentially grew to meet the demand for their tobaccos. The company suffered a major setback in 1880 when their warehouse burned down, causing an estimated loss of $200,000 (approximately $5 million today) and was only partially covered by insurance. However, they persevered and rented a warehouse in the city and were back at work within a month. In the meantime, their factory was rebuilt on the same spot and they eventually reopened on September 10, 1882, exactly two years from the date of the catastrophic fire. Later that year the business was incorporated and their success continued throughout the remainder of the 19th century.
By 1887 they were producing four million pounds of plug tobacco and a million pounds of smoking tobacco annually, employing over 400 workers at the height of production. The majority of the factory's output consisted of Burley-based tobaccos and their location in the southern United States was ideal for acquiring quality leaf. Along with the Five Brothers tobacco they produced, one of their most popular offerings during that time was called Old Honesty, a 16 ounce plug of Navy tobacco.
Beginning in the early 20th century, Five Brothers tobacco was reportedly produced by American Tobacco Company before ATC was ordered to dissolve by the Supreme Court in 1911 after it was found to be in violation of the Sherman Antitrust Act of 1890. Following this, the history of Five Brothers is somewhat obscure but it would continue to be produced in Owensboro, Kentucky by The Pinkerton Tobacco Company, which was eventually purchased by Swedish Match in 1985. Swedish Match would then be acquired by Scandinavian Tobacco Group (STG) in 2010, and as a result, the production of Five Brothers was moved to Denmark where it continues to be manufactured.
Packaging, Components & Cut
Five Brothers comes packaged in a 1.25-ounce pouch and is the only size offered, unlike other OTC blends that usually offer a pouch or a larger tub option. It's composed entirely of air-cured Burley and is presented in an extra-fine, birdseye-style shag cut. I read that some pipe smokers claim there's a slight topping or flavoring added to the tobacco, but I could not detect any when I opened the pouch or smoked multiple bowls of it and there's no indication on the packaging or any sources that allude to any added flavors. To me, Five Brothers is just a straight up, old-school Burley that doesn't require any extra flavorings.
When I opened the pouch, I was surprised at the dryness of the tobacco as it was rather crisp but still pliable. Some may prefer to hydrate the tobacco to their liking but I found that it was perfect for my preferences and it packed easily into my Missouri Meerschaum Country Gentleman. When I wanted to introduce a bit of extra moisture into the tobacco so that it wouldn't burn too rapidly, I would simply breathe into the packed bowl and found it to be sufficient. I also would pack the tobacco tighter than I usually would to compensate for its dryness and experienced no issues. When smoked at my normal pace and cadence, an average bowl of Five Brothers lasted between 20 and 25 minutes in my corn cob.
The tobacco is a somewhat long shag cut, so cutting it up into smaller strands may be more manageable depending on your pipe's dimensions and preferred packing method. My experience with shag-cut blends is rather limited as I've previously tried only some of Gawith Hoggarth & Co.'s bulk blends, primarily their various Kendal offerings but I found Five Brothers to be reminiscent of Kendal Kentucky in terms of appearance and presentation.
Flavor Profile & Strength
Upon lighting, I was picking up the nutty, earthy notes typically associated with Burley tobaccos and was impressed by the pure flavor I experienced since there's no casing or topping. However, what truly sets Five Brothers apart from other OTC and Burley blends is its potent strength. Depending on your tolerance and what you're accustomed to regularly smoking, Five Brothers is medium-to- strong in terms of its nicotine content and overall strength. If you're not used to strong tobaccos, it's best to smoke this one in a pipe with a smaller chamber until you get a handle on it and see how it affects you but for those who enjoy potent tobaccos it shouldn't be too overwhelming.
Five Brothers is a historic, single-blend brand that has retained a loyal following over the years.
It's a stout, robust tobacco and is surprisingly versatile as it can be utilized as a blending component to add strength and body to other blends, especially to mixtures that already contain Burley. I experimented by adding a few pinches of Five Brothers to Cornell and Diehl's Founding Fathers and Granby Station, two of my favorite Aromatic blends which also feature some amount of Burley. I immediately noticed how Five Brothers added an extra kick without altering the original flavor of the blends and its natural dryness allowed for easy burning. I also read that other pipe smokers will layer the top of a packed bowl with some Five Brothers to act as kindling for thick flakes and blends with a high moisture content to ensure a reliable, consistent burn.
Some may feel that Five Brothers is a one-dimensional tobacco and it can certainly be harsh if pushed too hard, but I find it to be a solid, straightforward Burley blend. It's unapologetic and knows exactly what is, which I find to be admirable and view it as one of the main reasons it has remained popular for so long. If you're a fan of strong tobaccos or want to try a straightforward Burley blend, then Five Brothers is certainly worth checking out.
Have you ever tried Five Brothers? If so, what are your thoughts on it? I would love to hear your opinion!
You may also enjoy: