A Dedication to Tradition: Peterson Deluxe Classics
Glen Whelan's cellular structure is seemingly Peterson-pipe based, each nucleus composed of erica arborea, with cytoplasm of briar dust, mitochondria of acrylic, and endoplasm of free-floating .925 sterling silver, all informed by DNA that is Peterson's 155-year tradition. His father worked at Peterson for 50 years and Glen has been working, living, and breathing Peterson from the time he was 16 years old. Director of Sales for the company, he knows the brand, its history, and its style as few could ever hope, and when something new excites him, it's in terms of the tradition of Peterson, and the impressive new line of Deluxe Classics is just such an event.
"Two major characteristics of Peterson jump out," says Glen. "Classic aesthetics and renowned silver work. I think the Deluxe Classic line highlights the things that we do really well. We like to stick to classic aesthetics and shapes and styles, and our silver work is second to none in the whole industry." Deluxe Classics admirably embody the generations of Peterson pipes leading up to them. "The line basically shows what Peterson does best: the famed silversmithing, not just now, but all throughout the years; Peterson and excellent silver work, they've just been synonymous with each other. This is really showcasing what the factory does best."
Special Silverwork
"The silver," says silversmith Jason Hinch, "is broad, made from about the same size as that used for Spigots, but as a wide band rather than wrapping over the end of the shank and into the mortise." There are a couple of shapes that won't accommodate the extra silver and will be fitted appropriately, but will be easily recognizable because of the elevated quality of the briar and the opulent silver of the new line.
"We craft the bands in the factory from sterling silver tube," says Jason. That makes sense because the silver in this form is cleaner than, say, that made from silver sheet, the results being faster and with an immediately attractive aspect. "We don't fashion it from silver ingots — that's unheard of, but there is significant handwork required." The bands have the traditional assay marks and Peterson logo without additional engravings, reflecting the silver bands of early Petersons.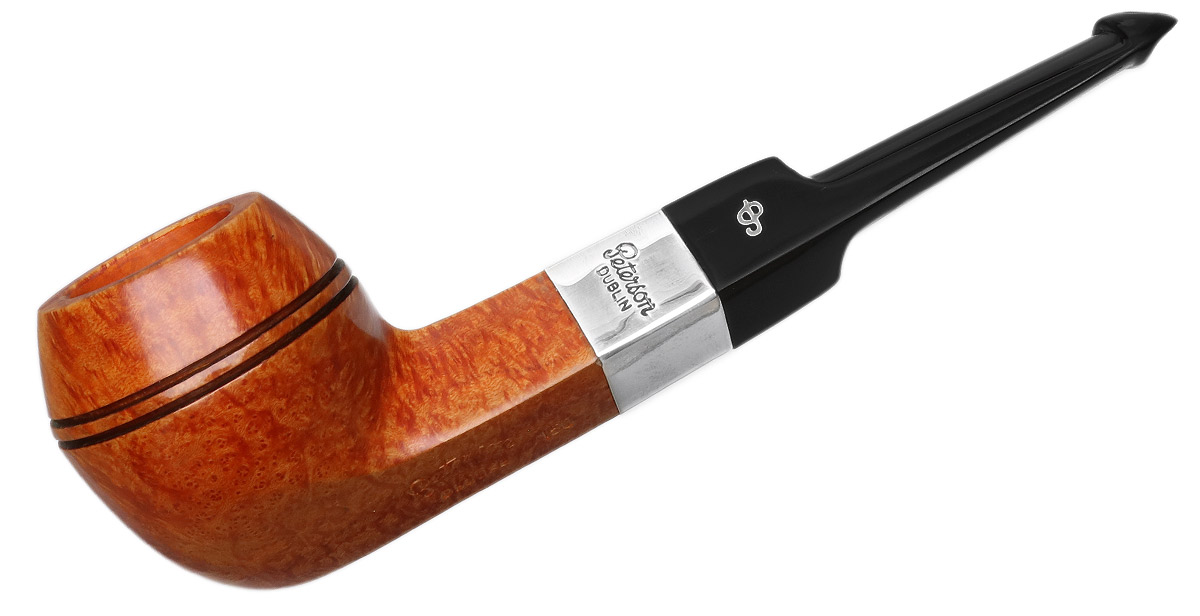 Deluxe Classic Natural (150) P-Lip
"One of the things that we wanted to do here," says Josh Burgess, Managing Director of Peterson, "was to make the pipes look classically Peterson, to hearken back to an older aesthetic that we've celebrated in recent Pipes of the Year. On both 2019's chubby Rhodesian and 2020's 9BC recreations we tried to call to mind some of the patent-era Peterson pipes and some of the early 20th century models. We wanted to do that here, too, by making the range as classic as it could be, and a bigger-than-normal silver band was key to achieving that."
Traditional Appeal
"I like the traditional style of the Deluxe Classic," says Glen. "That's the key driver for me. I really like simple, classic design. We wanted to highlight the silverwork with an oversized band. It's very traditional with old-English style silver mounting. I also looked at the current range of pipes, and we didn't really have an upper-end, classic silver-mounted pipe that wasn't a spigot or something similar, so this line fills that vacancy."
Traditional character is the defining aspect of Peterson's Deluxe Classics. Inspired by the styling of pipes from Peterson's history, they are high-grade models using the best briar available, prioritizing exceptional grain definition.
Traditional character is the defining aspect of Peterson's Deluxe Classics
"We saved bowls for at least nine months for this initial launch," says Sykes Wilford of Laudisi Enterprises, the parent company of Peterson, "We had to have enough pipes for the series to make sense when we launched it, so that we would have enough where we weren't kicking too few pipes out into the wild to be noticed." In the case of the Naturals, Peterson has been setting aside bowls for more than a year. "In the case of PSBs [Peterson Special Sandblast], longer than that."
Sykes describes the line as a shift in position to embrace Peterson's traditional voice. "These are much more akin to pipes you would have seen from Peterson in decades past. And that's why we wanted to pursue the project: Because Peterson is rich with tradition and history and people love that aspect of the brand. People love Savinelli, for example, for different reasons. But Peterson is loved because these are the same shapes that their great-grandfathers smoked. This series is about showcasing classic Peterson aesthetics with our highest quality bowls in three finishes."
These are much more akin to pipes you would have seen from Peterson in decades past"
Three Distinct Finishes
Those finishes are the Natural, Terracotta, and the PSB, and available across Peterson's wide range of classic, non-System pipes, including best-selling shapes like the 999 Rhodesian, 69 Bent Billiard, B10 Calabash, and many more. "I think those are the three finishes where we felt there was an opportunity to do something really special," says Josh. "We have Natural pipes with spigot configurations. We have Natural pipes that appear in the System range. But we didn't have a series for Natural pipes with classic mounts. We have the Deluxe Systems, which are really nice pipes, Dark and Natural. We have a variety of spigots — Amber Spigots, Natural Spigots, Newgrange spigots — but if you're looking for a high-grade pipe with a silver band with a classic mount, we didn't really have anything that filled that niche."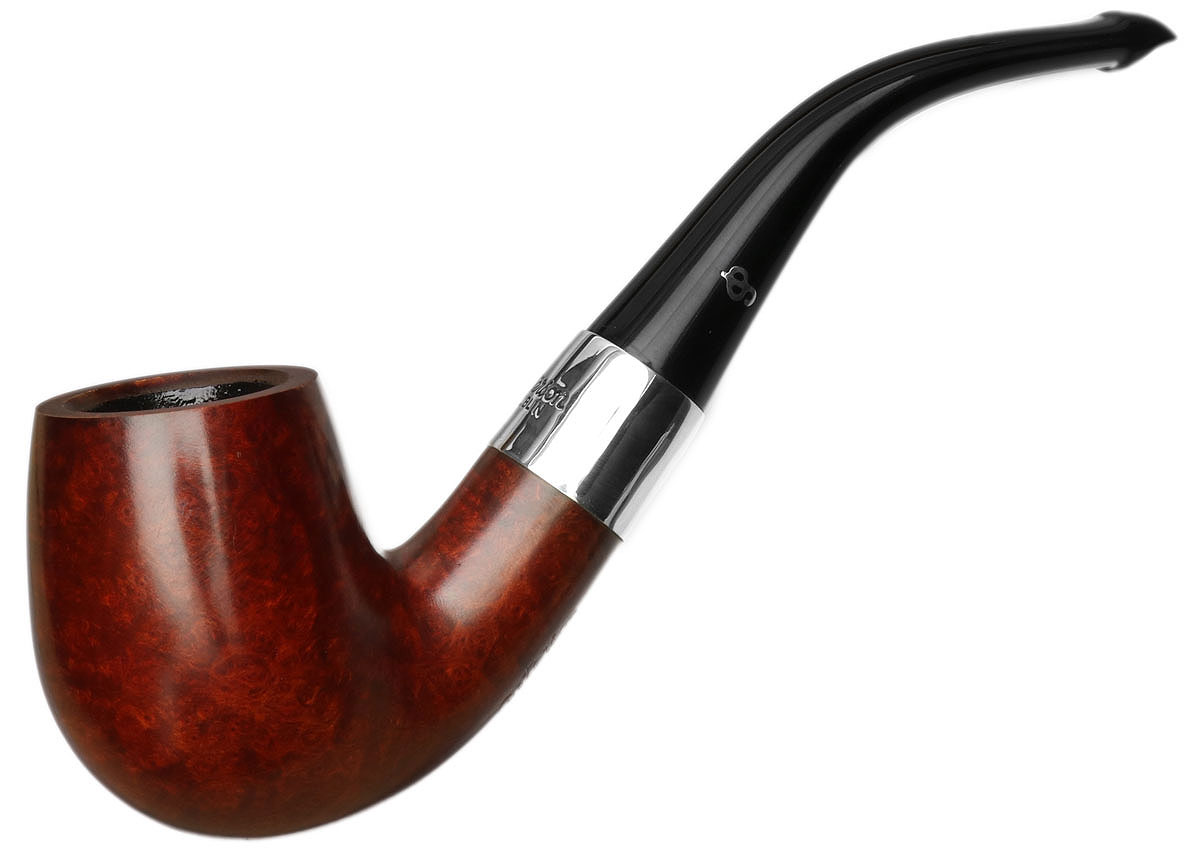 Deluxe Classic Terracotta (69) P-Lip
The success of Peterson's Pipe of the Year was instrumental to the thinking behind this new line. "The Deluxe Classic allows us to produce a really special pipe with a higher-grade silver mount," says Josh, "and to do something more like the Pipe of the Year in the regular range."
"We basically looked at the Peterson classic shape chart," says Glen, "and just felt that all of those shapes are popular in their own right. I don't think it would be right to choose one shape over another. It gives us an opportunity to showcase all of those shapes in different ways. The Donegal Rocky or Aran are probably the only other lines that cover almost every shape. Having this Deluxe Classic offered in all of the non-System shapes provides a premium offering for each. It's important that we continue to offer as many shapes as we can, within reason, especially on a series like this."
Deluxe Classic offered in all of the non-System shapes provides a premium offering for each"
Because of the high quality required for this line, availability will be somewhat limited. "This initial first run will probably be the biggest," says Glen. "The Terracotta finish is going to be using the same grade of briar that we would use for the Sherlock Holmes series. The Natural grades will be similar to what a Deluxe System would be. Then we will have the PSB, which really showcases what we're doing with sandblasting here in Dublin. It certainly sets us apart from other factory brands when it comes to sandblasting."
Blasts of Exceptional Grain
Previous to the PSB, which was developed to provide more definition and reserved for exceptionally grained bowls, blasts weren't Glen's personal favorite finish, but that has changed and he's now an enthusiast. "When we're looking at the grain that we're now getting in the PSB, it's just popping on the blast. It's frightening how good the guys are at blasting bowls while still retaining the integrity of the shape. That's the real skill. They know when to chase the grain and when not to push it and lose the shape. That is an absolute, because if you look at the true Peterson shape portfolio — for example, the Billiards — if we blast one of them too much, it could end up looking a size smaller. So it's important that we keep shape integrity throughout the sandblasting process. If the shape has been knocked out, the bowl is simply rejected. We can't stamp the shape number on it that way."
Deluxe Classic PSB (606) P-Lip
All sandblasts in the Deluxe Classic line will be PSB grade, says Josh, who characterizes PSBs as "blasts of exceptional grain. The criteria are admittedly somewhat subjective, but that's the way that Willie [William Murray, Peterson's chief bowl grader] and I have talked about it together: PSBs are special in that grading them sometimes feels more like an emotional rather than purely intellectual exercise. They're blasts that one of us has had a viscerally positive reaction to. This line offers an opportunity to get that grade in some favorite shapes. Until now, PSB has been more limited. You've seen it in the Sherlock Holmes line and you've seen it in House Pipes, but this provides PSB-grade pipes in many other shapes."
A Return to the Past
"Our goal with Peterson over the last couple of years," says Sykes, "has been to return it to something more akin to what it was 50 years ago or 75 years ago." Market challenges in the 1980s resulted in something of a loss in terms of brand identity. Certainly the quality was maintained, but in a scramble to provide large numbers for world markets in styles preferred by large importers, Peterson's adherence to its traditions was somewhat relaxed in favor of quantity produced. "Anytime you have a brand with a 150-year tradition," says Sykes, "and that people love because of that, you want to stake a real claim to that tradition." The company's modern focus is to maintain tradition while taking advantage of contemporary advancements in infrastructure to produce the highest quality possible.
"Part of Peterson's narrative for the past couple of years," says Sykes, "has been the relentless pursuit of quality." That push for quality is in terms of advancements in techniques for each of the myriad steps in producing a pipe, from rustication to sandblasting to stem work, and at the same time a return to the dedication to quality that was common 75 years ago. Consistency across markets has also been part of that philosophy. Where at times in the past the company may have had pipes of the same name but slightly different from each other to satisfy world markets, it now maintains order and consistency to a higher degree.
One particularly classic aspect of the Deluxe Classics is that almost all are fitted with P-Lip stems, omitting only a couple of shapes with more specific stem requirements. "It's the aesthetics of the P-Lip that won me over," says Josh. "I think it's a really graceful way for a pipe to terminate, to come to that nice sort of tapered bit instead of a fishtail bit. For classic Peterson shapes, the P-Lip just looks right. So when we were developing Deluxe Classic as a celebration of traditional Peterson design, the P-Lips were the natural choice."
When we were developing Deluxe Classic as a celebration of traditional Peterson design, the P-Lips were the natural choice"
The P-Lip not only has the classic appearance so recognized as Peterson, but provides a uniquely advantageous quality in smoking. A graduated bore for the smoke hole provides less condensation and a natural upward draw to the airflow, while the lip button spreads the smoke evenly in the mouth for a cooler and more palate-encompassing, taste-bud engaging experience. While the Deluxe Classics are not System pipes, they take advantage of the System stem for visual appeal and comfortable, flavorful smoking. And it fills a void in Peterson's offerings. Before the Deluxe Classic, there was no high-grade series so dedicated to and designed specifically for P-Lip mouthpieces.
"Our thinking for the brand," says Sykes,"is to revitalize and return to our roots and make really good pipes that are traditional and in the old Peterson style. And then every once in a while, on St. Patrick's Day, for example, we want to do something kind of silly. So we keep our zaniness contained to some limited editions because it's fun; fun for us, fun for consumers, fun for everybody. But otherwise, Peterson is important and Peterson deserves respect. And 155 years of tradition is not to be tossed off lightly. So our attitude is to embrace that tradition and celebrate it, and the Deluxe Classic is very much a way to do that."
While the initial launch of this series provides a reasonably respectable number, their availability will be necessarily reduced because of the quality required, so in the future it's unlikely to see more than a handful emerge from the factory in any given month. But each pipe in that handful will be representative of the history of Peterson, of the generations of craftsmen who have made Peterson recognizable worldwide, and of the dedication to 155 years of tradition that is the foundation of the name behind a pipe that has been respected and admired by pipe smokers for far longer than anyone living can remember.
You may also enjoy: