Italian Leatherwork at its Best: Claudio Albieri
Portrait of Claudio Albieri inspired by an original photograph by Francesco Borghi. Painting by Artur Lopes
Pipes are of relative insignificance to the bustling world at large, and the number of pipe enthusiasts is unlikely ever to rival the fans of, say, mountain unicycling, cheese rolling, or, and this is real, bog snorkeling. Basically, our hobby is almost unknown except by those who learn to understand it and graduate the initial learning curve to achieve pipe smoking's contemplative benefits.
Despite our comparatively small population we are graced with craftspeople who are truly world class. Somehow our pastime captures highly skilled people who could make easier or more lucrative livelihoods by applying their talents almost anywhere but are so passionate about pipes that they cannot help themselves. They are captivated, and they employ their talents to combine their passions, precipitating world-class tobacco-related craftsmanship.
One such craftsman is Claudio Albieri. His designs and expert handcrafting are easy to imagine in the most opulent boutiques in the trendiest cities. However, he chooses to make pipe and tobacco accessories. They are luxurious and practical: luxurious because he knows his craft, and practical because he knows firsthand what smokers need. He provides solutions for those needs.
Claudio was entranced by the tobacco industry from the time his family first owned a tobacco shop. He worked there for 14 years, learning more and more about tobacco. "I started in 1998, as soon as I was 18," he says. "In Italy you must be 18 to work in a tobacco shop. My father bought the shop in 1996, and he chose to concentrate on pipe tobacco and cigars. I think it was one of the first premium tobacco shops in Italy."
The name of that shop was L'Havana Tabaccheria. "It's a very Cuban name. My father started providing Cuban cigars almost immediately. The shop was one of maybe 20 in Italy that purchased Cuban cigars from the newly formed distributor after the Italian government gave up its tobacco monopoly." The U.S. experienced its cigar boom in the late 1990s and the cigar business has been robust since then, though not what it was when manufacturers scrambled to meet the initial demand that accompanied the renewed popularity of cigars. In Italy, it started just a bit later and then faded somewhat, to return in 2007. "I fell in love with this world, because you meet so many different people. Attorneys, doctors, all professions, everybody, and a lot of students from universities."
Claudio began studying tobacco in earnest in 1999 and travelling to learn more. He went to Cuba and to the Dominican Republic to attend master classes in tobacco provided by Davidoff and by Habanos S.A., which controls the promotion, distribution, and export of premium Cuban cigars worldwide. He criss-crossed Europe for tobacco events and met experts in the field.
One of the most important events he attended was a pipe show. "It was in 2006; an Italian man scheduled the first pipe show in Italy, and he was able to invite the Danish pipe makers. There were a lot of pipe makers from all over Europe; it was great, and it was in Bologna, very close to me. And from that point, I loved pipe makers and handcrafted pipes." This show was also attended by Sykes Wilford of Smokingpipes, who would be influential later.
And from that point, I loved pipe makers and handcrafted pipes"
Claudio started trying pipe tobaccos, every type he could, and stocking more and more pipe tobacco in the shop. "Think about it: the shop was about 17 square meters [a little more than an average parking space], so very tiny. We had more than 120 different pipe tobaccos and more than 80 different kinds of cigars."
He and his father were enthusiasts both professionally and personally, and became very familiar with every tobacco in the shop. They also provided alcoholic beverages. "In Italy you need a license to sell tobacco, and the license of this shop was really old, the kind of license that allowed us to sell wine, beer, and everything. So in 2001, I became an Italian sommelier and later I became an Italian bartender."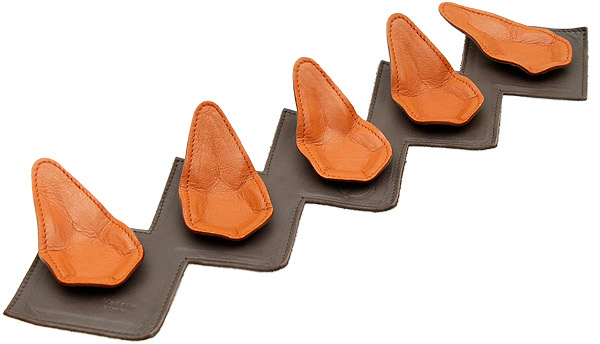 Claudio fully immerses himself in his interests. As the shop began specializing in slow-smoking contests and expanding its inventory of fine spirits, Claudio studied and took specialized classes, becoming a Specialist in Habanos, a Specialist in Toscano cigars, a Master in Tobacco from Davidoff, a third-level sommelier, and he attained an A.N.A.G. license (Associazione Nazionale Assaggiatori Grappe e Acquaviti, meaning the national association of grappa and spirits tasters) and a diploma from the Italian Association of Barmen, part of the International Bartender Association.
"I studied a lot, about rum, brandy (cognac and Armagnac mainly), vodka, pisco, tequila, whisky, beers, coffee, and tea. Then in 2010 my father sold the shop, and I worked a couple of years as a bartender in a five star hotel close to Siena in Tuscany, and in a couple of restaurants with one-star Michelin ratings."
Leather Working Becomes a Career
He wasn't working just to have a job; Claudio had plans. He was already thinking about the possibility of leather crafting as his next passion and career, and was raising funds to get himself started. "My cousin, or actually a cousin of my father, worked maybe 55 years in leatherwork, and when we had the tobacco shop he made our personal line of leather goods."
This cousin taught Claudio what he could, but his strength was not in fulfillment. "Not so much in stitching or manufacturing, but he taught me how to design and make prototypes." Then in 2011 there was a fortuitous circumstance. Gabriele Dal Fiume of Gabriele Pipes asked him to start making some pipe socks for his pipes. Claudio was not so sure, but Gabriele insisted that he should go beyond prototypes and try manufacturing. "He was my first customer."
Sykes Wilford was his second customer. It was at the InterTabac trade fair in Dortmund, Germany, in 2012. Sykes has a particular talent for recognizing talent, and he purchased the prototype for Claudio's pipe briefcases. "That briefcase," says Sykes, "was sort of the personal-accessory version of meeting your future spouse: it was everything I'd always wanted in a briefcase but had no idea how to articulate." He adds in an aside: "Please don't tell my wife that I compared our marriage to a briefcase. However, to be able to properly tote pipes around with me along with all of my work stuff and to have both halves of that need equally well thought out and executed was, yeah, remarkably like falling in love."
Sykes still uses the briefcase and has asked Claudio to make a replacement. "Nine years of traveling with me is more than one should ask of any piece of luggage," he says.
Those briefcases became the first Albieri products that Smokingpipes carried, followed quickly by roll-up pipe bags and magnetic pipe stands. "I was excited for the other products too," says Sykes, "but it was less personal: less fiery, less passionate; I just thought they were cool, well-designed and useful."
The two recognized that they were kindred spirits. "In Claudio," says Sykes, "I met someone who sweats the details and cares about getting things right because things should be right. Although he was in a completely different discipline with completely different skills, he reminded me of me: things should be made better because they can be made better. We've been good friends ever since. And Smokingpipes has carried his work ever since.
"In an era when so much of what we buy follows an incredibly long supply chain and the people who own the brand are different from the people who design for it, and the people who make it are different still, there's also something incredibly refreshing about Claudio and his work: He's like an 18th-century master cobbler, where all of those different roles are blended into one person. And the difference is so clear in the work. These are well designed items: they fit a wide variety of pipes, they accommodate a business traveler's lifestyle, they're not too bulky. It's clear that he makes and designs them as someone who knows how they should function."
The pipe socks that began everything provided the quality that pipe makers were looking for, were customizable, and available in whatever colors wanted. The briefcases indicated that Claudio was eminently capable of complex product design, and his understanding of the needs of pipe smokers began to be recognized across the industry and by an appreciative clientele.
Albieri briefcases are made to accommodate different numbers of pipes, and while different designs include varying elements, they typically provide a padded enclosure for a laptop, a document holder, integrated pipe pockets, and additional enclosures for a lighter, tamper, pipe cleaners, cigar cutter, business cards, and writing implements. Even with all of that, the briefcases easily provide additional room, more than enough for adding a pipe roll or whatever else may be necessary.
Constructing such an impressive carrier is not a matter of simply sewing pieces of leather together. Well, perhaps it is, but the methods for providing a case that would last and remain beautiful requires attention to detail, such as thinning particular edges of the leather to reduce protuberances at the stitching.
Constructing such an impressive carrier is not a matter of simply sewing pieces of leather together.
That stitching is accomplished with an industrial sewing machine, an impressive, Cold-War era contraption made in West Germany and so heartily constructed that it's unlikely to ever need replacement. It's a beast. As you may imagine, the needles are very tough and in various sizes. They do wear out, unlike the machine. Claudio utilizes different stitching patterns according to the requirements of the project at hand. The thread used is a special, resilient nylon thread, available in different hues to complement whatever color leather he is using.
"Most of the work is in preparing the separate pieces," says Claudio. Hence, design and careful planning are essential.
Other Designs
Even seemingly simple products such as Claudio's pipe cleaner holders must be carefully designed, planned, and executed. "The most important aspect," says Claudio, "is the thickness and the hardness of the leather to protect the cleaners; in that way if you put the holder in a bag, you don't damage the cleaners. Every product has its own perfect material; I only have to search for it."
Every product has its own perfect material; I only have to search for it."
World events, particularly the pandemic, have temporarily altered the complexion of Claudio's business. With travel being more limited, his pipe briefcase sales have been drastically reduced, along with his other products made to make traveling with pipes easier. However, his keychain designs have supported his business in the meantime, especially the Origami keychain, which has maintained excellent popularity and is among his most successful designs.
The Origami's origin reaches back to a Chicago pipe show about four years ago, when Jeremy Reeves, the head blender at Cornell & Diehl, asked Claudio to think about ideas for a tobacco mat appropriate for preparing flake tobaccos. Claudio's solution was the Origami, which is a keychain that acts as a pipe rest and unfolds into a mat for tobacco. Hyper practical and affordable, it's so popular that it's difficult to keep in stock.
"My goal was to make it at a reasonable price, because the main problem for my goods is that they are expensive, so the project was to do something that everybody can buy, and that way everybody can feel the quality of my leather, and maybe understand the work. So to build a relationship with more customers and make my work more accessible, the Origami is perfect."
While many of Claudio's products are indeed expensive, the main factor in their price is the leather itself. That leather is among the best in the world and carries a high price tag. For more exotic leather, the price can be staggering.
These leathers include ostrich, shark, stingray, alligator, and crocodile. "North African crocodile is the most expensive," says Claudio. "You can pay $1500 for one skin."
...leathers include ostrich, shark, stingray, alligator, and crocodile
As an example, Claudio made a special commission in crocodile for Teddy Knudsen about five years ago to house a two-pipe set. "I paid $3,000 for the two skins necessary. For the inside, another $400 of lambskin was required, along with a month of work. It was sold to one of Teddy's clients in China. I don't know the final price, but it was very high."
Regardless of price, from keychains to pipe briefcases, Claudio Albieri products represent the best that can be had. In this world of mass-production and consumerism, his handcrafted smoking accessories reveal an old-world quality and dedication to excellence that is almost unheard of. Claudio always reaches for the very best that he can do, and his best is simply superlative.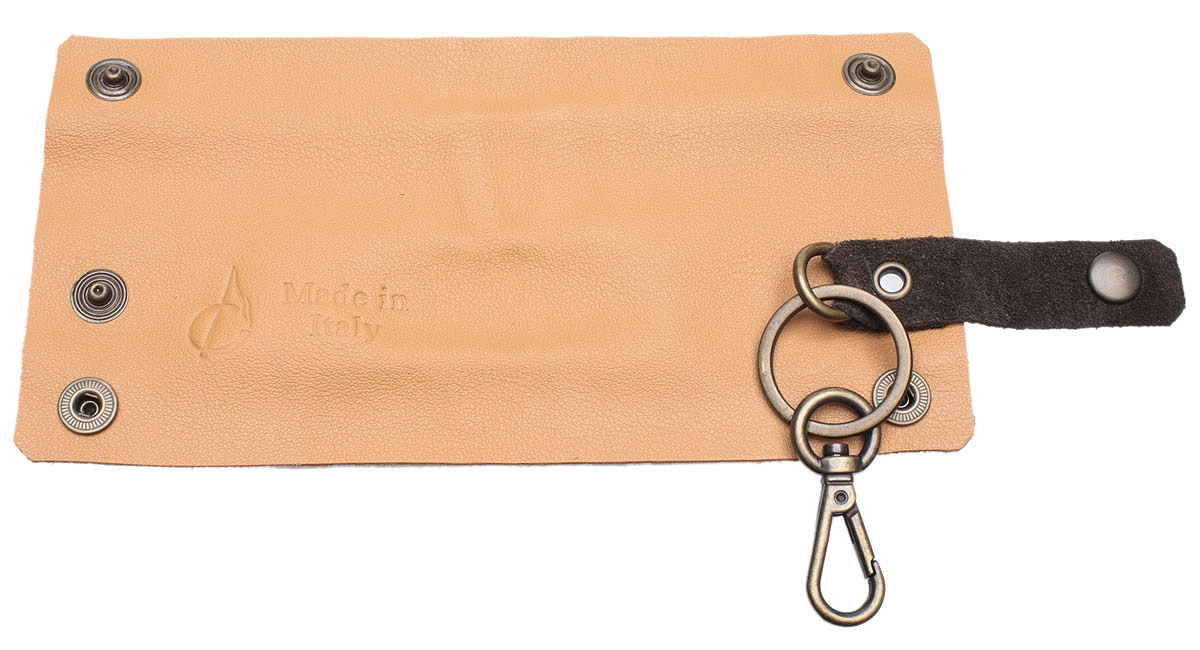 You may also enjoy: