5 Pipe Accessories You Never Knew You Needed
As pipe smokers we all use the usual accessories: lighter, tamper, tobacco pouch. And yes, you can always add to your collection and expand your rotation of pipes. But what are you missing? What is stopping you from maximizing your smoking experience? I've devised a short list with some accessories you might not have known you needed. And with the holidays right around the corner, it's a great time to get some gift ideas, even if they're for yourself. You can thank me later.
Claudio Albieri Leather Cleaner Holders
As the sophisticated pipe smoker that you are, you couldn't possibly be caught with your pipe cleaners in a plastic bag. Gasp! Claudio Albieri's leather holders are the fashionable solution to all your pipe cleaner toting needs. Made from the finest Italian leather and available in a variety of colors, you can keep necessary cleaners stylishly close at hand. Not only do they look good, they are all fitted with a hard back to protect the shape of the cleaners. And they hold a surprising amount of cleaners, enough to share at your next pipe club meeting. I'm not the most organized guy, but these help me at least keep my bag in order. I usually have two or three with me, each keeping a different type of cleaner nice and neat. Great product, great value, highly recommend.
Measurements: L 7.35" H .17" W 2.68"
$11.00
Neerup Leather Pipe Cleaning Kits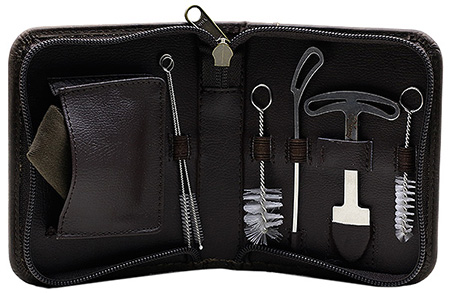 Pipe maintenance is half the job of a pipe smoker, but pipe cleaners can get you only so far. For the days you set aside to deep clean your collection, you need Neerup's pipe cleaning kit. There's a super soft polishing cloth, as well as two stainless steel chamber and shank reamers. But that's not all! It also comes with three different sized bristled brushes; one for the shank, one for the mortise and one for the chamber. Used with alcohol, you can really get into all the nooks and crannies inside your pipe. The brushes should last you multiple uses, but you can always order replacements from your friendly neighborhood pipe website (wink, wink). But where's the leather, you ask? All of these handy tools are stored in a classic leather travel case, sleek and stylish as someone of your stature should have. I know what I'll be putting on my wish list this year.
H 5.17" W 4.32" D 1.25"
$45.60
Claudio Albieri Italian Leather Accessories Pouches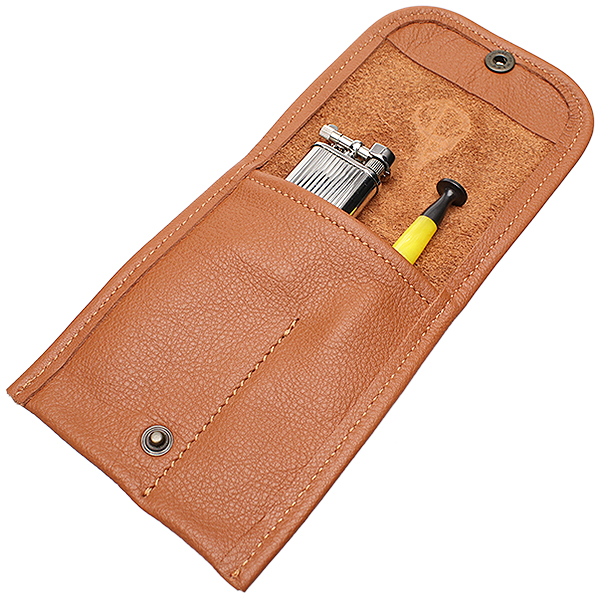 So you've got a holder for your cleaners and a case for your tool kit. Are you just gonna toss your expensive lighter and handsome tamper in your bag to bang around? Never! Again, using only the highest quality Italian leather, Claudio Albieri offers a snazzy little accessory pouch in an assortment of colors. Secured with a strong snap closure and perfectly fitted for your lighter and tamper, you'll never have to go digging at the bottom of your briefcase. No larger than the average wallet, its compact enough to keep in your back pocket. With age and wear, the leather builds an exquisite patina, and you'll want to keep using it again and again. Personally, this is my top pick on this list.
Measurements: L 4" H 4.75"
$55.00
Scott Tinker Tobacco Plates
If you prefer Flake tobacco, you need a place to break it down before you pack your pipe. Sure, you can use a paper towel or a magazine but those are hardly elegant solutions to the problem. Scott Tinker's completely handmade tobacco plates provide a beautiful place to break up your Ready Rubbed or air out your Aromatic. The gorgeous grain wonderfully compliments your briar and earns a permanent place next to your armchair or on your coffee table. You can also pack your pipe over the plate to catch any debris that falls outside of your bowl. I honestly never realized how much I needed this until I got one for myself. I keep a plate in almost every room of the house and it's definitely a mainstay on my desk at work.
Measurements: 6" diameter. Thickness varies
$40.00-$100.00
Peterson Avoca One Pipe Combo Pouches
Now you've got a holder for literally everything you could think of, but what about the star of the show? Your pipe, of course! Peterson manufactures multiple versions of the same series of pipe bags. You can get pouches that hold up to four pipes but if you're not a pipe bag person, I suggest starting small, with the one pipe combo pouch. In this handsome bag you can keep exactly one pipe, a lighter or tamper, or both, in the zippered pocket and some tobacco in the built-in pouch. It's perfect for a day trip or just running around doing errands. What else could you possibly need? A fine whiskey? A rare steak? A good looking lady riding shotgun in your new Tesla Roadster?... That's beside the point, I'm getting off topic. You should get this bag.
Measurements: H 3 1/4" L 6 3/4" D 2"
$40.00
Obviously I can go on and on and on about what you may need for an optimal smoking experience, but these are a start. Tell me about your own smoking essentials in the comments below.
You may also enjoy: